Tractor Supply, one of America's leading hardware retailers (that doesn't sell tractors!), wants to know your feedback. They're hosting an official survey called TellTractorSupply! Answer their questions and win a $2,500 Gift Card!

TellTractorSupply Details
If you want to tell Tractor Supply about the recent experience you've had shopping at one of their stores (or online) – you've come to the right place. The Tractor Supply Survey, officially called TellTractorSupply, is a digital feedback form hosting the survey. It'll ask you a bunch of questions, and at the end, you'll go in the running to win a $2,500 Gift Card to spend with them 😀
Here are the specific details:
| | |
| --- | --- |
| End Date | April 30, 2024 |
| Prize | $2,500 Tractor Supply Gift Card |
| Prize Value | $2,500 |
Survey Rules
$2,500 is a lot of money! Which is why it's best for all of us that there are a few rules in the sweepstakes to keep it fair for all. Follow these rules and you'll be eligible to win the survey sweepstakes:
You must be a resident of the 50 United States
You must be over the age of 18 as of January 1, 2018
You must not be affiliated with Tractor Supply or its affiliates in any way
You can only enter into the sweepstakes once (1) per month
All done 🙂 Not too many, but still make sure you follow them!
Click here to download a PDF of the official rules.
Instructions
Got all the rules under your belt? Awesome! Here's what you'll need before you take Tractor Supply's survey:
The (very long) survey code printed on the bottom of your receipt
Here's where it may be on your receipt: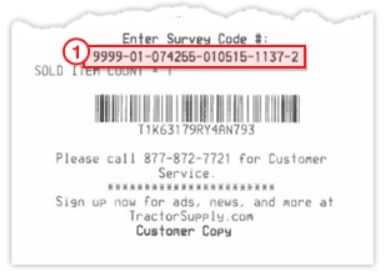 Ready to go? Fantastic 🙂 Follow these instructions to complete the survey:
Visit the official website hosting the Tell Tractor Supply Survey (link below)
Enter in the survey code on the first page
If you've entered it correctly, you'll be invited to take the survey. Otherwise, you may get the following error message: "Sorry, we are unable to continue the survey based on the information you provided. Please try again."
Once you're past the verification page, you can take the survey. Answer all the questions Tractor Supply has for you (be as detailed as possible)
At the end of the survey, you'll be given the option to enter into the sweepstakes or not (you do!). You'll need to give them the following information to enter:

First name
Last name
Phone number
Email address

And you're done! A $2,500 Tractor Supply gift card could be coming your way shortly 😀 Good luck!
These are a few of the questions you may be asked:
What was your overall satisfaction with your experience at Tractor Supply?
Did a staff member greet you when entering the store? Did they recommend a product for you?
Was the team member knowledgeable about the products they had?
How was the speed and ease at the checkout?
Was there an adequate variety of merchandise at the store?
Was the overall cleanliness of the store to your satisfaction?
Are you going to return to this Tractor Supply in the next 30 days?
What's the likelihood that you'll recommend this Tractor Supply store to friends?
I took the survey recently, here are a few screenshots: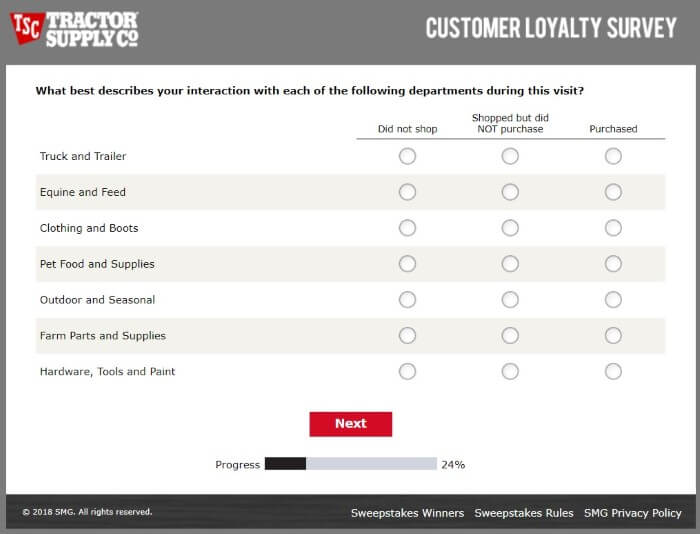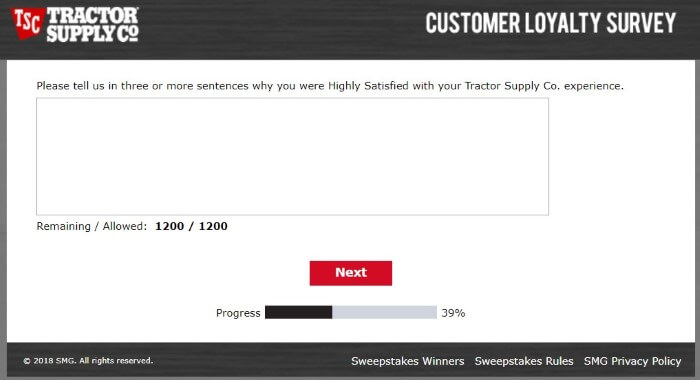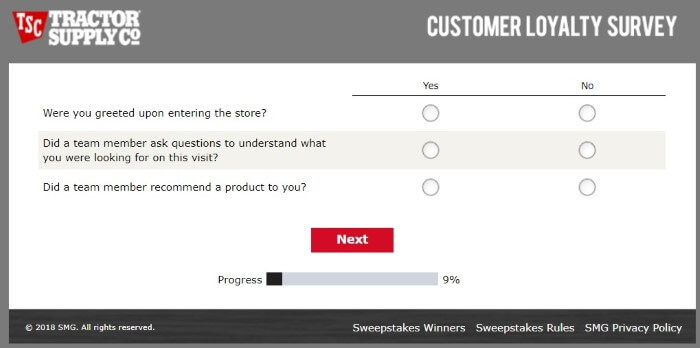 About Tractor Supply
Tractor Supply is one of the leading home improvement stores in the US today with over 1,765 stores across 49 states in the US. That's an incredible presence. They've even been labelled as 'Amazon Proof' by Forbes, which is pretty impressive in today's world.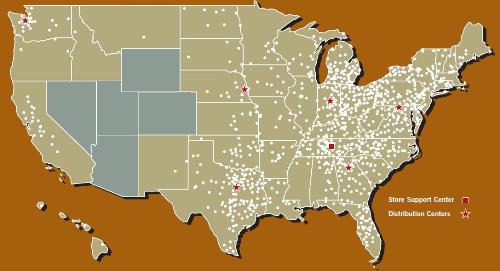 They target themselves at more rural-based customers; those who own ranches and farms, though they also supply local tradesmen thanks to their expansive range of tools and home improvement products.
The funniest thing about the company, well I think anyway, is the fact that you actually can't buy any tractors! So where did that name come from?!…
History
The company was founded back in 1938, where, you might have guessed, they specialized in ordering parts for tractors. Initially, they were a mail order company, but one year after starting the business, their first actual store was opened in North Dakota by owner Charles E. Schmidt Sr.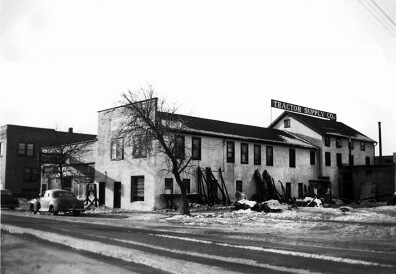 In 2004 they really started to grow, and they were featured in Fortune's fastest growing businesses.
In 2016 they purchased Petsense, which was the leader in pet supplies which makes it no surprise then that these days, one of their more successful departments is livestock and pet products which is where 47% of their business comes from!
They have expanded far beyond their roots of tractor supplies offering a whole host of products, including clothes, hardware and tools, lawn and garden accessories and basically anything you can think of when it comes to home improvement.
Giving Back
Tractor Supply's giving back program is known as their "Out Here" lifestyle which is an overall part of their mission. In 2017 alone, they donated almost $8 million to community organizations.
They focus their giving back incentives in three main areas; Agriculture, Pet and Animal and of course, Community. It's no surprise that agriculture is up there, as their original business was designed to help those in agricultural trades who lived too far away from large towns to access necessary farming tools.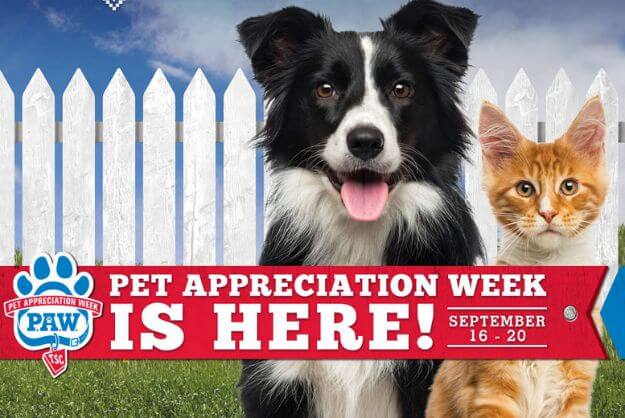 As part of their pet and animal giving back category, they host Pet Appreciation Week (PAW), to help bring awareness on how to properly care for your furry friends and they even assist to help rehome animals from local rescue centers. On top of that, they supply dog food to the service animals of paws4people and offer veterinary care through their PetVet Clinics that are in 1000 of their stores. As a dog lover myself, my heart melts just writing this out. This is definitely going to improve the feedback I leave for them!
In the community, they aid disaster relief, as well as Veteran's causes. They host an event called "Salute Our Troops" where members of the community and staff can send letters to active serving military personnel and they even help support those who have suffered from PTSD and brain injuries out in the field. They sure look after our vets <3
Where are they heading next?
Tractor Supply is aiming to have a total of 2,500 stores open in the future. They have a bunch of stores that are pencilled in to be developed in early spring of next year and they want to open 120 every year 'til they hit that magic 2,500 number. Good luck! I know as long as they keep listening to their customers like they are in this survey, they'll be well on their way to achieving their goals 😊
Speak To TellTractorSupply com Team
Want to send Tractor Supply a message outside of the TellTractorSupply survey? Check out their social media:
You can also give them a call on 877-718-6750. Or, have a read of their FAQs to see if your question has already been answered. Otherwise, use their store locator to find the closest one to you and get in touch with them directly.
Their head office is located at:
5401 Virginia Way
Brentwood, Tennessee 37027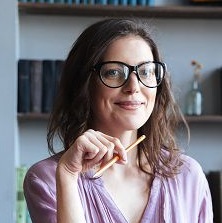 Hi there! I'm Emma – I'm the lead editor here at Opinionr. I write about many of the customer satisfaction surveys and feedback opportunities that stores have. Stores love it when you give them feedback and often reward you for giving it to them – fantastic! Got a question? Let me know! You can check out all my posts on my profile – Emma Jones
23 reviews
{{ reviewsOverall }}