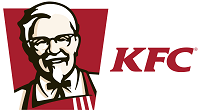 Fill out KFC's official feedback form – www.kfcfeedback.com.au – and get rewarded with a Free Regular Chips & Drink! The survey takes 5 minutes and then you'll get free food!
KFCFeedback Survey Details
KFC is Australia's most popular fried chicken, fast food restaurant. They've grown to be so big because they care what their customers think (that's you!). And they're asking for your feedback again in this customer satisfaction survey.
Here are the specific details:
| | |
| --- | --- |
| End Date | July 31, 2023 |
| Prize | 1 Free Regular Chips & 1 Free Regular Drink |
| Prize Value | $7.00 |
KFCFeedback Rules
Similar to Hungry Jack's survey, there aren't any official rules KFC wants you to follow when giving them your feedback online.
All you have to do is make sure you keep your receipt when you buy your food (you'll need some information on it) and you need it to redeem the regular chips and drink as your reward as well.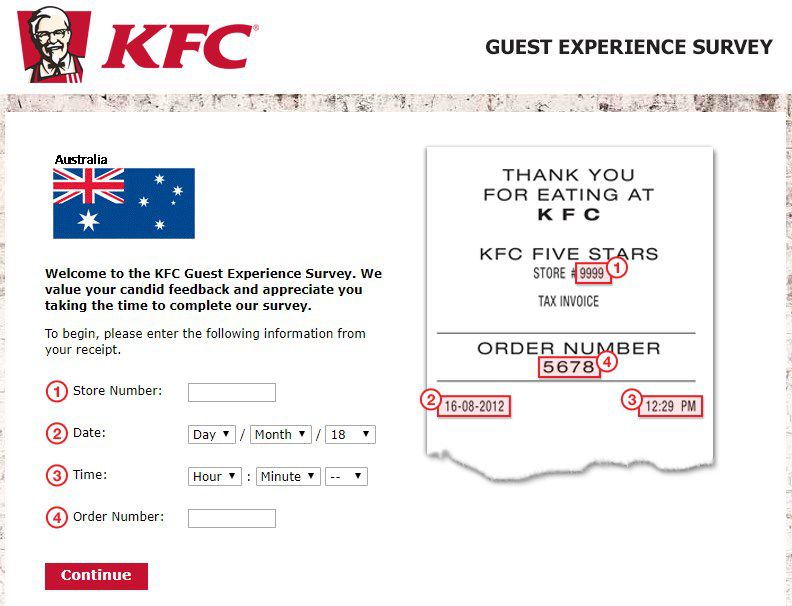 Oh! And when you do go back to KFC to get your free food, you need to spend at least $4.95. So you can grab a burger or wrap and have some free sides to go along with it 🙂 Sounds good to me!
Instructions For KFC Feedback
There are four (4) bits of info you need to start the survey:
The store number of the KFC you visited
The order number
The date you visited the store
The exact time your food order was processed
Receipts do vary from store to store so it may not be in the same place for you.
Here's an example where you can find all the information you need:


Got it all ready to go? Awesome! These are the following steps you'll need to take:
Visit the official website to take the survey (below) on a suitable electronic device, you can use your computer, phone, tablet, or anything else
Enter in the four (4) pieces of information on the first screen
If you've entered in the right information, you'll be guided to the next screen, otherwise, you'll receive the following error: "Sorry, we are unable to continue the survey based on the information you provided. 

Please try again."

Once you're through, answer all the questions KFC has for you
At the end, there will be a Validation Code shown on your screen. Write it down! Without it, you won't be able to get your reward for completing the survey
Finally, head back to KFC within 30 days, spend $4.95 minimum and claim your reward.
Enjoy your free food!
Some of the questions KFC might ask you are:
Did you go through the drive-thru or dine in?
How did you place your order? Counter? Mobile? App? Phone?
What as your overall satisfaction with the KFC?
How fast did your food come? Was the restaurant clean? Did they make your order right?
Surprisingly, the survey hosted by KFC Feedback has been one of the shortest I've come across. So it's very good value for the time when you think about the reward. Definitely worth giving them your feedback.
I took a few screenshots along the way, here's what it looked like: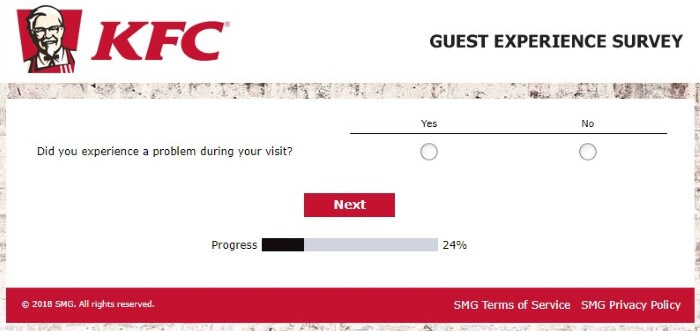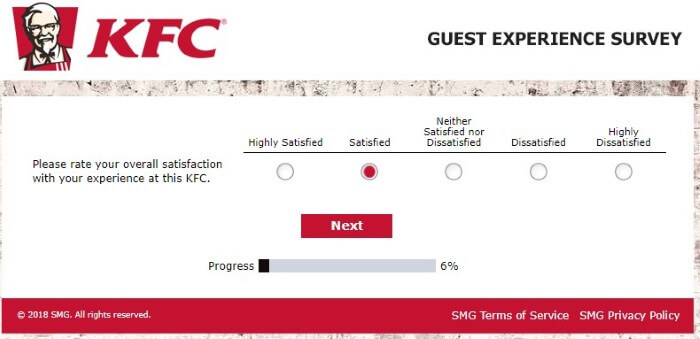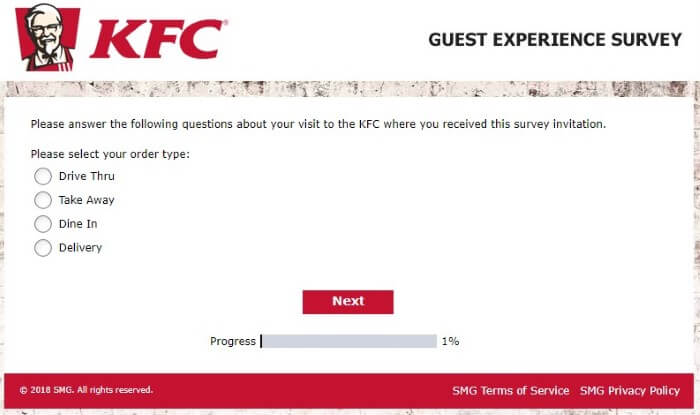 About KFC In Australia
Do you know when KFC first came to Australia? 1970? 1920? 2000? It was actually 1968. Guildford, Sydney, was the first location the giant friend chicken chain decided to place its first Australian restaurant. That first KFC was owned by the Canadian entrepreneur, Bob Lapointe.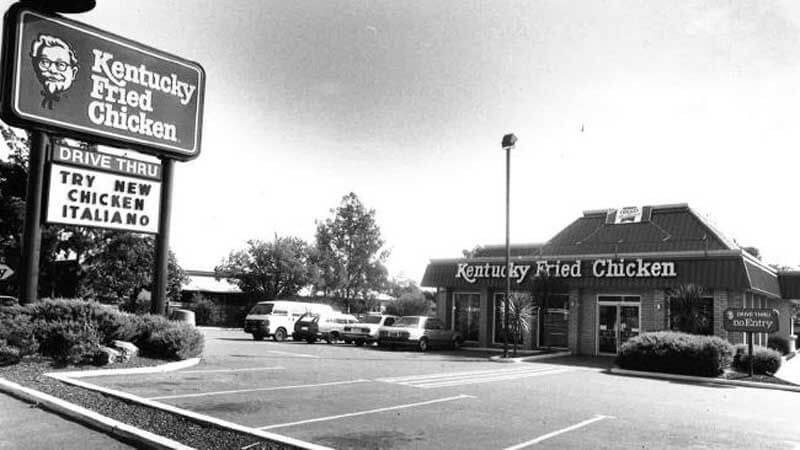 As you now know, the locals absolutely loved it, and they started their journey to take over Australia's fried chicken industry. In the single year between 1970 and 1971, 75 new KFC's were opened. Yep – 75 new stores in a single year! Crazy! The massive demand for their juicy chicken grew Australia's chicken production by a total of 38%. Incredible numbers.
Today, KFC serves 2 million customers a week in Australia from their 640 locations across the country. And they employ more than 34,000 people to do so. They're a massive part of Australia's fast food industry, which is why it's fantastic to see that they still care about what each of us, as individuals, has to say about their service.
Talk To KFC Customer Satisfaction
Want to talk to KFC? Send them a message on social media:
Feel free to give them a call on 1300 553 899. Or you can see if your question's already been answered on their FAQs. Lastly, you can chat to them directly here as well.
Their support center is located at:
32-36 Camberwell Rd, Hawthorn East
VIC, 3123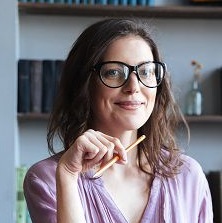 Hi there! I'm Emma – I'm the lead editor here at Opinionr. I write about many of the customer satisfaction surveys and feedback opportunities that stores have. Stores love it when you give them feedback and often reward you for giving it to them – fantastic! Got a question? Let me know! You can check out all my posts on my profile – Emma Jones
747 reviews
{{ reviewsOverall }}