173 reviews
{{ reviewsOverall }}
Write my review
SpartanNash, the company behind leading grocery supermarkets such as Family Fare, Sun Mart, Forest Hills, Econo Foods, and many more, is hosting a survey! They want you to give them feedback on their official survey called MyGroceryFeedback 😀 In return – you could win a $100 Gift Card!

MyGroceryFeedback Details
As good as their supermarkets already are, SpartanNash and all of it's subsidiary grocery brands want to know how they can make your next shopping experience even better! But in order to do so – they want to hear about the experiences their customers are already having (that's you!). So fill out the official feedback form on MyGroceryFeedback.com and let them know how you feel 🙂
Here are the specific details:
| | |
| --- | --- |
| End Date | December 31, 2022 |
| Prize | $100 Grocery Gift Card |
| Prize Value | $100 |
Feedback Rules
There are a few rules you'll need to follow if you want to make sure you eligible to receive the $100 Gift Card if you do end up winning. So follow these and you'll be all good:
You must be a resident of the 50 United States
You must be over the age of 18
You must not be affiliated with SpartanNash or the grocery store you shopped at or its affiliates in any way
Pretty simple rules! 🙂
Want to read the official rules? Click here to download them.
Instructions
Good news! You only need a single piece of information from your receipt to start the survey:
The survey code printed on the bottom (it can be quite long)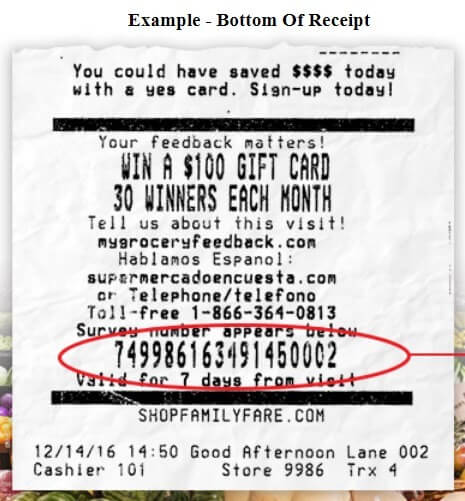 Have the code ready? Fantastic! Follow these instructions to take the survey:
Visit the official website hosting the MyGroceryFeedback survey (link is below)
Enter in the survey code into the box (screenshot below)
If you've entered in the right code, you'll be invited to take the survey and leave your feedback. Otherwise, you'll get the following error message: "Invalid code"
Once you've passed the first page, you can go ahead and answer any of the questions SpartanNash has for you about your recent grocery shopping experience (examples below)

Full name
Email
Contact number
Address

Congratulations! You just finished the survey 🙂 Hopefully, the next time you head into one of their stores your experience will reflect your feedback
Here are some example questions you might be asked:
Were you greeted when entering the store? Were the employees working friendly?
How was your shopping experience overall?
Were you easily able to find the products you were looking for?
Was the temperature of the store OK? Was it clean? Were the toilets in a presentable manner?
How was the speed of your checkout? Was the cashier friendly?
This is a screenshot of the survey: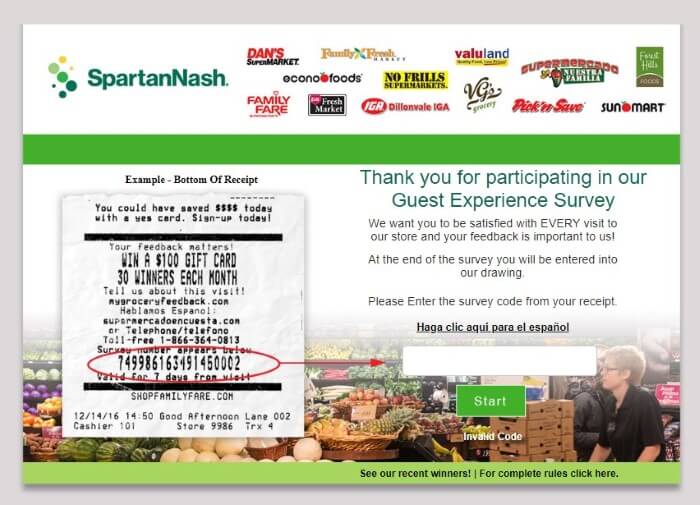 About My Grocery/SpartanNash
Chances are if you've ever done some grocery shopping in the US, the food came from SpartanNash. They currently supply over 2,100 independent grocery stores in the US. That's one huge number! They've been in business for an incredible 101 years and are also the largest food distributor for military stores and exchanges in the US.
SpartanNash currently has a presence in 44 states as well as Europe, Latin America, and the Middle East.
History
Back when it was founded in 1917, the company was known as the Grand Rapids Wholesale Grocery Company. They originally started as a retail cooperative, where over 100 supermarkets joined forces to purchase their produce in bulk and thus passing savings onto the customer.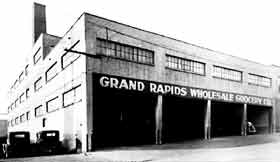 They operated this business model for 40 years until they decided in the 70s that they would go full steam ahead and focus on becoming a for-profit organization. Following this decision, they rebranded to the name of Spartan Stores, in 1957.
Throughout the nineties, they periodically bought a bunch of different supermarket chains to further develop their US presence.
It wasn't until 2013 that the SpartanNash that we know today was born. Spartan Stores merged with Nash Finch, an even older distribution company with its history dating back as far as 1885.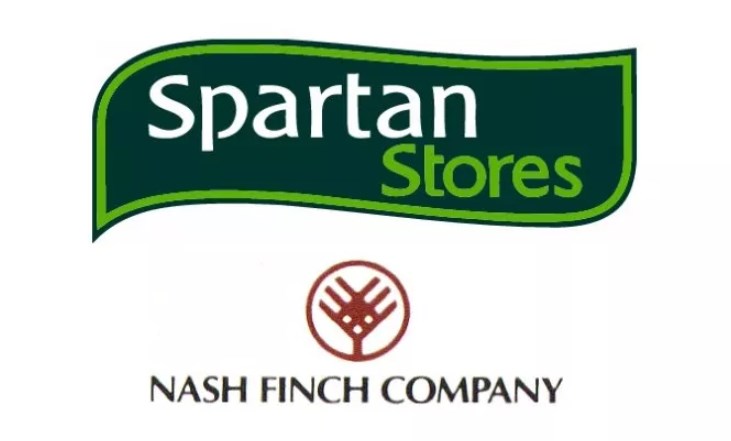 Today they are the main distributor for a whole bunch of retail chains including D&W Fresh Markets, Family Fare Supermarkets, and Glen's. They're also one of the primary suppliers to military commissaries around the US.
Reviews from Staff
Staff members seem relatively happy with their jobs according to the reviews online and the CEO is pretty popular; 63% approve of him on Glassdoor and staff are happy with their company discount and their co-workers.
Awards
One of the company's major achievements has to be the insane number of awards under their belt…
They're consistently ranked in Fortune 500 and even received the Fortune 500 'World's Most Admired Companies' award back in 2013.
In 2016 and 2017 they were awarded bronze by the Michigan Veterans Affairs Agency which they then beat in 2018 with a silver award for being a 'Veteran-Friendly employer'.
The women in the company have also been recognized as some of the 'Top Women in Grocery' by Progressive Grocer with 15 of their female associates being recognized in 2018. Now that's some girl power right there!!
In the Community
SpartanNash has a huge commitment to making a change in the local communities and there's a crazy amount of content on their website about this. They even have a form on their site where local non-profits can apply for grants for events and fundraisers. Make sure to let them know what you think about their social responsibility on their MyGroceryFeedback survey!
They're also huge advocates for ending hunger, donating over 5 million lbs. of food in 2017 to the less fortunate.
Staff are continuously encouraged to participate in volunteering whenever they can and even offer to make donations to staff member's charities of choice if they log 100 hours of volunteer work in a calendar year. In 2017, staff logged a staggering 41,016 hours of volunteering which was over a third higher than their target goal.
They even offered a discount for veterans and currently serving military personnel this Veterans Day
I think we can all take a leaf out of their book when it comes to their charitable endeavors and frankly, I would love to work for a company that encouraged me to give back so much.
Talk To MyGroceryFeedback Team
Want to give SpartanNash a call about their survey or another question? Call them on (616) 878-2000.
Their head office is located at:
850 76th St SW
Byron Center, MI 49315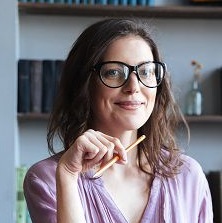 Hi there! I'm Emma – I'm the lead editor here at Opinionr. I write about many of the customer satisfaction surveys and feedback opportunities that stores have. Stores love it when you give them feedback and often reward you for giving it to them – fantastic! Got a question? Let me know! You can check out all my posts on my profile – Emma Jones
173 reviews
{{ reviewsOverall }}