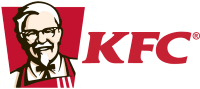 Write my review
KFC has some fine tasting chicken, but there's always room for improvement. So, they're asking all KFC lovers to take the YourKFC survey at YourKFC.co.uk and let their cooks know exactly what they can do to improve your chicken-eating experience the next time you visit.

YourKFC Details
| | |
| --- | --- |
| Survey Name | YourKFC.co.uk |
| End Date | December 31, 2025 |
| Survey Reward | 20% Off KFC Coupon |
Survey Rules
Lucky for you, KFC haven't made any rules for their survey. All you have to do is head to YourKFC.co.uk, enter in a few details from your receipt, you'll be invited to take their short survey.
Technically there is one rule – you must spend a minimum of £5 on your next visit in order to get the 20% off on your order.
Instructions for YourKFC.co.uk
If you do have a receipt, there are four bits of information you need from it in order to take the survey:
The five (5) digit store number
The date you made your order
The exact time that the transaction took place
The order number printed on your receipt
If you can't quite find where all of those are, here's an example on a sample KFC receipt: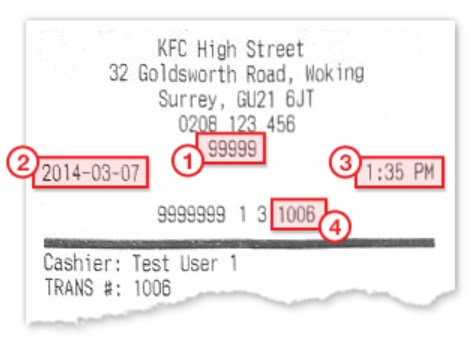 Once you have all your information ready to go, follow these instructions:
Search Google for YourKFC or type in YourKFC.co.uk into your browser, or click the link a bit further down
On the first page, enter all the information from your receipt. If the survey system gives you an error, re-enter the info and try again
Once you've been verified by they survey platform, you can start the survey
Answer all the questions their customer satisfaction team has – make sure to answer honestly as all they want to do is make the chicken and your experience better the next time you eat at their restaurants
At the end of the survey, you'll be given a validation code. Write this validation code on your receipt on the blank line
All done! You've just completed the YourKFC survey and can now get 20% OFF your order the next time you eat at one of their restaurants. Enjoy 🙂
Here's a short video about the survey so you know what to do:
Some of the questions you may find on the survey include:
What type of order did you make? Was it dine-in or takeaway?
How did you place your order with the staff?
What was your overall satisfaction rating with this KFC in particular?
How likely is it that you'll recommend KFC to family and friends?
How would you rate the friendliness of their staff?
What about the accuracy of your order?
Were you satisfied with the overall price you paid for your meal?
How likely is it that you'll return to this KFC in the next 30 days?
Is there anything they could do in the future to further improve your experience?
If you're new to taking surveys like this, you'll be surprised to know some of the largest fast food chains in the country all have similar initiatives. One such company being Subway. They've put together the SubwayListens UK survey where anyone who gives them feedback can get two free cookies on their next visit.
Here are some screenshots from YourKFC.co.uk: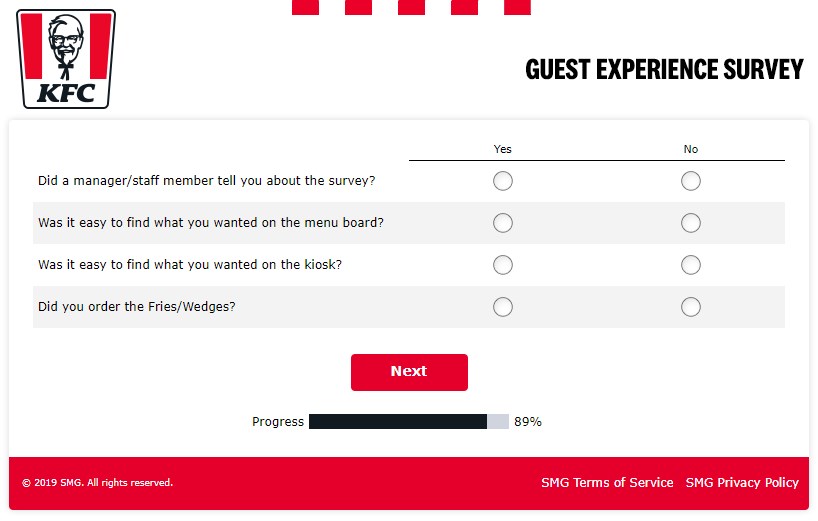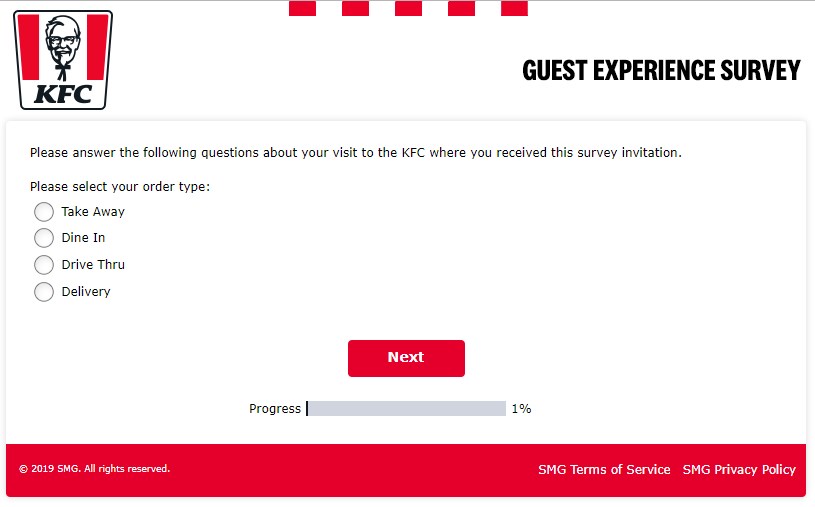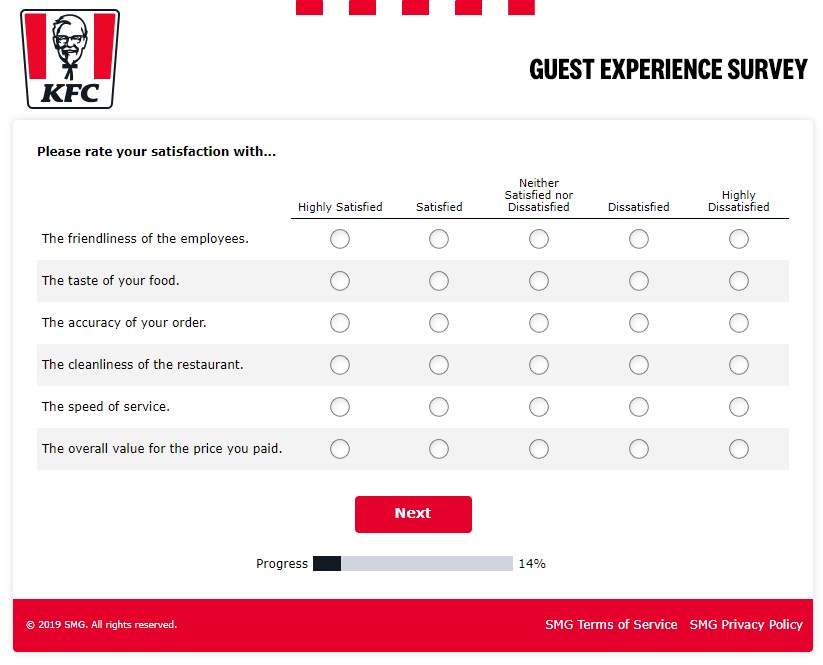 About KFC UK
Originally founded in 1930, KFC has grown to become the second largest fast food chain in the world, with McDonald's taking the top spot.
It was first founded by Harland Sanders, more commonly known now by the famous Colonel Sanders. He opened up his first chicken restaurant called Sanders Court & Cafe, with the first KFC appearing in 1952. As well as innovating in fried chicken, KFC was one of the first American franchises to start their global expansion, with the UK being the first country in Europe to get a KFC in 1965.
Today, KFC has more than 900 outlets throughout the UK, all serving up their delicious fried chicken and more. One of the sole reasons they've been able to grow so much is by consistently listening to reviews and feedback of their fried chicken on the surveys such as YourKFC.
What's On The UK Menu at KFC
Unsurprisingly, the menu is quite similar to KFC in many other western countries. Of course, their fried chicken will likely receive the largest praise on YourKFC.co.uk, but their burgers also give some of the largest burger chains a run for their money as well.
One of the more unique offerings is their Salad & Ricebowls. They are a mix of fresh salads, flavoured rice, and a healthy side of their delicious chicken.
Media outlets all over the world were soon to pick up on the strange occurrence and it spread across social media faster than a Donald Trump tweet. And so, in steps their brilliant marketing team. Ingeniously, they managed to turn a stuff up into a major win for KFC.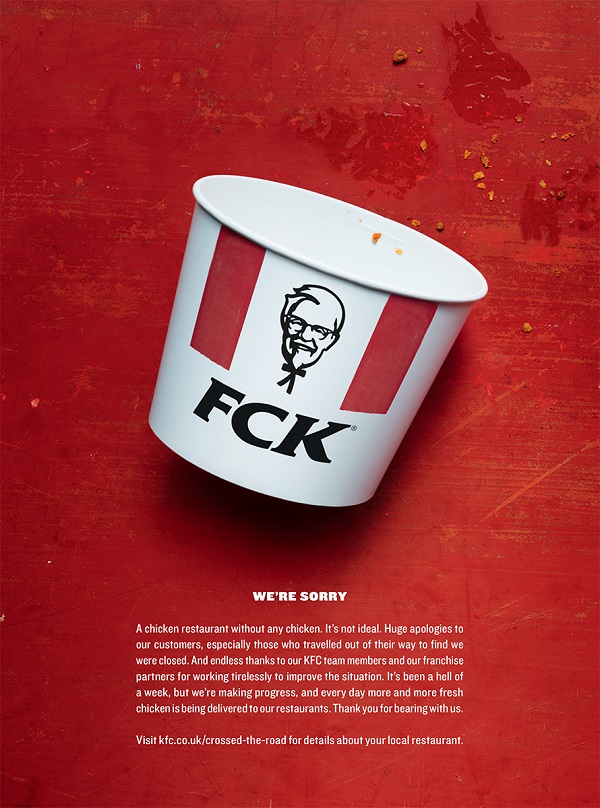 The survey at YourKFC must've been receiving some heavily negative feedback during the chicken crisis, but the creativity of the marketing campaign turned it all around quite quickly.
The Future of KFC
KFC's got a bright future ahead of themselves. If they continue to listen to their customers and reward them for leaving feedback, on top of continuing to provide amazing chicken at great value, they'll be in the UK for years to come.
Speak With The KFC Staff
Don't want to take their survey but still want to leave some feedback? Send them a message on social media:
Otherwise, you can have a read of their FAQs to see if your question has already been answered. Or, you can give their customer helpline a call on 0345 753 2532. Alternatively, you can send them a message on their website. Lastly, if you want to contact a certain store directly, use their store locator.
Their head office is located at:
Orion gate, Guildford Rd
Woking GU22 7NJ, UK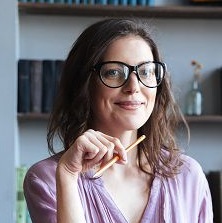 Hi there! I'm Emma – I'm the lead editor here at Opinionr. I write about many of the customer satisfaction surveys and feedback opportunities that stores have. Stores love it when you give them feedback and often reward you for giving it to them – fantastic! Got a question? Let me know! You can check out all my posts on my profile – Emma Jones
106 reviews
{{ reviewsOverall }}