Take Hungry Jack's official survey experience – www.myhjexperience.com – and get rewarded with a Free Small Chips & Free Small Drink! All you have to do is give them your feedback and share your opinion.
MyHJExperience Survey Details
Hungry Jack's, one of Australia's leading fast food restaurants and arguably the creator's of Australia's best burgers, wants to hear what you think! Are their burgers really the best? Take the survey and let them know what you think at MyHJExperience.
Here are the specific details:
| | |
| --- | --- |
| Start Date | January 1, 2015 |
| End Date | Indefinite |
| Entry Method | Online |
| Entry Limits | Unlimited |
| Prize | 1 Free Small Chips & 1 Free Small Drink |
| Prize Approx. Retail Value | $4 |
| Prize Conditions | Must buy any burger to redeem |
MyHJExperience Rules
Good news! There aren't any real rules to this survey. Hungry Jack's doesn't care how old you are, they don't care where you come from, and they don't care where you live.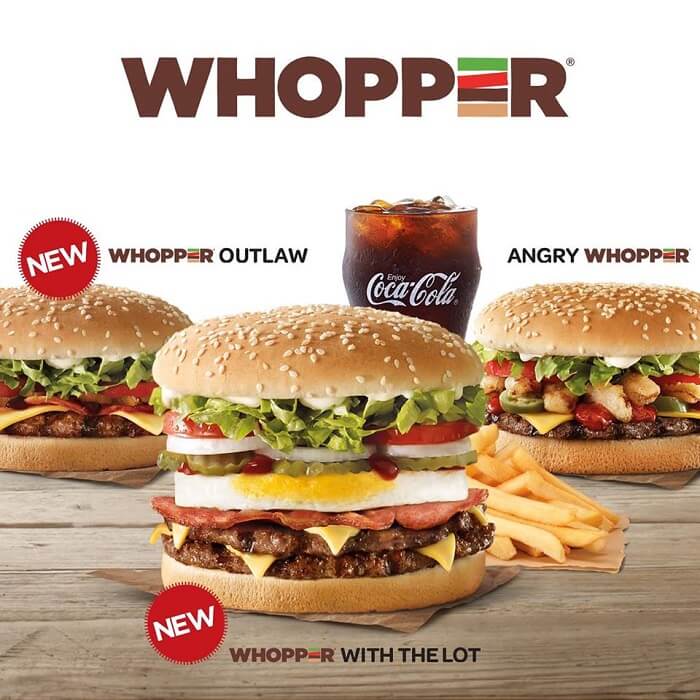 All they want to know is what you think of their burgers, fries, and drinks! The only technical rule is that you need a valid survey code. And you can only get one by buying something from them (it's on the receipt).
Oh! And remember to keep the original receipt – it's what you'll use you claim your Free Fries & Drink after you've told them about your experience.
If you like, you can download the official terms and conditions here.
Instructions for MyHJExperience
You'll need two pieces of information before you can start the survey.
The exact time of when you visited one of their restaurants
The survey code (14 digits) printed on the bottom of your receipt
Please note that note all receipts will have a survey code on it.
Here's where you can find all the information for the survey: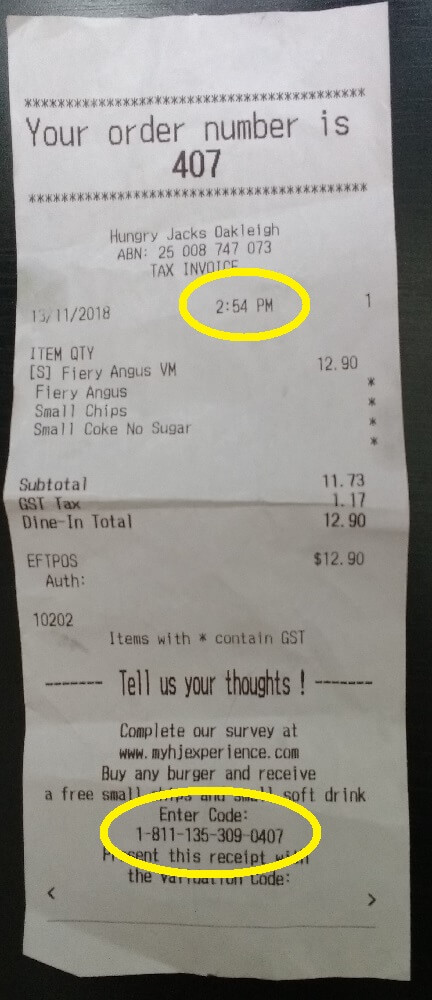 Got it? Fantastic! Here are the next step you'll need to take:
Visit their website which has the survey (below) on any compatible electronic device (computer, phone, tablet etc). I normally do these on my computer because it's the fastest.
Once you're there, enter in the date of visit and the survey code
The system will then verify if the information is correct, if it is, you'll be forwarded to the next screen where you can begin the actual survey
There are about 20-40 questions depending on your answers, you can skip the ones that ask you to write about your experience if you like
All done! On the final screen you'll receive a Validation Code. Write this code on the line at the very bottom of your receipt.
Next, visit Hungry Jack's in the next 30 days, buy any burger on their menu, present the receipt, and you'll get a Free Small Fries & Soft Drink to go with it.
Just like KFC's survey called hosted as kfcfeedback.com.au, Hungry Jack's may ask you some similar questions like the ones below in the MyHJExperience survey:
Did you order using a self-service checkout? How many people did you go with?
What was your overall experience with them?
How was the temperature of your food? Was it easy to place your order?
How was the interior cleanliness of the restaurant? Were the staff friendly and presentable?
Do you think you got value for money?
I took a few screenshots when I was taking the survey to show you it looks:
You can take the survey here – http://www.myhjexperience.com
About Hungry Jack's
Before you ask – yes! Hungry Jack's is Australia's version of Burger King in the United States. It's called Hungry Jack's because the name, Burger King, was already taken when they wanted to grow their business in Australia. A small takeaway shop in Adelaide already had the name, so they decided on Hungry Jack's instead!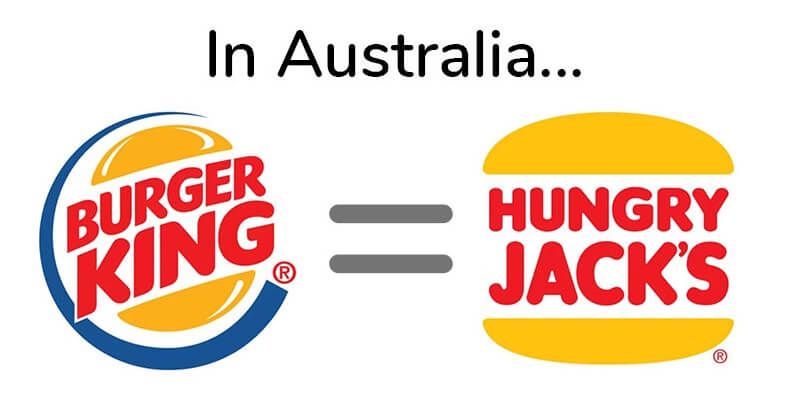 Today, they're one of the biggest burger joints in Australia. Their parent company, Competitive Foods Australia, actually owns KFC as well! They must love their fast food over there 😛 A man by the name of Jack Cowin owns the parent business – and he's worth over $1.5 billion! At least he knows how valuable our opinions still are!
You can grab one of their juicy burgers at more than 350 different locations around the country. They compete heavily in the industry with the slogan – The Burgers Are Better At Hungry Jack's. Remember to let them know if they actually are or not by taking the survey!
Here's a video promoting some of their latest burgers, the Vegan Burger:
What do other people think about Hungry Jack's?
@HungryJacksAU Nth Sydney customer experience – Whopper was stone motherless cold. Terrible. Chips were great, 'fresh n hot' Had to repeat drink order 3 times. Similar experience at Circular Quay storefront. Slogan should be "Burgers are always cold at Hungry Jacks". Fail!!!

— Ross A Davidson (@radaust) November 7, 2018
I don't understand why people like HJ's so much? It's shit

— Khemo (@Khemo_) November 4, 2018
I tried the new @HungryJacksAU vegan burger today. And to be honest. This isn't too bad. It's a great option to have and when you've been on the road all day and just need something. This is good. I hope they keep this on the menu and extend it to all stores! pic.twitter.com/nWwIcqwhhN

— Tristan Ⓥ 🌱 (@cptwoodsy) June 26, 2018
Why didn't anyone tell me the @HungryJacksAU chips were so good?! I feel like I've been lied to by someone…

— Kira LaFave (@KiraLaFave) September 8, 2017
Talk To Hungry Jack's Customer Service
Want to give Hungry Jack's some feedback to their customer satisfaction team outside of the MyHJExperience survey? Send them a message on their social media:
Otherwise, you can call them for free on 1300 852 326. Or you can see if your question's already been answered on their FAQs.
Their support center is located at:
Level 5, 460 Bourke Street
Melbourne, VIC 3000
Share your experience and write your review!
105 reviews
{{ reviewsOverall }}