Write my review
The Warehouse is one of New Zealand's most popular homewares stores. They sell almost anything and everything you need for your home, and the want to make sure customers like you are happy. Which is why they've put together an official The Warehouse Feedback form at www.TheWarehouse.co.nz/Feedback.
If you'd like to know more stores in New Zealand that are hosting feedback surveys which you can enter to win some prizes, why not check out the full list of feedback surveys. Or, if you've recently shopped at a Countdown location, you can head straight to CountdownListens at www.CountdownListens.co.nz and take their survey to win a $500 gift card.
www.TheWarehouse.co.nz/Feedback Details
| | |
| --- | --- |
| Ends | Indefinite |
| Entry Method | Online Feedback Form |
| Survey Prize | $100 Warehouse Gift Card |
www.TheWarehouse.co.nz/Feedback Instructions
In order to enter into the $100 Gift Card competition hosted by The Warehouse, you'll first need a few things before you can enter:
The original receipt from your purchase
The first three (3) digits of the survey code on your receipt
Remember to keep your receipt even after you complete the survey. Because if you do end up winning, they may ask to see the receipt to verify you're a real customer.
Here's an example code on a The Warehouse receipt: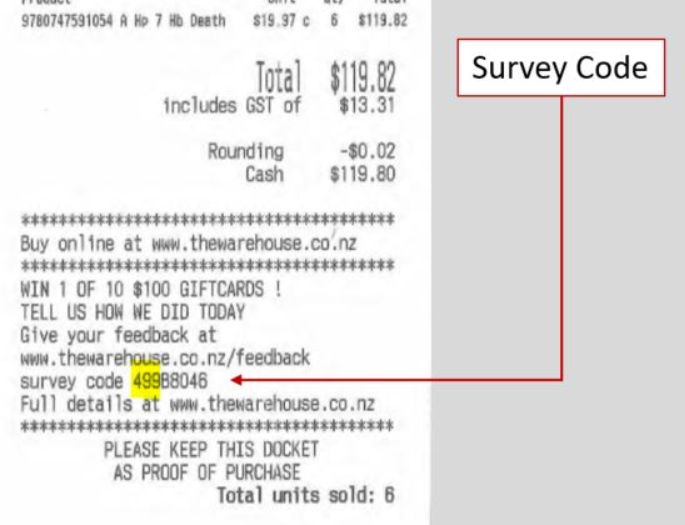 Once you have your receipt from your purchase ready to go, follow these instructions:
Search for the warehouse.co.nz/feedback in your preferred search engine or click the link a bit further below
Once you're there, click on the "Give Us Your Feedback To Win" image. This will take you to the official location where you can leave your feedback
On the next page, you'll be asked to enter in the first three (3) digits of the survey code from your receipt
Once your receipt has been verified by their feedback system, you'll be invited to take the survey and answer all of the question they have
And you're done! You've just completed the official The Warehouse feedback form and are now in the running to win a $100 Gift Card for their stores – good luck!
The customer satisfaction team at The Warehouse may ask you questions similar to these ones:
How confident are you in The Warehouse to respond to critical situations?
How likely is it that you'll recommend The Warehouse to family or friends?
If you spoke with staff, did they listen to and understand your needs?
When you visited their store, was it clean and appropriately presented to customers?
How satisfied are you with your overall shopping experience at The Warehouse?
Here are some screenshots from the www.thewarehouse.co.nz/feedback survey: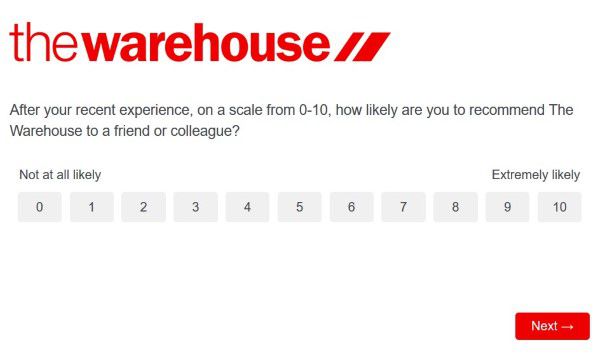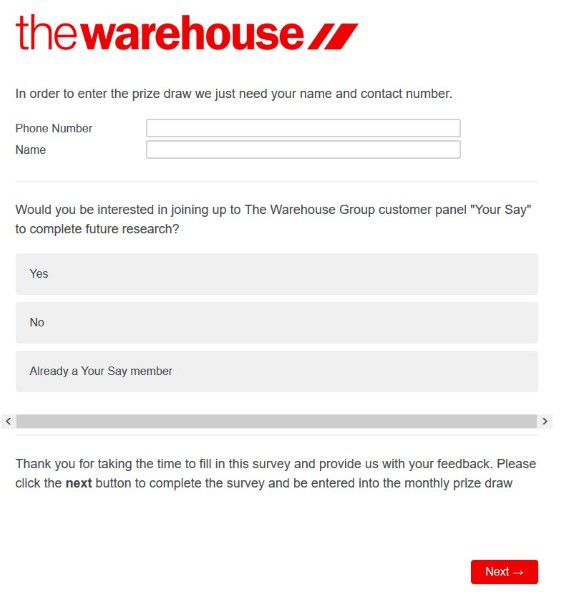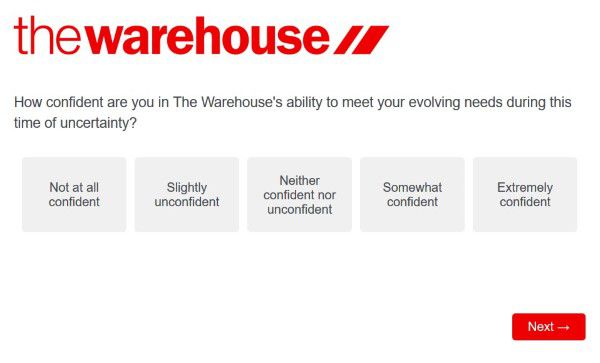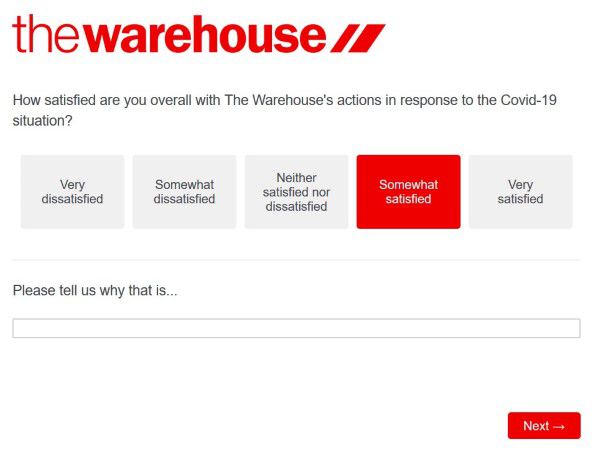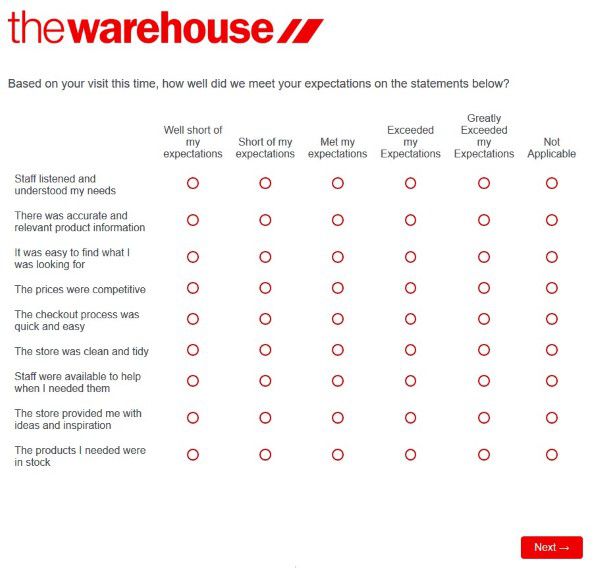 About The Warehouse
The Warehouse, and its parents company, The Warehouse Group, has grown from its humble beginnings to become one of New Zealand's largest and most adored retail stores.
On top of The Warehouse, the group also consists of other brands such as Warehouse Stationary, Noel Leeming, Torpedo7, 1-day, and TheMarket. All up, their 260+ locations around the country bring in over $3 billion in sales each year – an absolute massive number.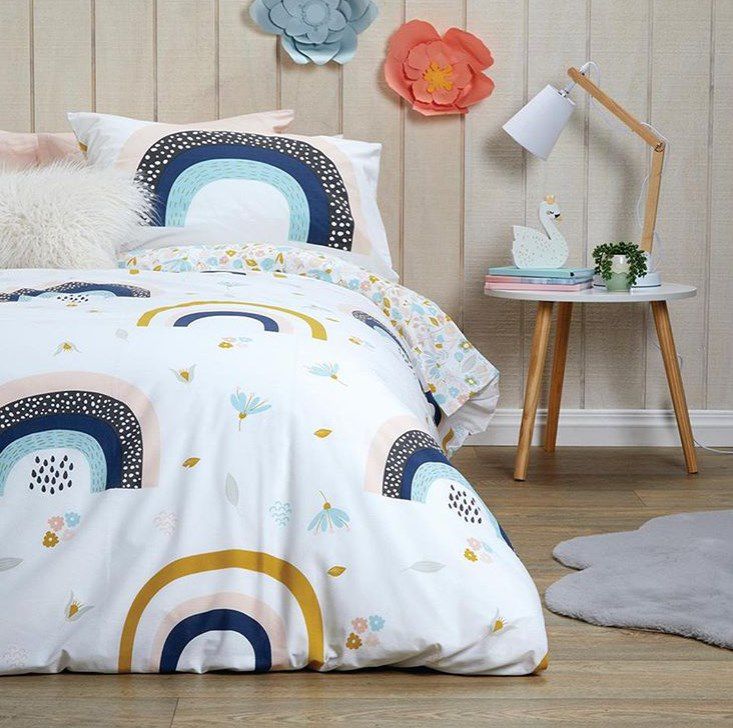 They've managed such consistent growth over the years due to many factors – one of them being their focus on customer service. You can see an example of that right here at www.TheWarehouse.co.nz/Feedback. They're inviting all their customers, including yourself, to tell them about your recent experience shopping at The Warehouse.
On top of that, they know how valuable your feedback is, so they're giving everyone who completes The Warehouse feedback form a chance to win a competition. Every month, one lucky survey taker will take home a $100 The Warehouse Giftcard – not bad for 5 minutes of work!
As well as their focus on customer service, they also pay close attention to the community and environment around them. Their corporate responsibility consists of ethical sourcing, well-being, diversity, and inclusion – among other things. One specific example is how they continuously help their customers to live a more sustainable lifestyle.
They've also been praised by many for voluntarily lifting the 'period-tax' on many of their sanitary products. Selling many women's products for just $1 in order to combat period poverty.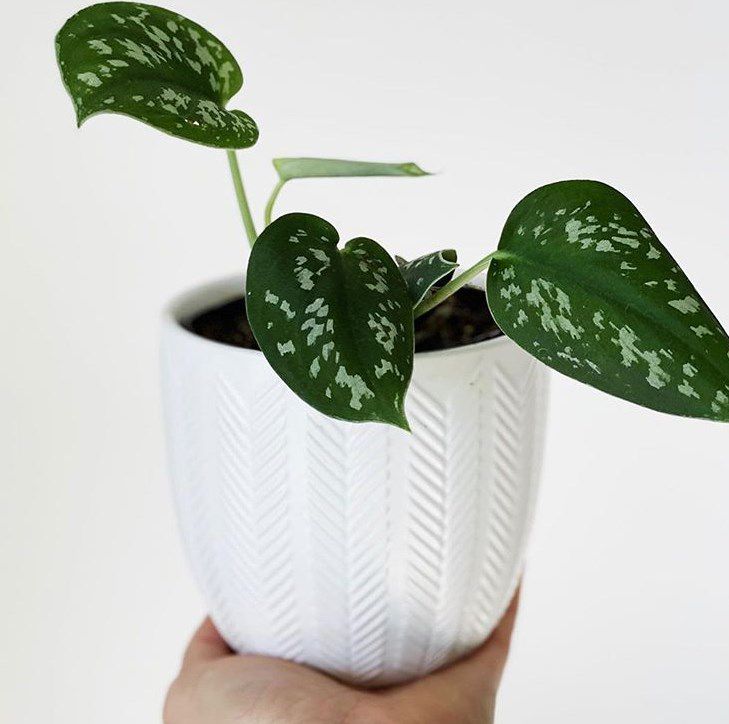 On a final positive note, they are New Zealand's fourth largest employer – employing over 12,000 employees around the country. Unfortunately, if you are a current employee of The Warehouse, you won't be able to participate in their survey competition – sorry!
If you didn't know, Noel Leeming, one of New Zealand's leading electronics retailers, is also part of the same group that The Warehouse is in. And as such, management has taken a similar approach to customer feedback generation with both companies. If you've recently shopped at a Noel Leeming store as well, you can take the Noel Leeming feedback survey at www.NoelLeeming.co.nz/Feedback and go in the chance to win a $200 gift card for their store.
how to download the app
(https://www.thewarehouse.co.nz/mobile-app.html?utm_source=Website&utm_medium=usp&utm_campaign=appdownload&nolink)
how to submit feedback on the app (screenshots below)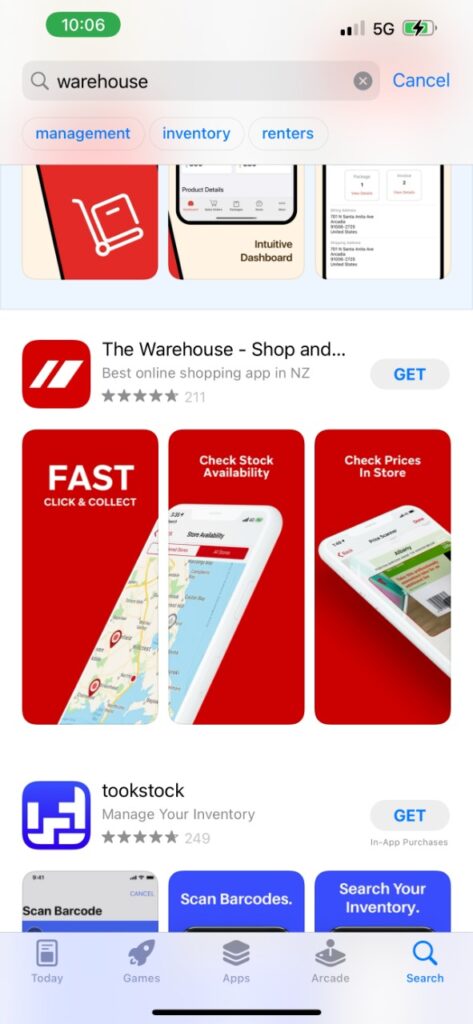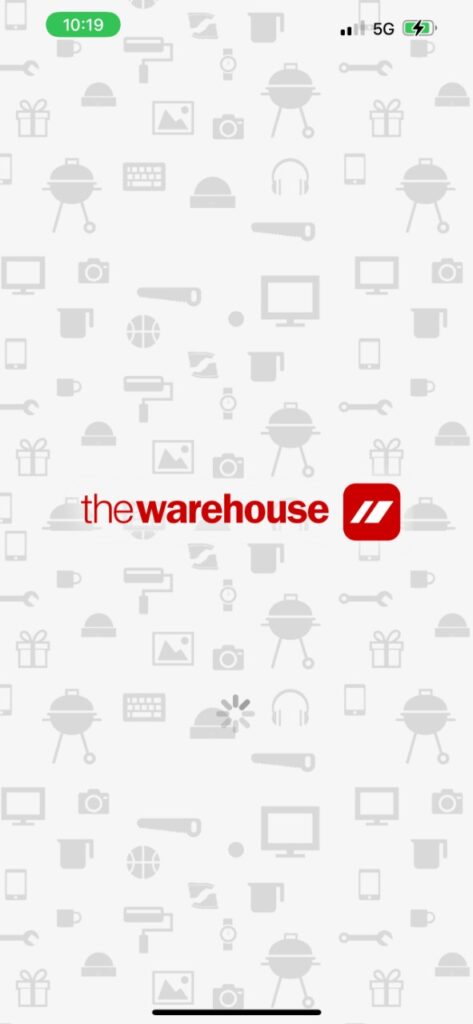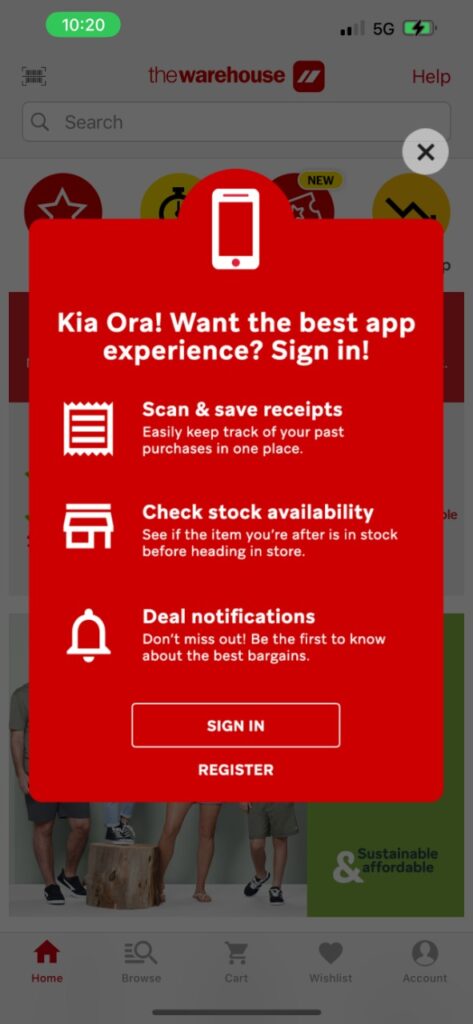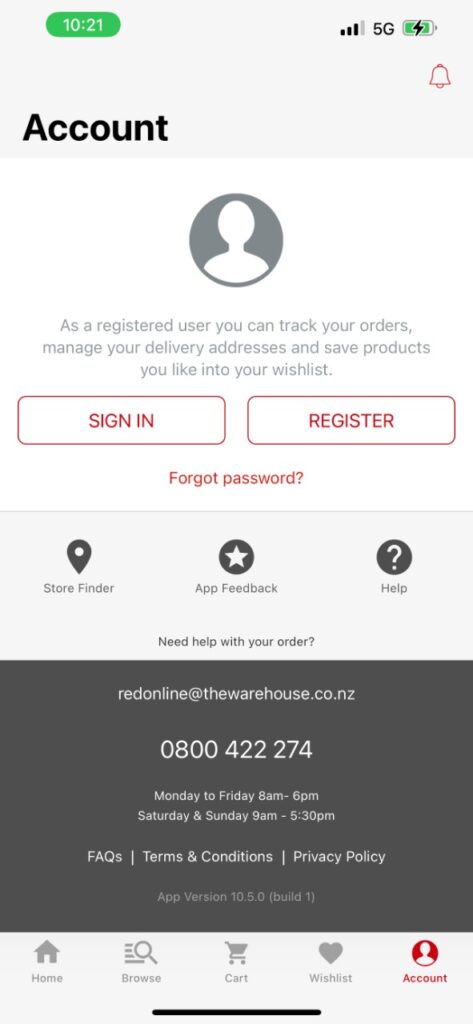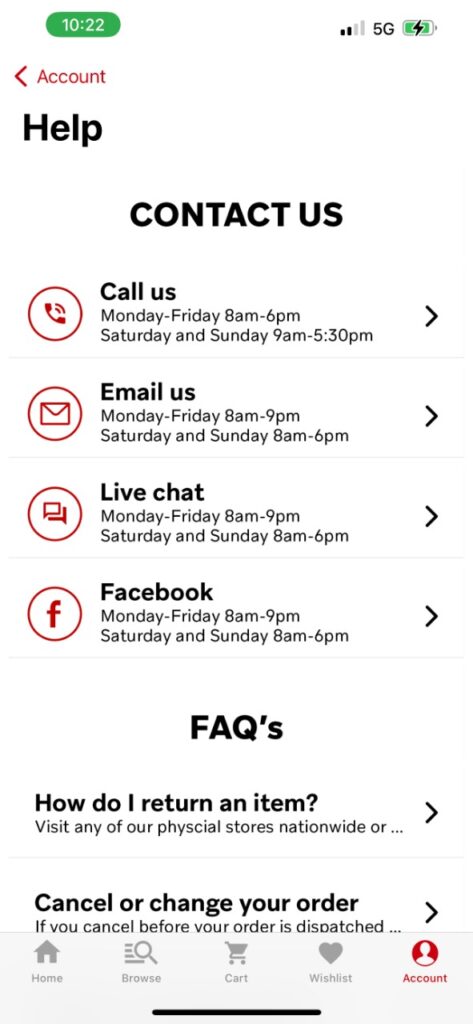 Speak To Someone At The Warehouse
Don't feel like entering The Warehouse's competition by leaving your feedback on their website? Feel free to send them a message on one of their social media accounts instead:
If that's not for you, you can use their online store locator and pay them a visit in person, send them an email via the contact form on their website, or read their FAQs to see if your question has already been answered. Lastly – you're more than welcome to give them a call directly on 0800 733 665.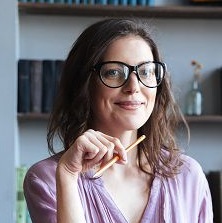 Hi there! I'm Emma – I'm the lead editor here at Opinionr. I write about many of the customer satisfaction surveys and feedback opportunities that stores have. Stores love it when you give them feedback and often reward you for giving it to them – fantastic! Got a question? Let me know! You can check out all my posts on my profile – Emma Jones
777 reviews
{{ reviewsOverall }}