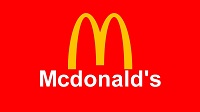 Write my review
You all know McDonald's. Their burgers and fries are famous all around the world, and the UK is no different. Even though they already make some tasty fast food, they want to make it even better. To do so, they need feedback from customers like you.
The McDFoodForThoughts initiative is a feedback platform where you can tell McDonald's about your recent experience at one of their restaurants and let them know how they can improve. In exchange for your feedback, they're giving everyone who takes the survey some free food to reward them.
This is quite similar to a similar survey Subway UK is taken – SubwayListens. If you visit www.SubwayListens.com, you can leave some feedback for Subway and get yourself a free cookie the next time you visit one of their stores.
McDFoodForThoughts Details
| | |
| --- | --- |
| Ends | December 31, 2020 |
| Entry Method | Online Survey |
| Survey Prize | Big Mac & Fries for £1.99 |
Other than the details above, there aren't any more official rules for the McDonald's Food For Thought survey.
www.McDFoodForThoughts.com Instructions
As UK McDonald's only wants feedback from genuine customers, so you can only take the McDonald's Food For Thoughts survey if you've got an invitation card or a recent receipt with the following information on it:
A twelve (12) digit survey code printed on the top of your receipt, and
The exact amount of the transaction
Can't find it? Here's an example from a receipt in the UK: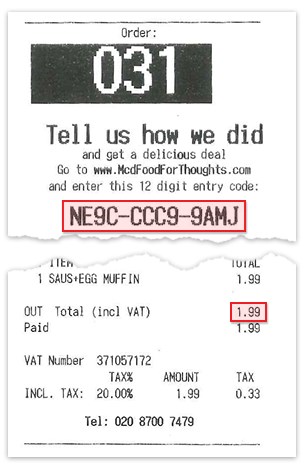 Once you've decided which way you're going to take the survey, follow these instructions:
Head to www.McDFoodForThoughts.com in your browser, search McDonald's Food For Thoughts in your search bar, or click the link a bit further down for easy access
Choose the right method to enter for you and then enter in the relevant information in the boxes. If you can an error, keep trying until it works
Once you've been validated by the survey, you'll need to go through and answer all the questions their survey team has for you
Try and answer them honestly, all they wants to do is serve better burgers and give you a better experience the next time you dine with them
At the end of the survey, a validation code will appear on your screen, write this down on your receipt in the blank space
Congrats! 🙂 You've just completed UK McDonald's survey and can claim your coupon the next time you visit one of their restaurants. Enjoy!
If you like, you can watch this video detailing how to take their survey:
Some of the questions asked on the UK McDonald's survey include:
What was your overall satisfaction rating with this McDonald's restaurant?
How clean was the store? Was the speed of the service to your satisfaction?
Was it easy to place your order? How friendly were the McDonald's staff?
Was the order your received accurate? What about the temperature of the food?
How tasty was the food and drinks you received?
What was your overall satisfaction with the quality of your food and drinks?
Based on your recent experience, how likely is it that you'll visit McDonald's more often?
Some of the questions you see there are quite similar to ones seen in other customer feedback websites, like the one hosted by Tesco. TescoViews, is a method used by the grocery store to gather information on how it can improve. And it's rewarding customers with more than a bit of free food – you could win a £1000 Tesco Gift Card for taking the survey at www.TescoViews.com.
So you know you're in the right place, here are some screenshot from McDonalds Food For Thoughts:
About McDonald's UK
McDonald's is an American giant fast-food company founded on May 15, 1940, in California, US. This successful restaurant chain obtained its name from its founders, brothers Dick and Mac McDonald. Today, it is the world's largest restaurant chain by revenue, with presence in over 38,000 outlets in more than 100 countries.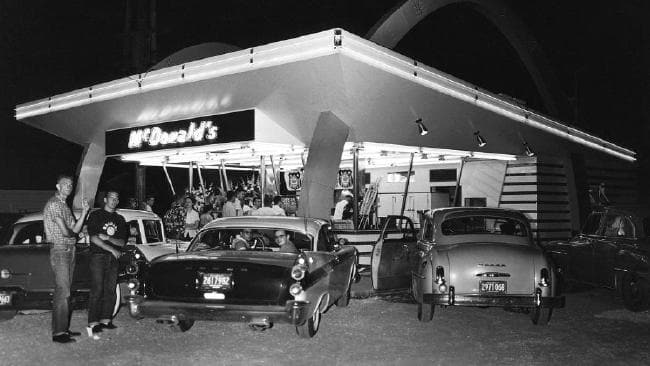 In the UK, McDonald's opened its first outlet in 1974, in Woolwich, London. There are now over 1,270 outlets across the UK. Much of this growth comes from consistently listening to what their customers think on surveys such as mcfoodforthoughts.
This isn't an uncommon method to gather customer feedback. With many larger retailers and companies throughout the UK implementing similar methods. One such example is Primark. They are currently running the TellPrimark survey at www.TellPrimark.co.uk where they giveaway £1,500 every week in prizes to those that give them feedback.
McD & The Environment
As a global brand most people can relate to, McDonald's goes one step further by championing several causes close to people's hearts. As such, McDonald's has its own charity, Ronald McDonald House Charities (RMHC), which builds Ronald McDonald House (RMH) for sick children and their families. These RMHs are built near to children hospitals with telephone linked directly to the children's ward.
In the UK, as of 2017, over 8,000 families stayed for free in RMHs. McDonald's has managed to collect over £3 million for the operation and building of these RMHs, by simply putting the RMHC boxes at McDonald's outlets across the UK. This fund expanded to another £1.5 million donated from sales of McDonald's in the UK. To date, there are 12 RMHs located across the UK.
If you'd like to see McDonald's UK continue to support RMH, make sure to let their management know on the Mcdonald's food for thoughts survey.
Besides the renowned Ronald McDonald House Charities as discussed above, McDonald's UK also involved in other charity events for various causes, such as sponsoring Whole Hog, a muddy 10km obstacles course, which has successfully raised over £100,000. McDonald's UK was also a part of the Cycling Across Madagascar program which has raised at least £175,000.
Feedback For McDonald's UK
McDonald's UK has brilliantly established its own microsite to obtain customers' feedback. Besides, it has also other alternative channels, through phone from Monday to Saturday, email, and mail.
In terms of rating, according to Glassdoor Website, McDonald's UK obtained 4.3 out of 5, or about 86%. The rating is viewed as above average, with 97% of the users will recommend this brand to their friends.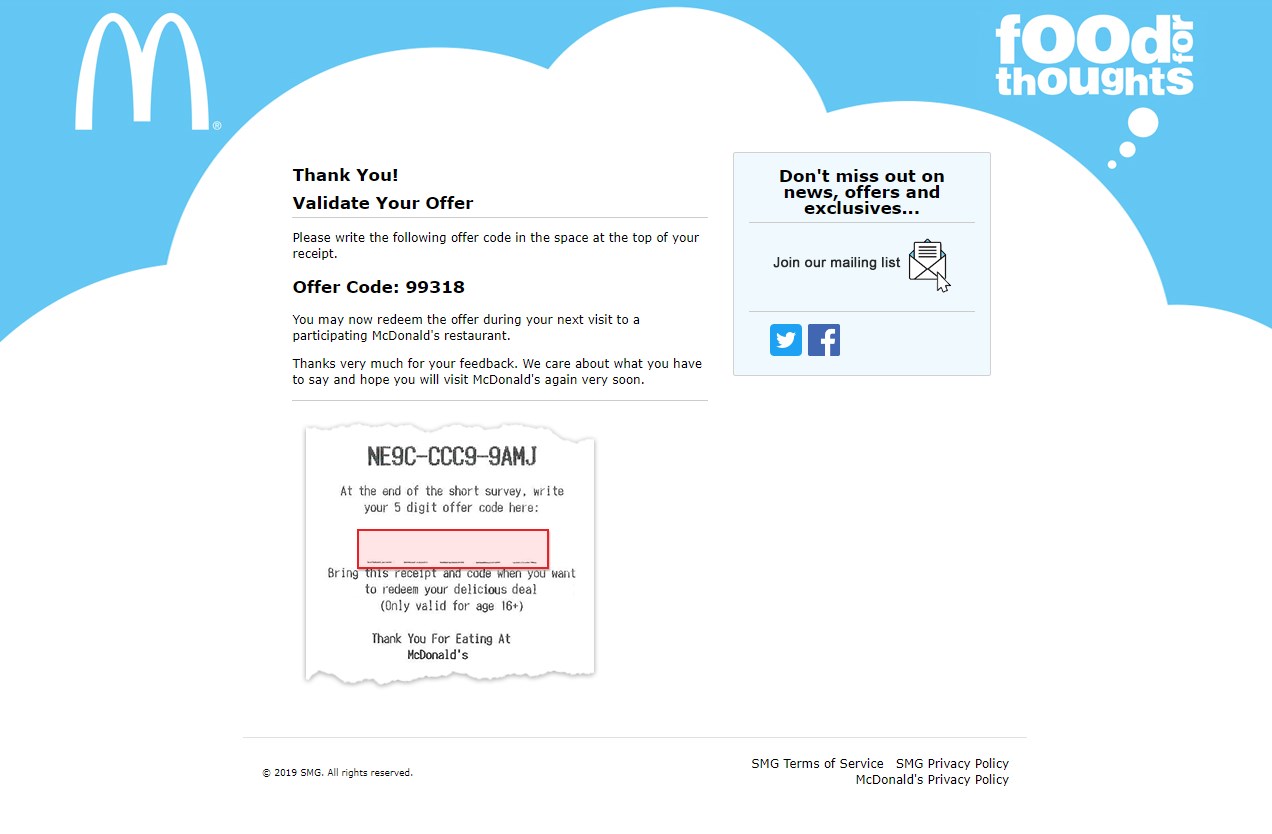 McDonald's UK Future Plans
In the future, McDonald's is planning to further modernize stores by incorporating digital menu boards and self-ordering kiosks at all its outlets, as part of its Experience of the Future scheme. It is also in the midst of revamping its delivery services, as in the UK, delivery now represents as much as 10% of sales.
Apart from that, McDonald's is also committed to being a responsible player by safeguarding the environment, such as to 100% source all packaging from renewable, recycled or certified sources by 2025.
All in all, if you want to help shape the future of their company in not only their menu but how they help the environment as well, head to www.McDFoodForThoughts.com and take the survey.
If you've already left McDonald's feedback, why not head to another restaurant and get some more free food as well? KFC have put together something almost exactly the same as McDonald's is doing here. They are running the YourKFC feedback platform at www.YourKFC.co.uk where you can get 20% off your next order, just by taking a 3 minute survey. Not bad at all.
Talk To McDonald's Team
Want to talk to someone at McDonald's about their food outside of the McDFoodForThoughts survey? Send them a message on either of these:
Don't want to do that? Use their online store locator to find a McDonald's near you and contact them directly. Otherwise, you can read their FAQs to see if your question has already been answered.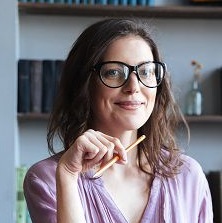 Hi there! I'm Emma – I'm the lead editor here at Opinionr. I write about many of the customer satisfaction surveys and feedback opportunities that stores have. Stores love it when you give them feedback and often reward you for giving it to them – fantastic! Got a question? Let me know! You can check out all my posts on my profile – Emma Jones
71 reviews
{{ reviewsOverall }}