Tell BP your feedback at – www.talk2bp.com.au – and you could win a $1,000 Fuel Gift Card. What a great way to voice your opinion and share your experience with them.
Survey details
BP in Australia is doing something a little special this year – they're giving away $10,000! Specifically, they're giving away $1,000 in Gift Cards across 10 months, finishing up at the end of 2018. How can you enter and win a bunch of free fuel? Pretty easy! Take the official Talk2BP survey and you'll be in the running 🙂
Here are the specific details:
| | |
| --- | --- |
| Start Date | January 1, 2019 |
| End Date | June 30, 2019 |
| Entry Method | Online |
| Entry Limits | Unlimited |
| Prize | One (1) $1,000 BP Gift Card |
| Prize Approx. Retail Value | $1,000 |
| Total Prizes | Ten (1) $1,000 BP Gift Card |
| Total Prize Approx. Retail Value | $10,000 |
| Entry Requirements | Must make an eligible purchase to enter |
Rules
Now, before you head down to BP and buy item after item, there are a few rules they've put in place for you to follow. If you don't stay within them, they could give your prize to someone else!
Here's what you need to follow:
You must be an Australian resident
You must be over the age of 18
You must not be affiliated with BP in any way
You must keep your original receipt in order to claim the prize
That last one's important! So make sure, after you complete the survey and enter the giveaway, to put the receipt in a special place where it won't accidentally get tossed in the bin.
Imagine this – you get a call from BP, you're the winner! Congratulations 😀 You look for the receipt, you can't find it. BP gives your $1,000 prize to someone else. Don't let this happen to you!
Want to see the official official rules? Click here to download the PDF.
Instructions
Let's get into it! Once you've made an eligible purchase, here's what you'll need from your receipt to enter:
The date you visited BP
The receipt number of your transaction
The survey code
What time you visited them (morning, afternoon, evening)
BP's receipt may vary from store to store, but here's what you may find the information on yours: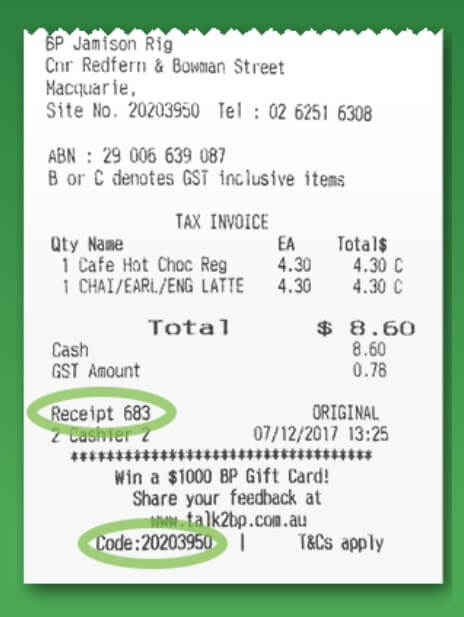 Got it all together? Fantastic! Here is a few steps you can follow to complete the survey:
Head to the official survey website (below) and enter in the four (4) bits of information to get past the first screen
If you've entered them correctly, you'll be invited to take the survey. Otherwise, you might get an error that says 'Sorry that is not a valid answer, please try again'
Once they've accepted the numbers you entered, you can take the survey and answer all the questions BP has for you
At the end of the feedback form, you'll need to give some more personal details for you to be entered into the giveaway to win the gift card
All done! If you do end up winning, they'll give you a call and tell you in writing, so make sure to check your messages!
Here's a screenshot of what the survey looks like:
You can take the survey here – https:/www.talk2bp.com.au
Why does BP care?
Over the past decade, BP has been in the headlines for many of the wrong reasons. And some of the worst ones at that. Just mention the phrase – oil spill – and BP's mishap in the Gulf of Mexico is the first thing that'll spring to the front of many Aussie's thoughts. This is just one of the reason's BP is holding this survey to improve their reputation among the locals.
It's gone so far that a parody of how BP's management handled the situation has accumulated a whopping 13 million views:
On top of that, the fuel retailing industry of one of their main businesses in Australia, and it's one competitive industry to be in. Margins are quite low, and consumers consistently get agitated by the ever-fluctuating price cycles, which seem to go unmatched by the ACCC. As BP seems to have no intention of moving away from this practice, it's important they show their customers they care in other ways.
As you can see, one of those other ways is through the survey you see here today. By asking customers (you and I) for their feedback, we can tell them exactly how we feel about their goods and services, without them having to waste time and money playing the guessing game.
 About their business
BP, formerly The British Petroleum Company, is one of the world's largest multi-national organisations. From its humble beginnings in 1908 when it was originally called the Anglo-Persian Oil Company, its operations now span over 70 countries, employing more than 70,000 worldwide. Altogether, their refineries pump out 3.6 million barrels of oil a day. A day! Absolutely crazy numbers.
Here's a neat video summing up (quite effectively) how, and what, BP does:
They don't only pump it out though, no, they sell it too. Across the globe, you'll find the BP logo plastered across 18,300 service stations, with the majority of their locations in the United States. Locally, there are 1,400 BP branded service stations in Australia, making them one of the biggest fuel retailers in the country. So it's pretty important they pay close attention to how the public feels about them before they lose their top positions. Which is why it's fantastic they're doing just that with this survey.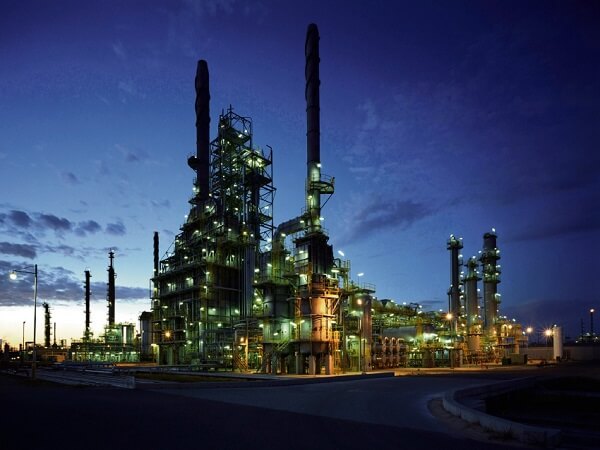 In Western Australia, BP's oil refinery in Kwinana is Australia's biggest, and supplies over 80% of the fuel for the state. In 2014, a shortage at the refinery saw many fuel stations run out of diesel. This caused quite a bit of panic, leading to many stocking up on as much diesel as the could, just in case worse came to worst. Thankfully, it was a brief shortage and all their customers were happy again in no time. Just imagine how much feedback they would've gotten it they had the survey back then as well!
With fossil fuels also declining in reserves rapidly, it'll be very interesting to see how BP handle this change in the near future. Some believe electric cars will take over before the century's out. What will this mean for BP and its fuel stations? I don't know, but it's going to be interesting to see who comes out on top. One thing's for sure, if they consistently ask their customers for feedback as they're doing here, they'll be tough to beat.
What was my experience with them?
I'm a bit impartial to BP. I've never had a bad experience with them, and nothing's been overly fantastic either. It's hard for me to tell which BP is owned by a franchise and by the company, so it's tough to judge the company itself when the whole service station could be owned by a local businessman down the street.
For example, some of the stores are modern, spik and span and lovely to walk into, others are run down, housing out of date pumps, and lots of holes in the driveway concrete – not a very good look. I'd like to see a bit more consistency about their service stations, then my rating would definitely improve!
How did you go at BP? Was it a good or bad experience?  Write a review and let me know!
Get in touch with them
Want to send BP a message outside of their feedback form? Get in touch with them on social media:
Otherwise, you're welcome to give them a call on their general helpline on 1300 130 027. If you'd like to get a written response, you send them an email on AUaustcare@bp.com.
Their corporate office is located at:
Level 17/717 Bourke Street
Docklands VIC 3008
Share your experience and write your review!
33 reviews
{{ reviewsOverall }}