Take AMC Theater's official survey TellAMC at – www.tellamc.com – and win a $100 AMC Entertainment gift card. Provide your opinion, give your feedback, and win!
Survey details
AMC is currently holding a customer satisfaction survey for many of their guests. There are a few things about the form you should know.
Here are the specific details:
| | |
| --- | --- |
| Start Date | January 1, 2019 |
| End Date | December 31, 2019 |
| Entry Method | Online, Mail |
| Entry Limits | Unlimited |
| Prize | One (1) $100 AMC Gift Card |
| Prize Approx. Retail Value | $100 |
| Total Prizes | 12 (one per month) |
| Total Approx. Retail Value | $1,200 |
Rules
As with many of the other satisfaction surveys, you'll need to stay within a few rules to be eligible for AMC's prize:
You must be a legal resident of the United States
You must be at least 13 years old
You must not be affiliated with AMC, its affiliates, subsidiaries, or parent companies, or live in the same house as them
Alaska, Hawaii, Puerto Rico, and Maine, are ineligible areas
Heads up good news for those under 13 years! You can still enter the survey competition, but if you do end up winning, the prize will just go to your parent or legal guardian.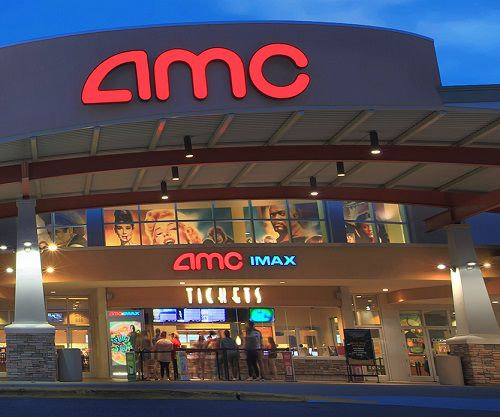 Make sure you follow all the rules otherwise if you do win, and they found out you went against some of them, your prize could be handed to someone else. That's not very good!
Each month, the winner of the $100 gift card will be selected randomly. If you're chosen as the winner, they'll send you an email. You need to reply within 5 business days otherwise they might give it to someone else.
If you like, you can download all the rules here.
Instructions
There are a few things you'll need before you start.
The date of when you saw the movie
The theater unit number, and
The survey number
All of this can be found on the receipt that AMC gave you: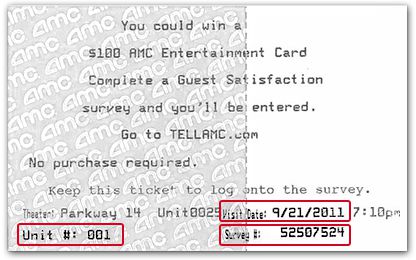 Once you have all of that ready, you can get started on the actual survey:
Visit the website where the survey is taking place (below) via any of your electronic devices (computer, phone, tablet). I always use my computer because I find it easier.
Then enter the information above (survey number, date, theater number)
Once that's been verified by their system that it's a real receipt and you actually saw a movie with them you can start the survey
Please note that unlike other surveys, you automatically go in the draw to win on this one (you don't need to confirm your entry at the end like Cinemark's survey, for example)
And now, you're all done! Go enjoy another movie 🙂
Here are a few of the questions you'll find in the survey:
Which type of AMC did you visit?
What was your overall satisfaction at the theater?
How did you purchase your movie tickets?
Did you order any food? Did you visit the restroom?
How clean was it? Was your seat comfortable? Did you like the movie?
Was the temperature of the theater ok?
How was the quality of the picture and sound?
Where the crew members friendly?
How easy was it to order food and pick up your tickets?
Here are a few screenshots of what the survey looks like:
Why does AMC care?
For one – you are their customer! Not only is it fun to give your feedback to them and possibly get rewarded for it, but your opinion has more power than you can imagine. And AMC knows it! Why is why they want to get it through the survey on www.tellamc.com.
Any good business will consistently ask for feedback from their customers, not only to see if they're providing a good service but also how they can improve and make sure they're still in business 10 years down the road. Could you imagine AMC not existing?! I couldn't!
Pssst! Check out one of the ways they've listened to your feedback and improved their cinemas:
Hosting this survey is just one of the few ways AMC's getting feedback from their customers (you and I) about their theater quality, how good the food is, the friendliness of their staff, and everything else about their venues.
Want to leave your feedback now? Click here to get started and write your review!
About their business
AMC is the biggest movie theater chain in the world. Hands down, no questions asked. When did they take the title? When they bought up all the competition! In 2016, they bought Odeon Cinemas (in the UK), UCI Cinemas (various European countries), and Carmike Cinemas (US chain).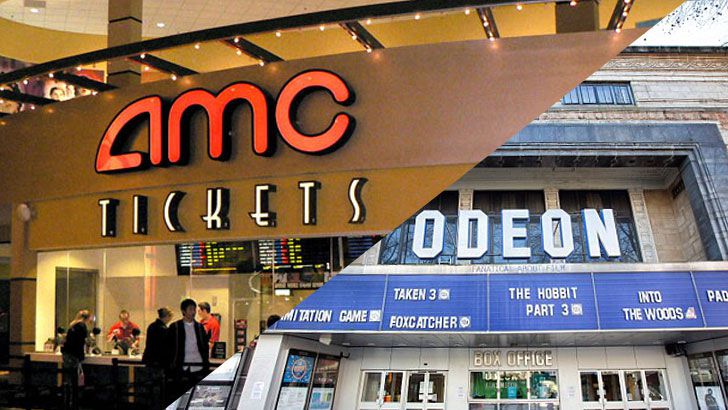 Now, they have more than 10,400 movie screens around the world. That's a massive number! It'd take you 28 years of seeing a movie once on each of their screens to visit them all. Crazy stuff!
With so many screens requires a huge number of staff serving their customers, maintaining the theaters, and striving to provide you & I with an awesome movie experience 🙂 More than 4,300 employees called AMC home as of December 2017.
They're consistently innovating within the movie industry, ensuring they stay ahead of their competitors. One of the ways they've done so is with their loyalty program – AMC Stubs. You can see 3 movies every week for just $19.95/month, and get a huge range of other perks as well. Just recently, their membership grew to a massive 17 million members.
Here's a little promo they put together promoting the new loyalty program:
What was my experience with them?
The last time I went to an AMC it was at one of their Dine-In locations. All the staff were nothing too out of the usual (the service wasn't exceptional but wasn't bad either).
I thought the inside of the theater itself was very clean though. I didn't see a single piece of popcorn on the floor or seats when walking in (I know – hard to believe!). But it was a dine-in so I'm not sure how many people are eating popcorn there.
The food was pretty average though. I mean, the menu itself looked quite alright, but I'm not sure, when it arrived it just didn't really stand out to me. It was just missing..something. Sorry, I'm not a very good food reviewer 😛
I'd love to hear about your experience! Let me know by writing a review 🙂
Share your opinion
I'd love to hear your feedback and what you thought about AMC. Tap the button to scroll down and write your review.
Get in touch with them
Want to send AMC a message? I'd recommend reaching out through one of their social media accounts:
Otherwise, you can send them a DM on twitter @AMCHelps. Or call them on 877-262-4450.
Their support center is located at:
11500 Ash Street
Leawood, KS 66211
Share your experience and write your review!
1 review
{{ reviewsOverall }}