Kroger, one of America's largest retailers, is hosting a survey called KrogerFeedback! They want you to take the survey and leave your feedback – in return, you could win a $5,000 Gift Card!

Survey details
Fantastic news! You can now take the Kroger feedback survey and go in the running to win a massive $5,000 Gift Card Grand Prize! Even if you don't win the big prize, there's still another 100 x $100 Kroger Gift Cards they're giving out 😀
How can you win? Take the official KrogerFeedback survey at krogerfeedback.com (link is below) and you'll be in it! But first, here are some specific detail you'll want to know:
| | |
| --- | --- |
| Start Date | January 1, 2019 |
| End Date | December 31, 2019 |
| Entry Method | Online, Mail |
| Entry Limits | Unlimited |
| Giveaway | Sweepstakes |
| Prize | $5,000 Kroger Gift Card |
| Prize Approx. Retail Value | $5,000 |
Rules
$5,000 is a lot of money so Kroger have put a few rules in place to make sure the sweepstakes survey is fair for everyone that enters. Follow these and you'll be all good if you win the prize:
You must be a resident of the 50 United States or the District of Columbia
You must be at least 18 years or old at the time you enter
You must not be affiliated with Kroger or it's affiliated companies in any way
You can read the official rules here.
Instructions
Before you jump on in and take Kroger's survey, you'll need a few pieces of information from your receipt:
The date you visited Kroger
The exact time of your transaction
The survey code printed at the bottom of your receipt
Here's an example of where you might find the information on your receipt: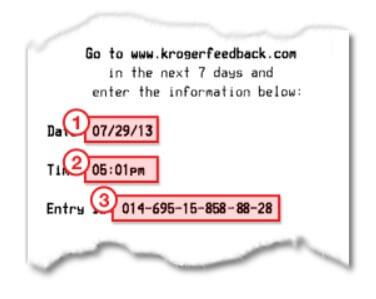 Got all the information ready? Awesome! Follow these instructions:
Head to the official site hosting the Kroger's feedback form (link below)
On the first page, enter in the three (3) pieces of information from above
If you've entered them correctly, you'll be invited to take the survey, otherwise, you may get the following error message: "Sorry, we are unable to continue the survey based on the information you provided. Please try again."
Once you've made it passed the verification page, answer all the questions Kroger has for you about your recent experience with them
At the end of the survey, you'll need to submit a few pieces of personal information to enter the sweepstakes:

First name and last name
Address
Email
Contact number

That's it! You've just completed Kroger's feedback survey and are in the running to win a $5,000 gift card. Good luck! 😀
Here are a few example questions Kroger's customer satisfaction team might ask you:
On a scale of 1-10, how would you rate your overall satisfaction with your recent visit to Kroger?
Were you greeted by an employee when entering the store?
How easy was it to find what you were looking for? Was it easy to navigate the layout?
Did they have all the items you wanted? Did you feel they were lacking in any department?
How clean was Kroger's store? What about the restroom?
Was the checkout process fast? And was the cashier who assisted you capable and friendly?
How likely is it that you'll recommend Kroger based on this experience?
Here are a few screenshot of what the survey looks like:
You can take the survey here – www.krogerfeedback.com
Want to enter the sweepstakes without completing the survey? No problem! Simply hand print your name, complete address, and your telephone number on a postcard and mail it to:
Survey Monthly Sweepstakes
PMI Station
PO Box 3547
Southbury, CT 06488-3547
Why does Kroger care?
Kroger's family of companies ranges far and wide. They've got Ralphs, Smith's, King Soopers, Food4Less, JayC Food Stores, Owen's, and many more. With so many companies operating under the single head that is Koger, it's very important for their management to pay close attention to each and every experience a customer has at one of their grocery stores.

Think about if they didn't – Kroger wouldn't just lose that customer of that one store, but the customer would likely refuse to shop at any of Koger's other stores as well, knowing they're all owned by the same company. Thankfully, as they're hosting this KrogerFeedback survey, that clearly isn't the case. Instead, they're actively incentivising customers to take the survey and leave their feedback. Which I think is awesome! I'm all about voicing your opinion to promote change, and a $5,000 gift card along the way wouldn't hurt anyone 😛
About their business
Kroger is the biggest supermarket chain in the whole of the US, in terms of revenue that is. They have over 3,000 locations currently, and just narrowly got beaten by Walmart to the top spot for largest general retailer America!
History
A company doesn't get that big overnight, so it's no surprise that they were actually founded in 1883. A man named Barney Kroger invested his life savings ($372) into opening a grocery store in Cincinnati. He ran his business on a very simple motto that clearly worked:
Don't sell anything you wouldn't want yourself
One year later he opened his second store, and by 1902 there were over 40 stores as their grocery and bakery division joined forces.
1916 saw the introduction of self-service shops, the kind we have today – you know, where you browse the aisles and put whatever you want in the trolley before your checkout.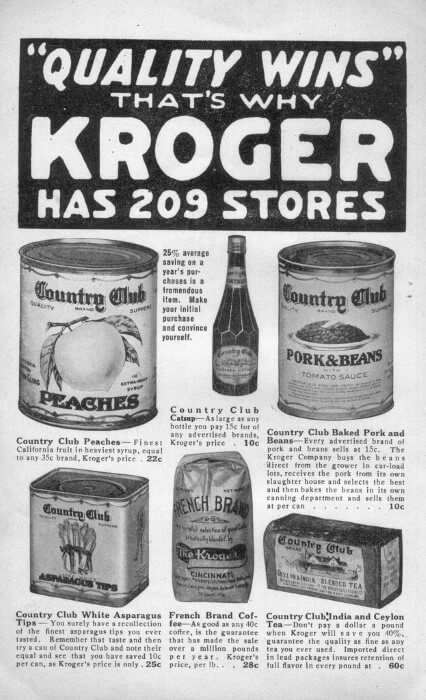 Before then, everything was stored behind the counter…Imagine what that was like for the poor cashiers! Though I doubt a huge weekly shop was a thing back then.
Through the 50s and 60s they focused on purchasing other supermarket chains. In just three short months during 1955, they bought 3 supermarket chains!!! In 1963 they picked up another 56 stores when they acquired the company, Market Basket.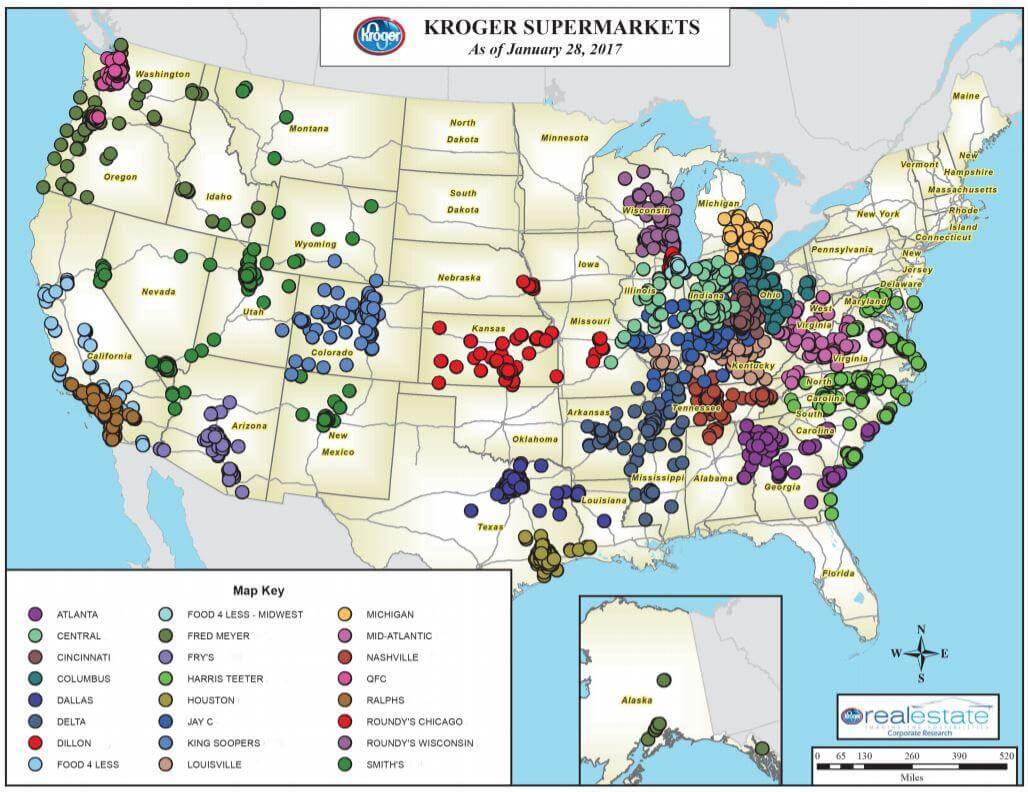 The 70s saw them become the first chain in the US using those electronic scanners we see in all stores today. Kroger was pretty revolutionary when it came to implementing new systems that we see today.
Through the 80s, 90s and 00s, they bought, bought and bought some more and continued this right until the present day to reach the whopping number of stores they have across the country.
What do customers think?
So sometimes, when you're a big company it can be hard for everyone to like you. However, its official that Kroger is a favorite of the country! They bagged themselves a 53% favorability rating on a survey done by Morning Consult Intelligence in 2017. Though it may seem like a pretty average score, it was actually far higher than any other of their competitors in the grocery industry.
Of course, even though they've already rated highly in previous surveys, they still want to know how they can maintain, and even improve their stores! So go on and take Kroger's survey and tell them about your recent experience 🙂
Fun Facts
When it comes to a hundred-year-old company, they're sure to have a few fun facts up their sleeve.
The first that struck my eye was that they have in-store craft beer taps, so you can fill up your growler every time you go in! This just made grocery shopping a whole lot more fun. I wonder if someone put that on the survey – "I want beer on taps at Kroger!" 😛 😛
They have their hand in the jewellery and flower market too! They're actually the largest florist in the world!! Who would've guessed that?!
If you're a cheese fan you'll also be happy to know that they own one of America's best cheese shops, Murray's Cheese. The originally New York-based chain now has counters in several of their stores.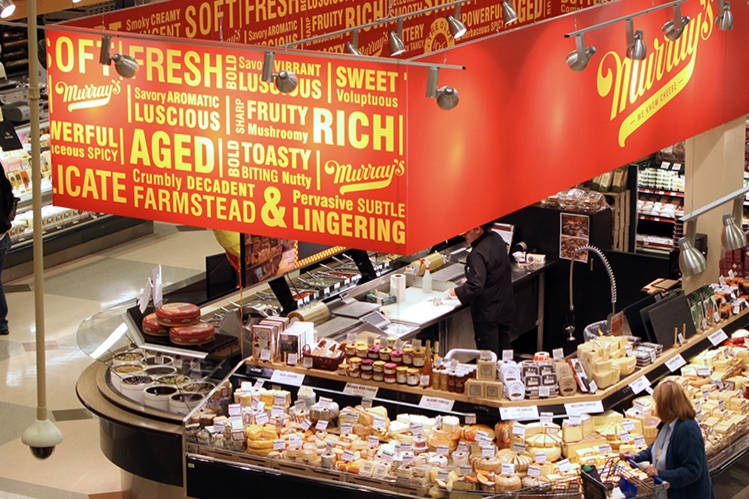 Where they're heading
Kroger is big on sustainability and has a bunch of goals they're aiming to achieve by 2020. Things include responsible sourcing of their seafood (they're aiming for it all to be MSC Certified) and they also want to divert 90% of their waste away from landfill. Now considering we only have just over a year left until 2020 hits, they certainly have their work cut out for them! I think once customers know all the sustainability effort they're trying to do, they'll definitely improve the feedback they leave for them.
Longer term goals include things such as ensuring all their eggs are cage free by 2025 and having zero food waste by the same time. They also want to end hunger in the communities they serve. By 2020 they're aiming to have served 1 billion meals to the less fortunate, adding another 2 billion by 2025!
What was my experience with them?
I've always enjoyed shopping at Kroger. I know sometimes it's hard to actually tell if you're shopping at one of their stores because of all the brands they have though! Anyways, I really love all the sustainability efforts they're putting into place now, and in the future. It's really good to see even the biggest companies are starting to realise that they are the ones that need to lead the way.
Have you recently shopped with Kroger? Do you have any feedback for them? Write a review and let me know!
Get in touch with them
Want to get in touch with Kroger and send them some feedback outside of the official survey? Send them a message on social media:
Or, you can give one of their customer service representatives a call on 1-800-KRO-GERS (1-800-576-4377). Otherwise, you can send them a message through their website. Lastly, get in touch with a store near you by using their store locator.
Their head office is located at:
1014 Vine Street, Cincinnati
OH, 45202
Share your experience and write your review!
3 reviews
{{ reviewsOverall }}