Fedex, one of the premier postal companies in America wants to improve the speed and satisfaction of their services. To do so, they're hosting an official Fedex survey called Fedex We Listen. After you take the survey on fedex.com/welisten you'll be rewarded with a 10% off coupon! 😀

Fedex Survey Details
As mentioned a bit earlier, the Fedex WeListen survey is an initiative put together by the customer satisfaction team at Fedex. They want to hear about all the experiences their customers are having (both good and bad ones) so they can hopefully improve their customer's satisfaction the next time they come in. To reward all the survey takers, they're giving away a 10% off coupon on your next print order 🙂
Here are the specific details:
| | |
| --- | --- |
| End Date | December 31, 2023 |
| Prize | 10% Off Coupon (max $25 discount) |
| Prize Value | $25 |
Survey Rules
I've got some great news for you! There are no rules. Unlike a few of the other surveys where companies are giving away thousands of dollars to survey takers, FedEx has kept it simple and is letting everyone and anyone to take the survey and get rewarded with a 10% off coupon.
There are a few rules for the coupon though:
It can only give a maximum discount of $25
Discount applies to orders placed in a FedEx Office® store or online through FedEx Office® Print Online
Coupon is valid until June 30, 2019
Fedex.com/WeListen Instructions
So you want to take FedEx's survey? Wonderful! And I've got some even more awesome news for you – you don't need any long survey codes to get started. You will however, need one of the following pieces of information:
The store number located on the brochure or flyer you have, or
The location code found near the top of your receipt
Here's where the location code might be: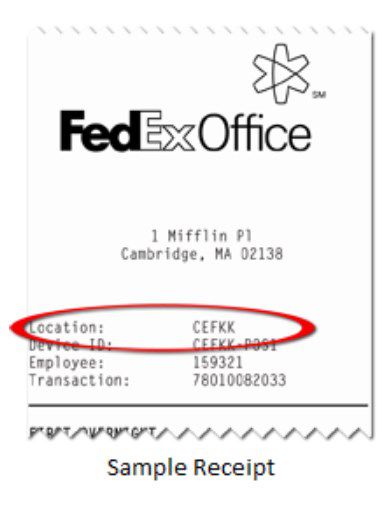 Once you've got the information ready, follow these instructions to complete the survey:
Visit the official website hosting FedEx's survey (link below)
Choose whether you want to take the survey in English or Spanish
Enter the location code or the store number you have
Answer all the questions their customer satisfaction team has for you
At the end of the survey, you'll be given a code to write down for the 10% off coupon
And you're done! Pretty simple right 🙂 You've just completed FedEx's customer satisfaction survey and can now save 10% on your next visit
A few questions they might ask you:
How was the speed of the service you received at FedEx?
On a scale of 1-10, what was your overall satisfaction with your experience at FedEx?
Is there anything FedEx's employees could've done to improve your overall satisfaction?
How likely is it that you'll recommend this particular FedEx to family or friends?
Here's a screenshot of what the survey looks like: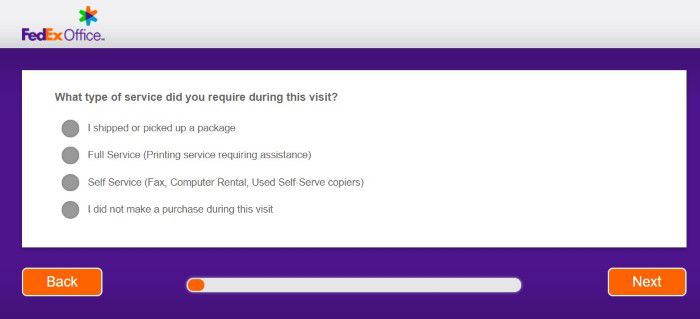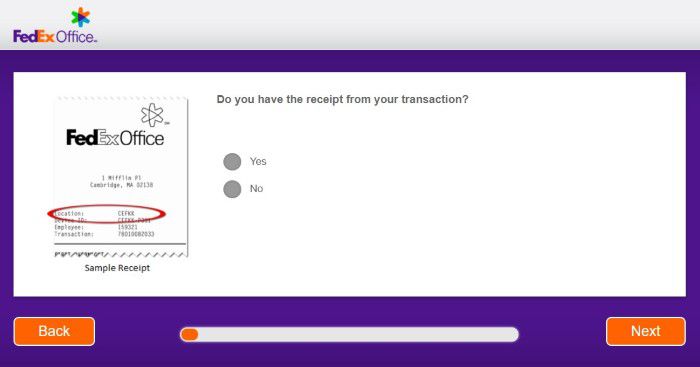 About Fedex
Being an international delivery company it's likely that people are either going to love ya or hate ya (which is why they want to know about if in their WeListen survey). Regardless of the above, you've likely received a FedEx delivery at some point or another in your life. So how long have they been around? What's their story?
History
The company was founded in 1971 in the town of little rock, Arkansas. It was the brainchild of Yale university student Fred Smith who did a paper for his economics class, which sounds super complicated but, put simply, kinda argued the importance of time is money etc. and that the logistics industry needed to step up as people weren't getting their packages quick enough due to gaps in the current services offered.
By 1973, Fred had moved his company to Memphis, TN and had 14 planes that delivered packages to 25 states. They prided themselves on the fact they had "550mph delivery trucks" (aka, the planes).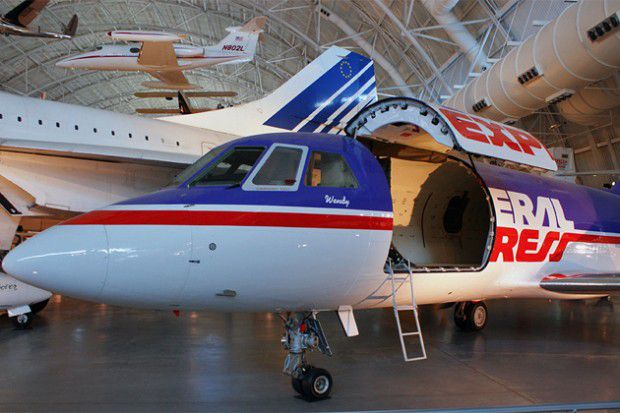 In '77, some laws changes regarding where cargo planes could fly, and so FedEx purchased some big aircraft (727s) which began their rapid growth.
In the early 80s, they introduced their famous overnight letter service and began their international services to Canada. They even opened their first main hub right by Memphis airport and embraced all the tech they could, using PC based shipping systems and even introducing their tracking service.
In the mid-nineties they launched their website which allowed customers to track their packages and set up parcel pickup online. They opened a hub in Asia and in 1998 they launched FDX Corp (later becoming FedEx Corporation) which is the company that is made up of Federal Express, RPS, LTL, Viking Freight, Caliber Logistics and Robert's Express.
In the early '00s, they teamed up with the USPS to help them reach customers in more rural areas of the states. In '08 they added some Boeing 757 aircraft to their fleet and by 2010 they were even launching all-electric delivery trucks – they look pretty futuristic!
Hopefully, this will improve a few of the responses on their survey!
In the last couple of years, they bought TNT express, expanded FedEx Ground to a 6-day a week service and even launched their giving back program, FedEx Cares.
Today FedEx has 425,000 employees, delivers about 13 million packages per day with a fleet of over 600 planes and 150,000 trucks. That's pretty huge!
Interesting facts
In the beginning, it's no surprise they were really strapped for cash. I mean c'mon, airplanes are not cheap, and they were actually losing millions of bucks. So much so that one weekend, after being refused some capital from General Dynamics, Fred jumped on a plane to Vegas and won $27k on Blackjack just so he could pay the payroll for his staff that month – I don't know whether I'm happy or mortified at that fact!
Every day, they have an empty plane flying from coast to coast just in case one of their planes break down, so customers can get their packages on time, it costs around $30k and that's a solid commitment to delivery times!
One thing I noticed too, that friends didn't, so I wanted to include on this, was that the logo has a little white arrow that is created between the E and the X on the logo. Have you ever noticed that?

Oh and we can't forget FedEx Panda Express, yes, that's right! That's probably the most interesting and funny fact I found. Back in February 2018, the 200lb animal, a crew of 4 and two vets transported a panda from Washington DC to China!
Future of the Company
In a tech era, FedEx is wanting to transition into having driverless deliveries, which kinda sucks if you're a driver for them, but kinda awesome that this is where technology is these days.
They even want to use drones to make commercial deliveries in the near future! I would like to see that!
Talk To Fedex Survey Team
Don't want to take the FedEx WeListen survey but still want to leave your feedback? Check out their social media accounts:
Otherwise, you can send them a message directly through their website. Or, you can have a read of their FAQs here.
Their head office is located at:
3680 Hacks Cross Road
Memphis, Tennessee 38125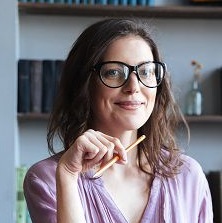 Hi there! I'm Emma – I'm the lead editor here at Opinionr. I write about many of the customer satisfaction surveys and feedback opportunities that stores have. Stores love it when you give them feedback and often reward you for giving it to them – fantastic! Got a question? Let me know! You can check out all my posts on my profile – Emma Jones
1688 reviews
{{ reviewsOverall }}