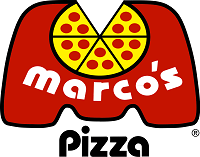 I know! I know! Marco's Pizza makes delicious pizzas. But they still want to know what they can do better! Head online to – www.tellmarcos.com – take the survey and voice your opinion!
TellMarcos Details
Marco's Pizza is getting down and dirty into all the experiences their customers are having at their pizza stores! And it sounds like you have what they're after 🙂 So go on – take the survey, give them your feedback, and grab yourself some awesome offers to redeem the next time you bite into their delicious pizzas!
Here are the specific details:
| | |
| --- | --- |
| End Date | March 31, 2023 |
| Prize | Offer printed on your receipt |
| Prize Value | $3-$5 |
Survey Rules
Hey! I've got some good news for you – there aren't any rules in the TellMarcos survey! 😀 😀 All you have to have is a valid receipt with the survey code printed on the bottom of it. Got it? Awesome! You can take the survey and redeem some wicked offers the next time you head in.
Instructions
There's only one thing you need for this survey – the code printed at the bottom of your receipt. If you don't have one – sorry! But it looks like Marco's Pizza isn't after your feedback for the moment. You'll just have to buy another pizza and see if you get one then.
This is where the survey code is printed on the receipt: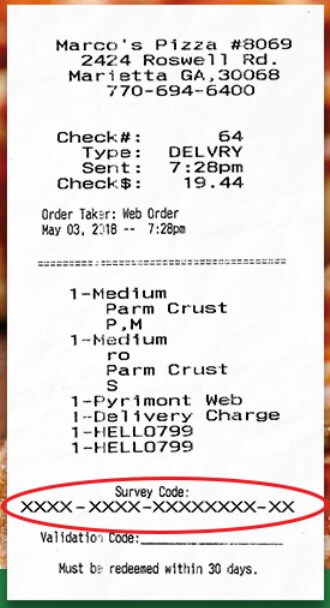 Got the code? Done! Now it's time to take the survey. Here's what you'll need to do:
Head to the official survey website (below) on your computer or phone
Enter in the survey code on the first screen
If it's a valid code, you'll get taken through and be able to take the survey. Otherwise, you'll get the following error message: 'Please enter the full Survey Code found on your receipt. Do not enter dashes, only enter the number in the corresponding sections as shown on your receipt.'
Once you've made it past the first step, answer any of the questions Marco's Pizza has for you (examples below)
At the end of the survey, you'll receive a validation code
Write this code on the blank line at the bottom of your receipt (below the survey code as in the photo above)
All done! You've just completed the feedback form and shared your experience with them. Head back in within 30 days to redeem your offer 🙂
These are some of the questions you may encounter along the way:
How do you rate your overall satisfaction of the Marco's Pizza location you visited?
How likely is it that you'll recommend them to friends or family?
Was the store clean? Were the staff friendly and attentive?
How was the quality of the pizza you bought? Were the temperature and toppings OK?
Here's what the survey looks like: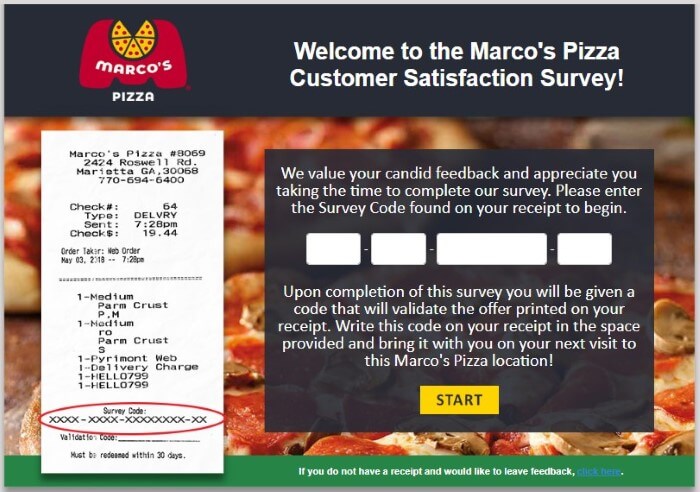 About Marcos Pizza
I love an 'American Dream' type story, and the story of Marco's Pizza is just that. Founded in Toledo, Ohio, by Italian immigrant Pat Giammarco in 1978, it now has a whopping 800 franchises across 34 states. Well you don't get named in the top 10 pizza companies in the US for doing things by half that's for sure… They've even made it as far out as India!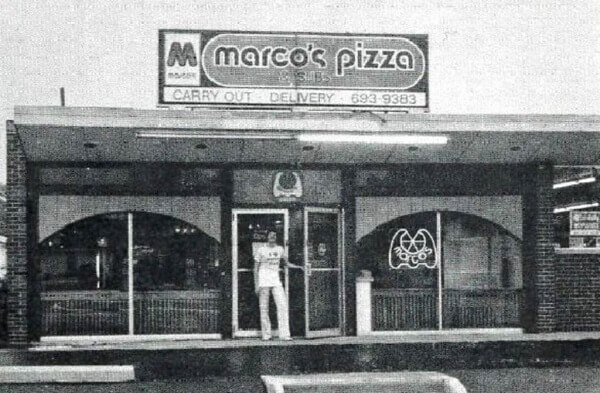 2018 saw this super popular restaurant turn 40 and, as part of the celebrations, the mayor of Toledo awarded Pat Giammarco with a key to the city to commemorate his contributions to the town and his efforts in business.
A little backstory…
When Pat was just 9 years old, he immigrated to the US. He grew up working in his family's pizza shop which was based in Dearborn, Michigan, and himself and his dad spent many years perfecting their pizza sauce recipe that's still used today. Then in 1978, Pat opened his first Marco's.
In 2004 a guy by the name of Jack Butorac (the company's current owner) took over and that's when the restaurant began opening its doors everywhere. Marco's has since become a household name across the continental US and is unique because of its authentic Italian roots.
Menu options
One of the things they pride themselves on is making their fresh pizza dough daily. They never freeze anything which means maximum flavor is ensured…We all know that a freezer has the ability to turn even the tastiest of dishes into a piece of cardboard!
Because it's a franchised chain, owners have free reign to get a little creative with their pizza inventions and there have been some weird and wacky flavors launched over the years. However, there are usually some staple pieces including the Chicken Fresco, All Meat and the Garden (veggie). The Fresco range of pizzas use a homemade Giardiniera (Italian pepper relish) unique to Marco's.
They also have a range of wings and subs for delivery and takeout, some locations have dine in service too.
What do employees/customers think?
Employees seem pretty happy with their jobs there. As with any hospitality role, there's sometimes an issue with the whole work/life balance thing. But, in general, people seem to think it's a friendly gig with good management and a steady workload. They have a pretty average Glassdoor rating, but the more recent reviews are super positive.
Forbes even featured the chain in their list of America's Best Employers for 2017! They were ranked 251, which might make you think ouch, but they were actually the only pizza company listed on there. They also topped out against all other pizza companies in Entrepreneur's list of top 500 franchises the same year. Clearly, they're doing something right!
Customer's feedback is mostly quite good too. In 2014, Marco's was ranked in the top three pizza joints in a consumer reports survey.  They've won several awards over the years which they proudly promote on their website and a quick google search will show you that many of their chains have a 4-star rating on Yelp.
So, what's next for Marco's? Well, 2019 is looking bigger and better than ever! They've already stated they want to have a total of 1,000 stores open within the first three months of the new year, that's gonna be heck of a lotta dough, I can't wait to see what they do
Speak To TellMarcos Survey Team
Would you like to send Marco's Pizza a message outside of the TellMarcos survey? Social media would be your best bet:
If you'd like to get in touch with one of their restaurants near you, click here to use their store locator.
Their head office is located at:
5252 Monroe St, Toledo
OH 43623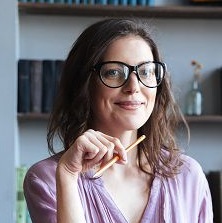 Hi there! I'm Emma – I'm the lead editor here at Opinionr. I write about many of the customer satisfaction surveys and feedback opportunities that stores have. Stores love it when you give them feedback and often reward you for giving it to them – fantastic! Got a question? Let me know! You can check out all my posts on my profile – Emma Jones
15 reviews
{{ reviewsOverall }}