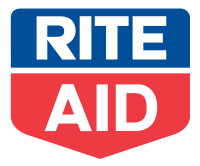 Rite Aid is one of the largest drug stores in America. And in order to keep it that way they need to keep their customers happy. So, they're hosting an official RiteAid Survey at – storesurvey.rite aid.com – where you can win $1,000!
StoreSurevey.RiteAid.com Details
There are a few little details you'll need to know before taking Rite Aid's survey. After all – you want to make sure you're 100% eligible to win the $1,000 😀
Here are the specific details:
| | |
| --- | --- |
| End Date | February 28, 2022 |
| Prize | $1,000 Grand Prize or $100 Runner-Up |
| Prize Value | $1,000 or $100 |
Survey Rules
As Rite Aid is giving you the chance to win $1,000 in their store survey, you'll need to follow a few of the rules that their management have put in place to keep it fair for all those who take the survey and enter the sweepstakes:
You must be a legal resident of the United States
You must be over the age of 18 years
You must not be affiliated with Rite Aid or its sister companies in any way
You must only enter the sweepstakes if you have a valid survey code
If you like, you can have a read of the official Rite Aid Survey rules on this PDF.
Instructions For StoreSurvey
If you qualify for the survey and follow all the rules set out by Rite Aid, you'll need two different pieces of information from your receipt to get started on the survey:
The cashier code near the top of the receipt (this identifies who served you at the checkout), and
The survey code printed at the bottom of the receipt
Here's where you might find it: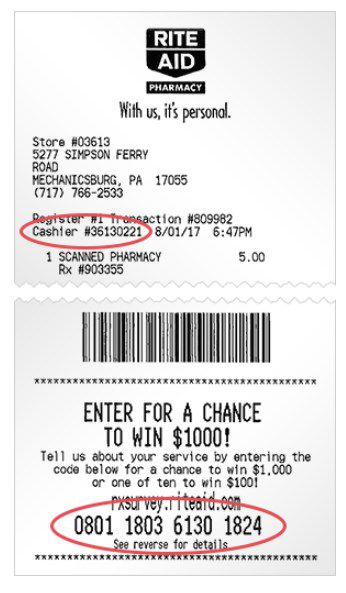 Do you have the survey code and cashier number ready? Awesome! Follow these instructions to take the survey:
Enter in the official website hosting the survey (link below)
One the first page, choose whether you want to take the survey in English or Spanish
Next, you'll be asked to enter in the two bits of information on your receipt (from above)
If you've entered them correctly, Rite Aid will invite you to complete the survey. Otherwise, you might get an error message. Re-enter the two numbers and try again
Once you're nearing the end of the survey, you'll be asked if you want to enter into the sweepstakes (of course you do!). You may need to enter the following information:

Full name
Phone number
Email address
Home address

That's it! You've just completed the Rite Aid survey hosted on storesurvey.riteaid.com 😀 Good luck and hopefully, $1,000 is coming your way shortly 🙂
Rite Aid may ask you questions similar to these:
How easy were you able to find what you were looking for in their store?
If you required assistance, were you easily able to get it? How friendly was the staff member who helped you?
How was the speed of the checkout? Did you cashier thank you for shopping at their store?
Based on this experience with Rite Aid, how likely is it that you'll go back in the next 30 days?
Would you recommend this particular Rite Aid store to family and friends?
Is there anything Rite Aid could do on your next visit to improve your experience?
Here's a screenshot of the first page of Rite Aid's survey (just so you know what it looks like: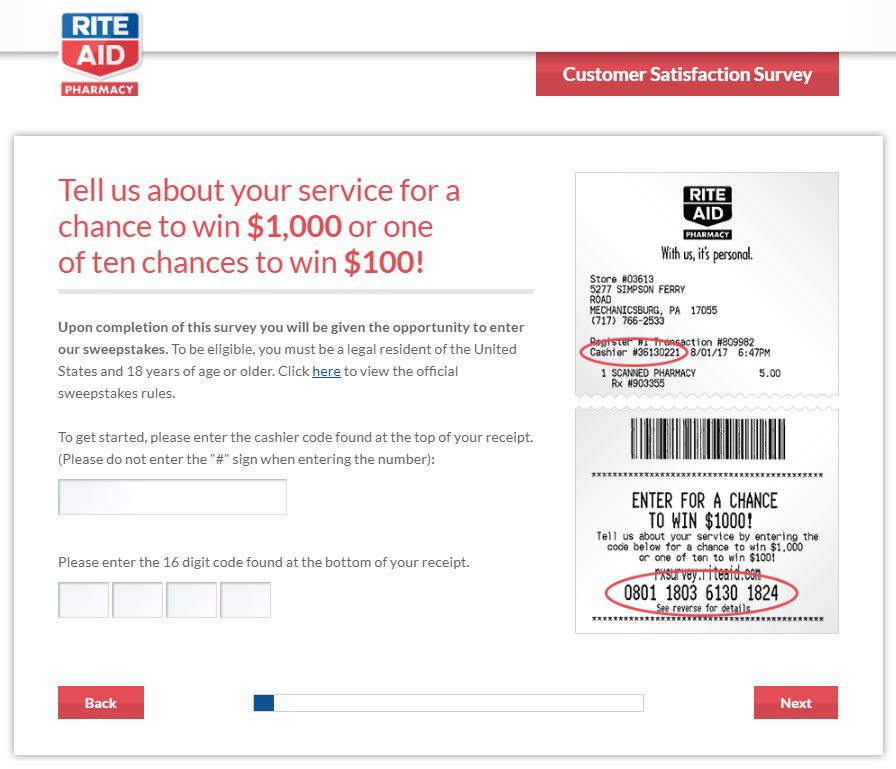 About RiteAid
Rite Aid is a huge drug store chain which was founded back in 1962 in Scranton, Pennsylvania. It's actually the biggest drug store in the east coast and the third largest in the whole of the US. They're known for their super cheap prices and a massive range of products.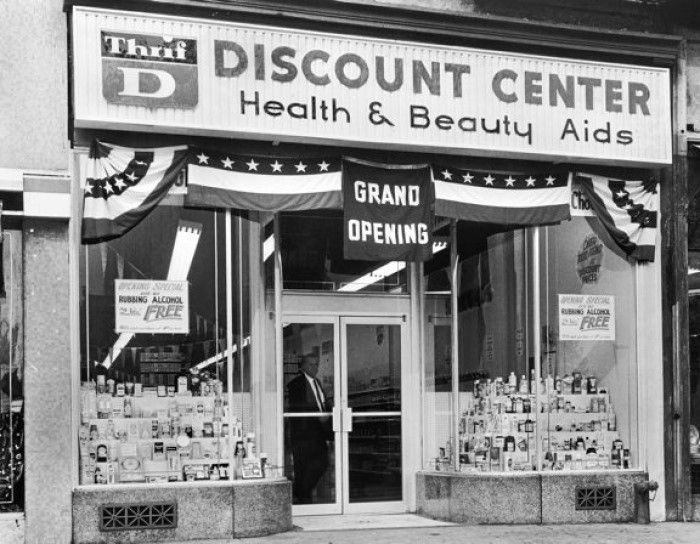 History
When the company first opened it was known as Thrift D Discount Centre, it wasn't until 1968 that they took on the name Rite Aid. Its founder was Alex Grass and three years after opening their first store they had expanded into 5 more states.
By 1972 they had stores in 10 states and 267 locations and nine years later they made their first billion dollars (still waiting patiently to make mine as I write this). In 1987, their 25th anniversary, they picked up 420 new stores giving them over 2,000 locations across the country.
They spent a lot of the 90s buying and then selling a bunch of stores, the most notable was that of Thrifty PayLess who had 1000 stores based in the west coast.
At its highest point, they had over 5000 stores in 2008. As of today, they have 2550 stores, a significant drop which is mainly due to Walgreens purchasing 1,932 stores from them in early 2018.
Loyalty Program
The company has a rewards program which is free to sign up to. It's your pretty standard loyalty program that rewards each dollar you spend with one point. Prescriptions get you more bang for your buck and you can earn up to 25 points. When you reach 500 points you get to claim a reward.
The rewards are all different and can range from things such as $25 gift cards for your favorite restaurant to magazine subscriptions and even gym memberships. The site makes you log in to see how many points you must redeem for each reward. I know from experience a rewards program is an fabulous way to improve the feedback customers leave on surveys.
Giving back
The company has a bunch of giving back incentives which all go through the Rite Aid Foundation. Over the years they've donated a whopping $100 million to kids. They like to focus their charitable efforts on three key areas; kids health, community health and welfare – especially during natural disasters and their own workers' wellbeing.
Very recently, they donated an incredible $150,000 to assist with tackling the horrific wildfires that California had in late November, of which included $80k to the Red Cross. During Hurricane Sandy, they shelled out another $200k and even encouraged their customers to donate too leading to a $450,000 fundraiser!
Future of the company
Their future has been a little bit uncertain of late and they've been in the press quite a lot. It seems that in today's climate they are in search of finding a partner, so they can keep afloat, the problem is they keep finding them and then they keep backing out. They were pencilled in to team up with Albertsons but that kinda floundered, and the fact that Walgreens took a huge chunk of stores from them is making people worried.
The likes of Amazon might also be a big threat to them as they are attempting to get into the pharmaceutical industry – is there seriously anything that they don't want to get their hands on?!
It will be interesting to watch this space and see where Rite Aid go in the next couple of years or so.
Talk To StoreSurvey.RiteAid Team
Want to send Rite Aid a message outside of their survey? Check out some of their social media accounts:
If social media isn't for you, you can have a read of their FAQs here. Or, you can hop on a live chat and speak to one of their customer satisfaction team members. Lastly, if you want to contact one of their stores near you directly, use their store locator to find one.
Their head office is located at:
30 Hunter Lane
Camp Hill, PA 17011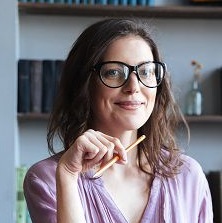 Hi there! I'm Emma – I'm the lead editor here at Opinionr. I write about many of the customer satisfaction surveys and feedback opportunities that stores have. Stores love it when you give them feedback and often reward you for giving it to them – fantastic! Got a question? Let me know! You can check out all my posts on my profile – Emma Jones
11 reviews
{{ reviewsOverall }}