Popeyes is the second-largest fast food chicken restaurant in the world, second to KFC. They're hoping to snag that number one position by gathering plenty of feedback on the TellPopeyes survey. Take the Popeyes survey yourself and you'll get a Free Chicken & Biscuit!

TellPopeyes Details
| | |
| --- | --- |
| End Date | December 31, 2025 |
| Prize | Free Popeyes Chicken & Biscuit (or offer printed on receipt) |
| Prize Value | $5 |
Popeyes Survey Rules
Usually in surveys like these, the company will have a few rules so there aren't any survey cheaters. Not this time.
Popeyes have decided to keep the TellPopeyes survey nice and simple. All you need to do is be a previous customer of Popeyes as you'll need some information from the receipt to be verified by the system.
Survey Instructions
If you've got a Popeyes receipt in front of you, here's the information you'll need from it to take the survey:
The four (4) digit survey number
The date you visited the Popeyes restaurant
The exact time of your transaction (time on the receipt)
The total amount of your Popeyes order
If you're not sure where to look, here's an example on a Popeyes receipt: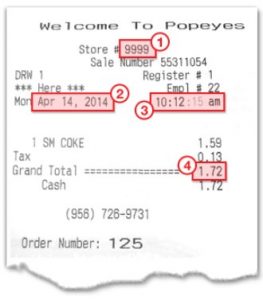 Now that you've got the info ready, follow these instructions:
Visit the official website hosting the TellPopeyes survey (link below)
Enter in the four (4) bits of information in the boxes
If the survey system verifies you, you'll be invited to take the survey. If there's an error, re-enter the number and try again. If you still can't get in, talk to the TellPopeyes team (contact info further down)
Now that you're in the survey, answer all the questions Popeyes has for you
Be as detailed as possible so they can improve the experience and give you a better meal the next time you head in
At the end of the survey, you'll be given a validation code
Write this validation code on your receipt. Bring your receipt the next time you visit Popeyes and show them the offer – Congrats! You just got yourself some Free Chicken & Biscuits 🙂
Here are a few questions you might encounter along your way during the survey on www.TellPopeyes.com:
How satisfied were you with the speed of your service and the accuracy of your order?
Was the team member's knowledge about the Popeye's menu adequate?
How was the overall taste of your chicken or other items?
Is it likely that you'll recommend this particular Popeyes to others in the next 30 days?
How likely is it that you'll return to this Popeyes in the next 30 days?
What was your overall satisfaction with your recent visit to Popeyes?
Here are some screenshot of the survey: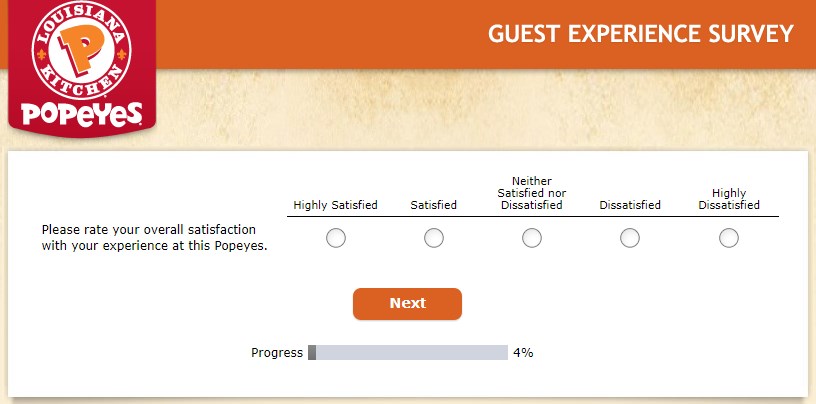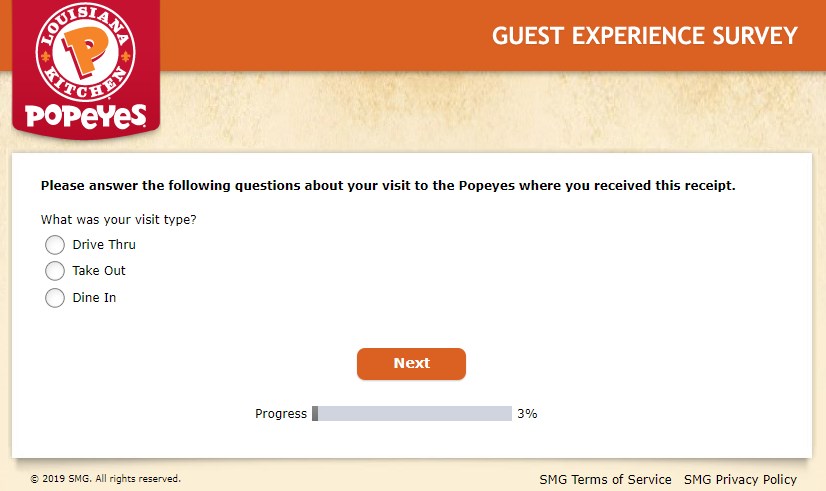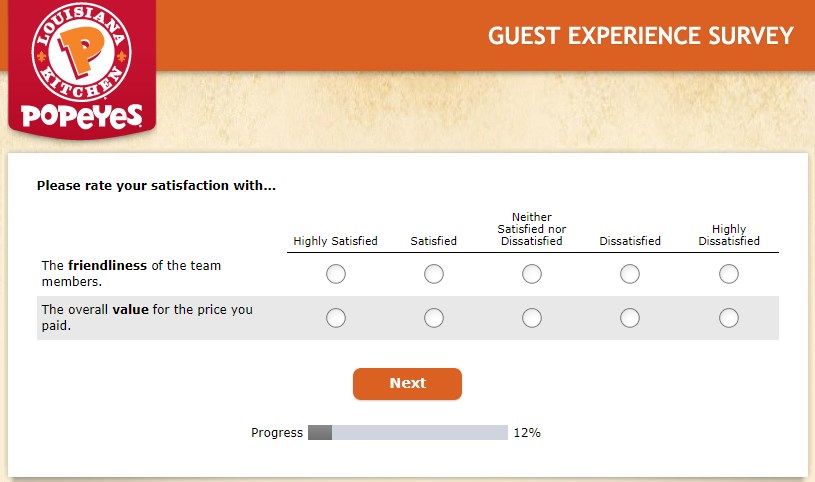 About Popeyes
Popeyes is a fast food restaurant founded in Louisiana back in 1972. As you may have guessed, their specialty (being southern and all) is fried chicken, Cajun food, seafood, veggies and of course…biscuits!
History
The restaurant was opened by Al Copeland, who was on a bit of a mission to compete with strong rival KFC. Back then, they were called "Chicken on the Run", unfortunately, Al's ambitious goals didn't quite go to plan and the business floundered after just a few months. The main source of the failure? The chicken was too mild, and basically, too bland to compete with their Kentucky rivals.
After just 4 days of being closed down, he decided to relaunch his restaurant, and so…Popeyes Famous Fried Chicken was born. 5 stars on the Popeyes survey of for the determination or re-opening just 4 days after closing!
Like many restauranteurs of the time he decided to franchise in 1976. At first it was just in Louisiana but by 1984 he had expanded into Canada and in 1985, their 500th restaurant opened.
Despite the relative success and popularity of the restaurant, in 1990, Copeland Enterprises (the parent company) was actually in almost $400 million of debt and had to file for bankruptcy protection which resulted in the creation of the company, America's Favorite Chicken in 1992, which would be the new parent company of Popeyes.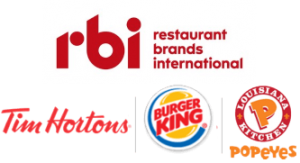 In 2017 they were purchased by Restaurant Brands International and today they have over 2,700 restaurants across the globe.
Fun Facts
Contrary to what you may have believed, the restaurant is NOT named after our favorite, spinach eating sailor, but actually Jimmy "Popeye" Doyle from the French Connection. They did, however, get the rights to use the sailor in their marketing efforts and did so for 35 years, until they axed it in late 2006. Nooooo D: People must've been leaving too much negative feedback about the muscly fella on www.TellPopeyes.com!
So, despite Al giving up all his control of the company in the early nineties when he went bankrupt, he was still the owner of the spices used in their chicken, which meant that every year, the new owners of the company had to pay him royalties for the recipe… even after he died, the money went to his family. It worked out at around $3 million per year. Eventually in 2014, they finally bought it outright, for a cool $43 million :O.
Recently they took part in a pretty fun, interesting marketing stunt, offering 12 lucky customers a year's supply of chicken. Basically, they had the 12 finalists place their order in a Texas Drive Thru and then had them drive 12 hours to New Orleans to go collect it, billboards on route told them where to head and how long was left 'til they'd be munching on chicken. Would you drive 12 hours for a year's supply of chicken. I'm not gonna lie, I probably would!
Franchising Opportunities
There's still opportunity to grab yourself a slice of the pie and become a restauranteur, either in the US or internationally. It's a fairly long and rigorous process and of course, you need to put in a solid amount of money.
Popeyes don't advertise how much exactly you need in net worth or cash assets to become a franchisee as they say it depends on the location, competition, and several other factors. This is something they'll likely discuss on the phone with potential new franchisees.
Heads up – they're more likely to offer you a franchise if you've previously given them good feedback on TellPopeyes.
Talk To TellPopeyes Survey Team
Want to talk to someone at Popeyes outside of the www.TellPopeyes.com survey? Send them a message on social media:
Otherwise, you can read their FAQs or send them a message via their website.
Their head office is located at:
492-5988 683 Boulevard NE
Atlanta, GA 30308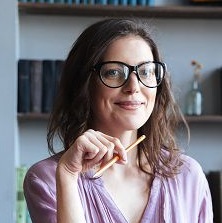 Hi there! I'm Emma – I'm the lead editor here at Opinionr. I write about many of the customer satisfaction surveys and feedback opportunities that stores have. Stores love it when you give them feedback and often reward you for giving it to them – fantastic! Got a question? Let me know! You can check out all my posts on my profile – Emma Jones
12 reviews
{{ reviewsOverall }}