Take the JackListens survey hosted by Jack in the Box to grab yourself some free food! All you need to do is answer a few questions waiting for you at www.JackListens.com and you'll be eating some free food in no time.

JackListens Details
| | |
| --- | --- |
| End Date | December 31, 2025 |
| Entry Method | Online |
| Prize | Two (2) Free Tacos (or other offer) |
Survey Rules
Jack in the Box's survey team have decided to keep participation as simple as possible – so there aren't any tough rules to follow.
All you need to have is a receipt from one of their stores with a survey code printed on it (more info below).
Instructions for JackListens Survey
If you have one a Jack in the Box receipt in front of you, you'll need the following piece of information from it:
The fourteen (14) digit survey code printed near the bottom
Can't find it? Here's where the code might be on your receipt: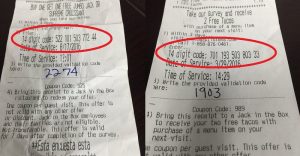 Once you have the code ready, follow these instructions:
Go to the website hosting the JackListens survey (link below)
Type in the fourteen (14) digit code into the box. If it's correct, you'll get sent to the next screen to start the survey. If the number is wrong, you'll get an error – re-enter the number and try again. Still not working? Give their survey team a call (contact info below)
Once you're inside the survey, answer all the questions Jack in the Box has for you
Make sure to be honest and real so they can improve your experience next time based on your feedback
After you've answered all the questions, a validation code will appear on the screen. Write this code on your receipt where it says
All done! 🙂 You've just completed the survey on www.JackListens.com and are on your way to see free food on your next visit to Jack in the Box. Enjoy.
Here are some example questions you might find on the survey:
Did the food taste great? Was the restaurant clean? Were the employees friendly?
How likely is it that you'll recommend this Jack in the Box to friends or family?
What was your overall satisfaction with this dining experience?
Was your order complete and correct?
Is there anything Jack in the Box can improve upon during your next visit?
Here are some screenshot of the survey: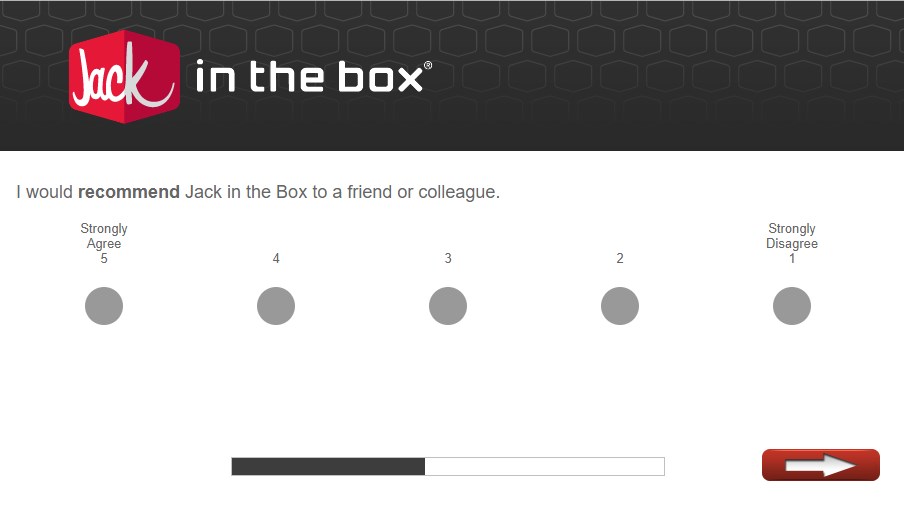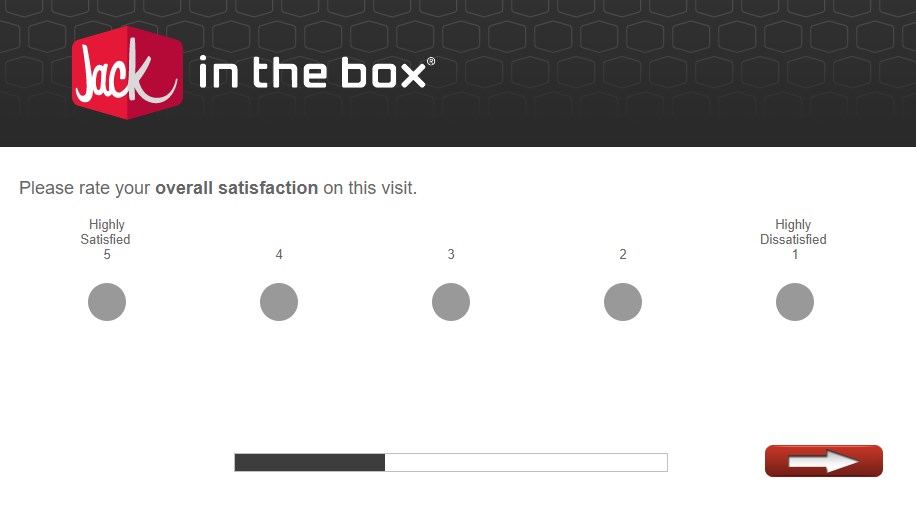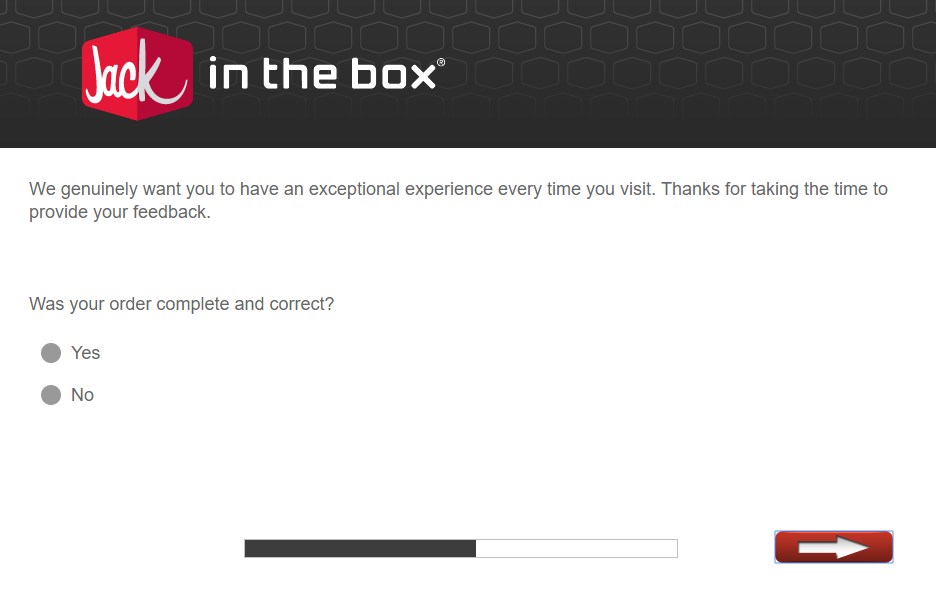 About Jack in the Box
Jack in the Box is a fast food chain founded in San Diego back in 1951. Today they are located in 21 states, have around 2,200 locations and 22,000 employees. Yep – they're one massive chain!
History
The chain's founder, Robert Oscar Peterson was a successful restaurant owner prior to opening his first Jack in the Box, it was a simple business model with a drive-thru service where he sold hamburgers for just 18 cents each. I reckon if they brought back $0.18 burgers for even a day this year they'd get hugely positive feedback on www.JackListens.com.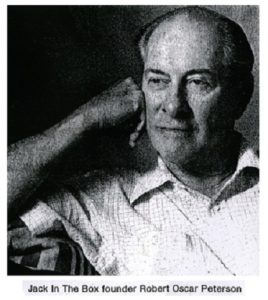 A pretty spooky jack-in-a-box was the obvious feature which hung proudly over the store.
By 1960 they had around 180 stores. One of the more unique things about them was that at this time they were all company-owned, unlike many fast food chains which tend to go down the franchise route for quick growth.
The company was sold in '68 to Ralston Purina, yes, the pet food company (I know, odd right?!) nevertheless they grew rapidly and even had TV commercials advertising them in the 70s. In just over 10 years they grew to over 1,000 restaurants across the country.
In the 80s they started to target themselves at a new and different market, rather than compete with the big guys like McDonald's for the 'young kids' market, they started aiming their food at young professionals working in the city. Of course, that meant that they were gonna end up losing the clown sooner or later (clowns are creepy anyway). The clown was officially axed from the logo in 1982.
To reflect the needs of their new target customers (likely found out through surveys similar to JackListens), they introduced more food options to their menu and today they offer a wide variety of foods including chicken, salads, tacos, fries and Pannidos. They also have breakfast and brunch specific menus.
Controversies
Unfortunately, the company has had a couple of serious incidents in the past that caused some serious controversy. In 1981, the plant that supplied the food chain with their meat was reported to have had a bunch of horse meat there which was labelled as beef.
In 1993, they also had a huge E-coli crisis. Four children sadly died from the outbreak and 600 other people were reported to have been infected due to undercooked meat. They had to battle a whole host of lawsuits and almost went bankrupt in the process.
Fun Facts
Despite these controversies though, there's also a bunch of fun things to know about Jack in the Box.
They have a mascot with a full-on life – story. His name, surprise surprise, is Jack Box and he's almost 7 feet tall, has a ping pong head and is fluent in English and Spanish. He even has a wife called cricket and a son, Jack Jr. That's some serious marketing efforts. If you want to read more about this kinda creepy looking fictional character, you can head over to their website.
The company also holds a Guinness World Record, for the STRANGEST thing…the world's biggest coupon! The catch was, it had to be redeemed for it to be classed as a coupon. But, at 2000 feet tall, they obviously couldn't get it in the store. Of course, the drive-thru team came to the rescue and managed to scan it through the window. The coupon had to be carried by 12 people! Following the stunt, they allowed anyone who took a picture of the monster voucher to get BOGOF on their Buttery Jack burger. I reckon offer printed on the back of receipts for the JackListens survey is a more economical way of doing things.
Talk To JackListens Survey Team
Want to get in touch with someone at Jack in the Box outside of the JackListens survey? Send them a message on social media:
Or, you can send them a message on their website.
Their head office is located at:
9330 Balboa Ave.
San Diego, CA, 92123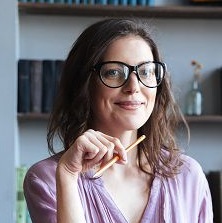 Hi there! I'm Emma – I'm the lead editor here at Opinionr. I write about many of the customer satisfaction surveys and feedback opportunities that stores have. Stores love it when you give them feedback and often reward you for giving it to them – fantastic! Got a question? Let me know! You can check out all my posts on my profile – Emma Jones
3 reviews
{{ reviewsOverall }}