Gap, one of the world's most recognizable fashion brands, wants to know just how well they're doing! They're asking all their customers for feedback on the official site called Feedback4Gap 😀 In return – you'll get a 10% off coupon to use on your next purchase!
Feedback4Gap Details
You're more than welcome to take Gap's customer survey, but before you do, keep in mind the specific details so you remain eligible for the coupon:
| | |
| --- | --- |
| Start Date | January 1, 2018 |
| End Date | December 31, 2020 |
| Entry Method | Online |
| Entry Limits | Unlimited |
| Giveaway | Guaranteed reward |
| Prize | 10% Gap Coupon |
Survey Rules
Some good news for you – there aren't any official rules for the survey! All you need to be is a previous customer to redeem the 10% off coupon once you complete the survey for Gap. There are, however, some rules you'll need to follow when using the coupon
The coupon must be used within 90 days of receiving it
It's not valid online
It's not transferable and can't be redeemed for cash
It can't be used on gift cards
Instructions
Ready to go? Fantastic! Here's what you'll need from your receipt:
The date you visited their store (must be within past 7 days)
The exact time of the purchase
The store number of the Gap
The transaction number
The register number
Quite a bit! Here's where you might find it on your receipt: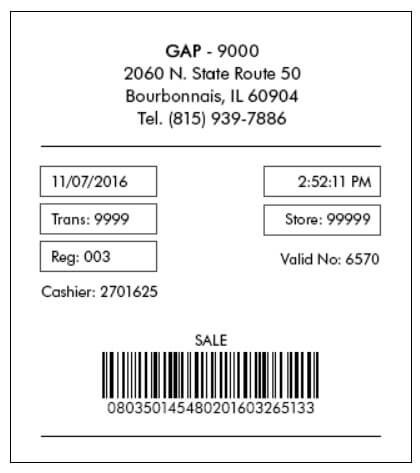 Alrighty! Once you've got all the ready, following these instruction to complete Gap's feedback form:
Type in the official website hosting the Feedback4Gap survey (link below)
Enter in the information from your receipt
If you've entered them correctly, you'll be asked to confirm the date of your visit and then you'll be invited to participate in the survey
Once you've passed the verification page, answer all the questions Gap has for you, be as detailed as possible
At the end of the survey, you may be asked some personal info (you can skip this if you want)
And you're done! You might need to click one more to get the 10% coupon code. Make sure to write this down on your receipt you used to fill out the survey. Enjoy 10% on your next visit 😀
Some of the questions Gap may ask:
Overall, how satisfied are you with your most recent experience with Gap?
In one word, describe how you felt shopping at Gap
Based on this experience, how likely are you to recommend Gap to a family member or friend?
Did you have a good experience on the sales floor? How would you rate it on a scale from 1 – 10?
Did you use the fitting rooms? How were they?
If you think about the reasons you came in, did you have a completely successful shopping trip at this Gap store?
I took the survey myself recently, here's what it looks like:
About Gap
I feel like the Gap is the kind of store you see on just about every street corner and shopping mall not just in the US but around the globe. The huge retail clothing chain has over 3,500 locations and 135,000 employees worldwide which isn't too shabby for a company just short of 50 years old!
History
The company was founded in 1969 by Donald and Doris Fisher. Donald was actually a real estate broker at the time, but he did specialize in retail locations. He was also friends with Wally Haas Jr., who was the president of Levi's.
What inspired him to set up the company was the famous 'Tower of Shoes' brand that was set up in some industrial area of Sacramento and drew crowds to their business by advertising that no matter your size, style or brand, they'd have it in stock.
He asked his friend Wally, if he could open a store, sell Levi's, and operate the same business model as the Tower of shoes (i.e., every size/color/style in stock all the time), as he knew that Levi's biggest reseller then, Macy's, couldn't even pull that off. Wally sent Donald to his Director of Advertising where they carefully came up with a plan to test the waters and thus, the Gap (named by Donald's wife) was born.
The second store was opened in 1970 in San Jose, CA. In '71 they set up their HQ with just 4 employees and by 1973 they had opened up their 25th store. Massive growth in a short amount of time – likely listened to all the feedback their customers had and adjusted to it!
In the 80s they bought Banana Republic and opened GapKids as well as their first London store.
In the 90s they decided to go more upscale in their market, though did launch budget brand Old Navy in 1994 (fun fact – it was named after a bar in Paris). They launched their website in 1997 and by 2010, they expanded into China. In 2014, their sub-brand Old Navy had popped up there too.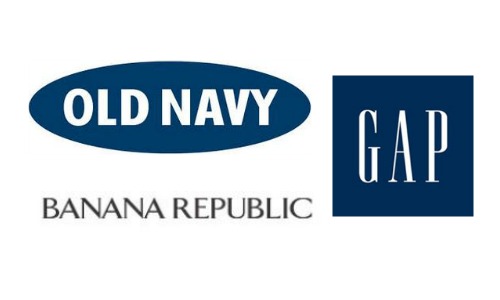 Controversy
Gap has been known for a lot of labor controversy over the last 2 decades. In '06, they were accused of not paying their factory workers in Jordan for 6 months alongside making them work a shocking 109 hours per week. That's an average of 15 hours a day. Every day of the week…I hope that's not true
In 2007, the BBC released footage of child laborers in their Indian factories, but the company denied any knowledge of this happening and decided to pull the clothes they had made.
They've also caused a stir with their advertising campaigns. In April 2016 they were accused of releasing a racist ad, though according to the parents of the kids featured in the ad, this was a total misconception and was taken way out of control by those high and mighty Twitter warriors that you see ploughing away at their keyboard night and day!
They then came under scrutiny later that year too in another Gap Kids ad, where the boy's range featured t-shirts saying, 'young scholar' with a picture of Einstein, while the girls' version had 'social butterfly', sparking a ton of opposition from people calling them sexist.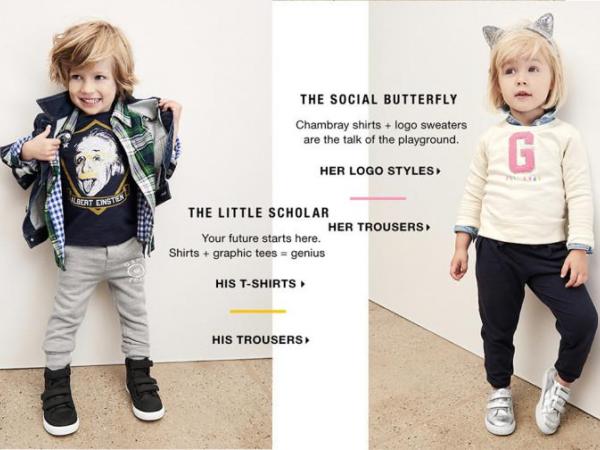 Now I do get it, a little, us women need to be encouraged, not oppressed, but at the same time, I think it's so hard for companies to do anything right these days. Especially under the ever-judging eye of social media.
Future of the company
Gap has kinda been haunted by slumps in sales over the last few years and despite their incredible worldwide presence, it looks like they're struggling. Probably the reason they're hosting this survey today – they want to know where they can improve!
Nevertheless, it seems Old Navy could be their lifesaver as well as their plus size brand which they are hoping to launch soon in 75 of their stores. I guess we should just watch this space and see what happens…
Talk To Feedbak4Gap Team
Want to get in touch with Gap outside of the Feedback4Gap survey? Send them a message on social media:
Or, you can give their customer service team a call on 1.800.GAPSTYLE (1.800.427.7895). Otherwise, feel free to send them an email on [email protected] Lastly, use their store locator to find a store near you to contact them directly.
Their head office is located at:
2 Folsom St
San Francisco, CA 94105, USA
See More www.Feedback4Gap.com Responses
7 reviews
{{ reviewsOverall }}