Take Big Lots official survey – www.biglotssurvey.com – and you could win a $300 Gift Card! All you have to do is fill out their feedback form, share your opinion, and then tell them about your experience.
BigLotsSurvey Details
Big Lots has more than 1,400 stores across 47 states! Big numbers as well! Which is why it's fantastic that such a big company still takes the time to hold surveys for their customers (that's you and I) to give them feedback.
For this survey, you don't even need to have a verified purchase! Even if you've just gone into one of their stores and walked out, you can still enter into the sweepstakes and win the $300 Gift Card. Pretty awesome if you ask me!
Here are the specific details:
| | |
| --- | --- |
| Start Date | July 29, 2018 |
| End Date | July 27, 2019 |
| Entry Method | Online, Mail |
| Entry Limits | One (1) per day |
| Prize | One (1) $300 Big Lots Gift Card |
| Prize Approx. Retail Value | $300 |
| Total Prizes | Four (4) $300 Big Lots Gift Cards |
| Total Prize Approx. Retail Value | $1,200 |
Survey Rules
In order to be eligible to win one of the $300 Gift Cards, you'll need to follow the following rules set out by Big Lots:
You must be a resident of the 50 United States
You must be 18 years or older (at the time on entry)
You must not be related to Big Lots or its affiliates in any way
You are responsible for any taxes that come with winning the survey
Sorry to all those under 18! Psst – if you are under 18 years and want to enter into the competition, just get one of your parents or legal guardians to enter instead. So if they win, they won't be disqualified from the prize!
Click here if you'd like to download a PDF of the survey's official rules.
Instructions For Big Lots Survey
If you'd like to take the survey and you've previously made a purchase with them, here's the information you'll need:
The register number at the checkout
The transaction number of your purchase
The store number
The total dollar ($) value of the transaction
The exact time the transaction took place
The date of the transaction
I'm not sure if their receipts all follow the same format, but here's where you might find the information you need on yours: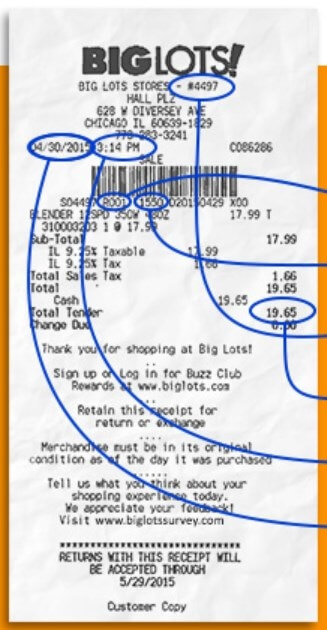 Once you have all the bits needed, you can start the survey:
Head to the official website that's hosting the survey (below) on any of your electronic devices. I normally use my computer because it's the fastest and easiest
Once you're there, enter in the six (6) pieces of information above
If the system verifies the information as legitimate, you'll be welcomed on the next screen to take the survey. If you enter the wrong information, you'll get the following error: "Invalid entry. Please try again.

"

When you make it to the first survey page, go ahead and answer all the questions Big Lots has for you
On the final screen, you'll be invited to enter into the sweepstakes to win the gift card. This is optional. You need to enter the following information to enter into the competition:

First name
Last name
Address
City
State
Zip code
Phone number
Email

Don't worry – your information is only going to be used to notify you if you win (they won't give it to anyone else)
All done! Keep an eye out on your mail to see if you win 🙂
When I took the survey, these were some of the questions Big Lots asked:
What was the main purpose of my visit to their store?
Was this the first time I went? How satisfied overall with the experience?
Did any of their staff identify themselves and offer assistance? Did someone offer me a cart or basket?
Was the store clean? Was the restroom clean?
Was it easy to find the items I was looking for? Were the prices easy to find?
Was the checkout process fast? Was the cashier friendly?
One sneaky thing Big Lots did was not have a progress bar on their survey. So I had no idea how far along I was to finish it! I thought I few times it would go on forever…thankfully, it didn't! Overall, it took me about 12 minutes to complete and submit my entry into the sweepstakes.
The survey's hosted by Market Force, here are a few screenshots of what it looks like:
You can take the survey here – https:/www.biglotssurvey.com
Why does Big Lots care?
Any company as big as Big Lots has a lot to take care of. Inventory, competitors, government, taxes, store maintenance, and employees are just a few of the segments in their business which need constant attention.
One of the ways their able get a big amount of feedback on many of those areas, is by taking surveys of their customers – that's you and me! We're the ones who can provide them with a (mostly objective :P) outside opinion on how their stores and staff are.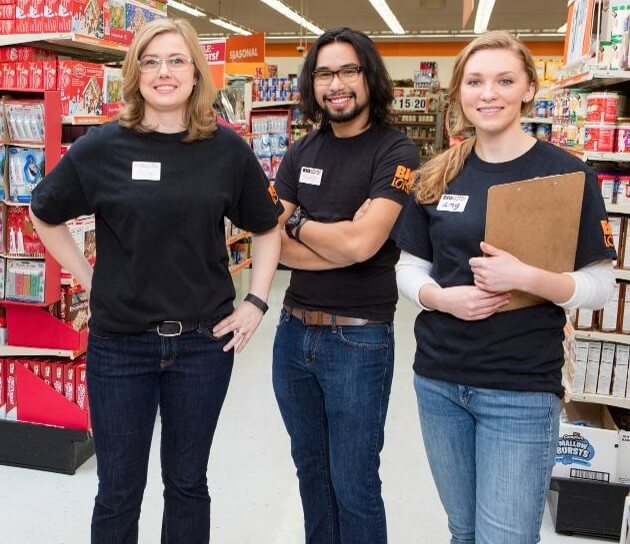 Without truly understanding how we feel as their customers, they'll never be able to grow and improve their products and potentially fall quickly to their competitors (which are many).
Think about it this way, if Big Lots didn't care about our feedback, and they didn't host survey's incentivizing us to give it to them, they'd have no idea if customers actually had a good experience in their store. And that's something nearly all businesses need to keep a close eye on.
Here's a video showing how they care about what their customers care for:
About Big Lots
Big Lots (as the name suggests) doesn't tend to do things by the half glass. They currently have more than 1,400 stores in the US across 47 states. That's a pretty solid presence even for the big boys.
So, what do they do?
Basically, they're a huge discount store where you can pick up literally anything and everything, including the kitchen sink…it's a mecca for prolific bargain hunters across the continental US!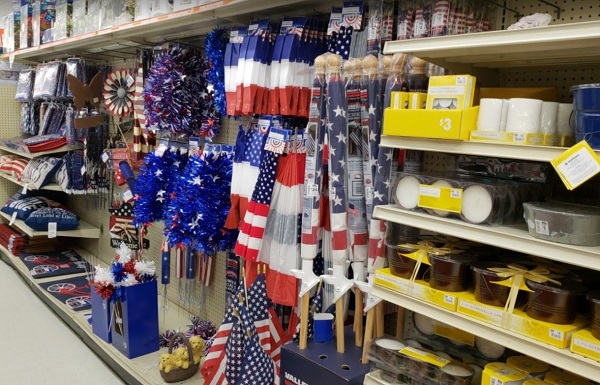 The only catch with a place like this is you genuinely need the patience of a saint to rummage through aisles upon aisles of random, well, STUFF! Just to get an OK deal on a blender. It's kinda like TJ Maxx.
Now, you might be one of those people who are super lucky shopping in stores like this; you know, walk in on your lunch and score an insane deal within minutes. I have a friend with a tendency for that kind of luck. She's a walking, talking good luck charm. I envy the deals she can pick up from stores like Big Lots, she genuinely got a Vitamix at 60% off once.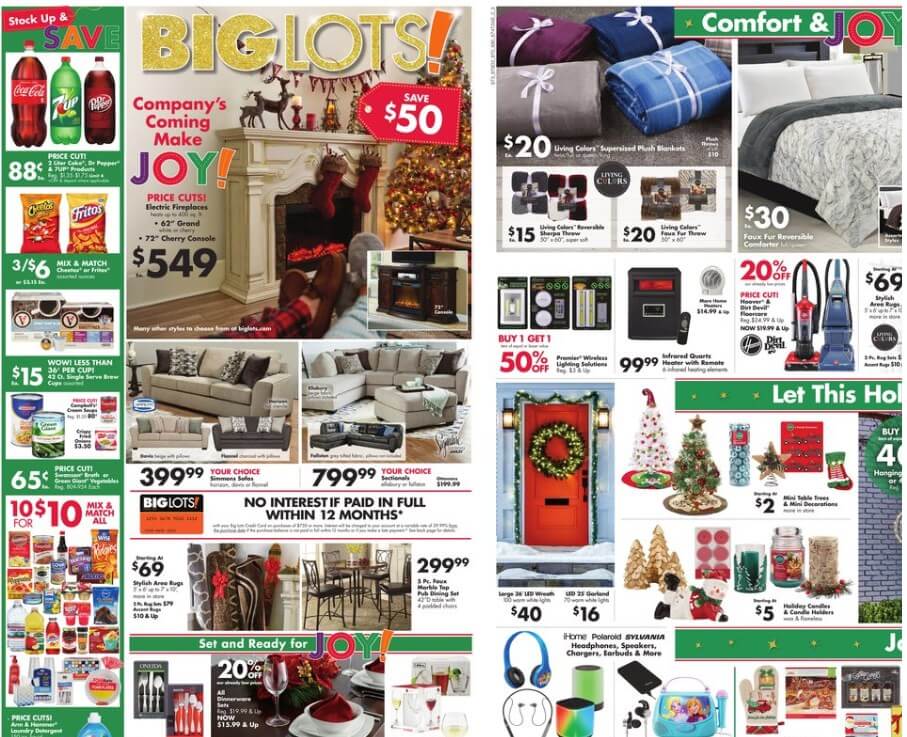 How did they get here?
Big Lots was set up in 1967 by Sol Shenk, an interesting character with a passion for closeout sales and auto parts – there's actually a pretty funny story of how this passion of his resulted in him having 100 DMC-12 DeLorean's stuck in Irish Storage Unit when they went bust, but that's a tale for another day!
Over its 50-year history, they bought the likes of Toy Liquidators, Pic N Save and KB Toys. They did try to dabble in the Canadian market at one point, but it turns out, when it comes to running retail, the Canucks aren't that friendly and they only lasted two years until they had to call it quits. They also ditched their wholesale side of things at the end of 2013 after 34 years in the trade.
What are they up to these days?
Big Lots are actually really community and charity focused which you have to admire. They have their own charity that helps those in need of housing, healthcare, education and food. They recently appointed a new head honcho at the end of September this year which I'm sure will spice things up for them a little.
They've also got big plans for the upcoming holiday season, with a new promotion Stock Up on Joy running across the country:
Despite their commendable community efforts, the company does have a bit of a bad rep. A quick peek on Consumer Affairs shows more than a few unhappy campers when it comes to their furniture purchases. Low quality and poor return policies are the main grievances amongst customers.
I hope your experience has been a bit better with them! Let me know in the comments.
Looking to the future, one thing that did pique my interest about Big Lots was the recent launch of their 'store of the future'. Obviously, my valiantly creative mind went into overdrive, I was picturing hot new tech, state of the art checkout, AI, and…flying cars… (OK maybe not so much the latter), so was left a little underwhelmed when I found out what this really meant was moving around their store layout and sticking up some new signs, but hey apparently that's what the experts say work.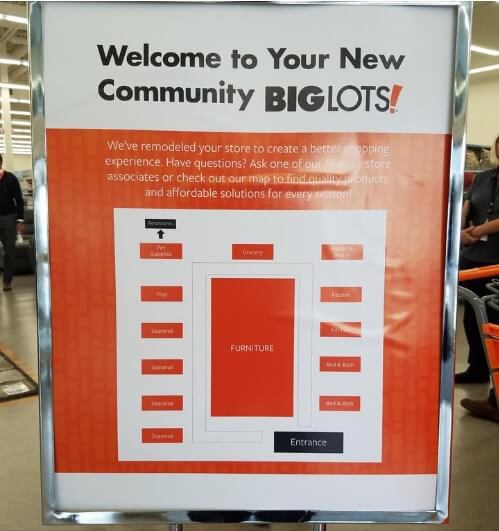 This rejig/reno seems to be their major focus over the next few years. Apparently, the whole, furniture isle at the front of store thing compels us to buy… 🤔
Do Other People Like Big Lots?
To the employee at @BigLots that called me fat: I can lose weight but you'll always have a bad personality.

— Megan Diveto (@megandiveto) May 30, 2018
Shout-out to @BigLots
I just purchased a lava lamp speaker, it was broken, returned and your staff was so nice about it . Then I brought home a @Polaroid Disco Ball speaker. It's my new favorite thing.

— FacelessFreebie (@FacelessFreebie) November 12, 2018
There are some pretty good deals at @BigLots.

— Matthew Lanier (@twistofmatt) November 5, 2018
#ad As a busy mom, I'm limited on time & that's why I love the remodeled @BigLots in Cleveland! The friendly staff makes this mama feel welcome. And since I'm always traveling with at least two little helpers, the new layout makes for a seamless shopping experience. #BigLots pic.twitter.com/lD157sj1fk

— Rachel @ It's A Hero (@ItsAHero) September 23, 2018
Talk To BigLotsSurvey Team
Want to send Big Lots as message outside of the survey? Get in touch with them on social media:
Otherwise, you're more than welcome to call their helpline on 1-866-BIG-LOTS (244-5687). Or you can see if your question's already been answered on their FAQs. Finally, you can send them a message on the contact form on their website if you'd like.
Their corporate office is located at:
4900 E Dublin Granville Rd, Westerville
OH 43081, USA
See More www.BigLotsSurvey.Com Responses
34 reviews
{{ reviewsOverall }}