Weis Markets are bringing out the big guns with their feedback survey! Head to weisfeedback com, complete the survey, and you'll get a $2 coupon to use on your next visit!
WeisFeedback Details
Weis, or Weis2Go for their online version, is a very popular local supermarket. They always pay attention to what their customer thinks, and now they want to hear it again! Weis is hosting a survey, where they'll ask for your feedback over a few questions. In return, they'll give you a $2 coupon loaded onto your Weis Rewards Card – awesome! 😀
Here are the specific details:
| | |
| --- | --- |
| Start Date | January 1, 2017 |
| End Date | Indefinite |
| Entry Method | Online |
| Entry Limits | One (1) per week |
| Prize | $2 Coupon on Weis Rewards Card |
| Prize Approx. Retail Value | $2 |
Survey Rules
There aren't too many rules to complete Weis' survey. Woo! Well, there is one:
You must have a Weis Rewards Card
Yep, that's really all there is 🙂
Instructions
Fantastic! Now that we've made it past all the boring stuff, let's go ahead an complete the survey. Here's what you'll need from the Weis receipt to start the feedback form:
The location number of the Weis store
Your eleven (11) digit reward card number
The date you visited their store
The exact time of your visit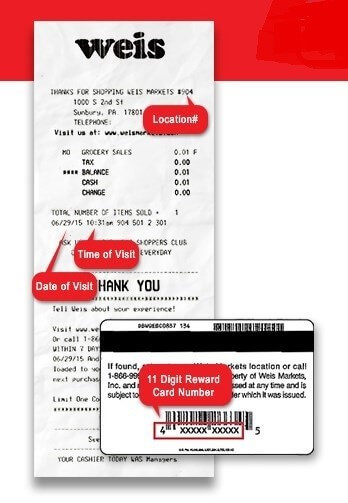 If you made an online purchase, here's what you'll need:
The location number of the store
Your eleven (11) digit reward card number
The date you visited their store
The exact time of your visit
The order number of the transaction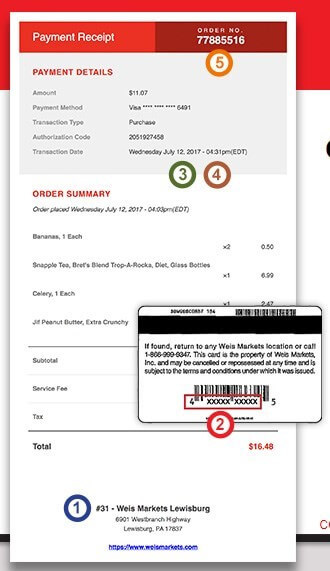 Once you have all the information ready, you can get started on the survey:
Visit the official website of the survey (below) on your computer (or your phone or tablet)
Enter in the information above depending on whether you bought in-store or online with Weis
If your information is correct, you'll go to the next page and they'll invite you to leave your feedback
Answer all the questions Weis has in as much detail as possible – you're trying to help them improve their stores after all!
At the end of the survey, they'll thank you and load the $2 coupon onto your rewards card 🙂
Some of the questions Weis might ask you during the questionnaire:
Were the staff members friendly and inviting?
Did someone greet you as you walked in? Was someone available to answer any questions you had?
Was the store clean and presentable?
How likely is it you'll go back to a Weis market in the next 30 days?
On a scale of 1-10, how likely is it that you'll recommend Weis to family or friends based on your experience?
This is what the survey looks like:
About Weis Markets
Founded in 1912 in Sudbury, Pennsylvania, Weis supermarkets was considered revolutionary at its time due to the fact they only accepted cash as a form of payment and not credit. Back in those days, many people would use credit, or a tab, in such places and they would pay it off every month or so…
The supermarket is currently just east coast based but, they do have a pretty solid presence considering they're only in 7 states, we're talking 205 stores and 23,000 employees. That's insane numbers!!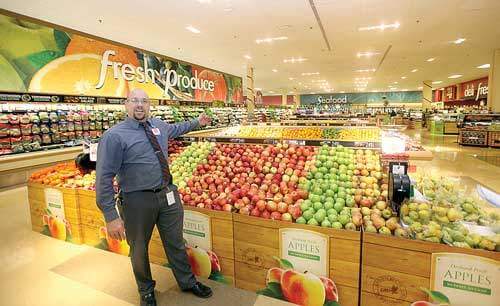 They take pride on using local farmers to source their produce and even boast on their website that in Pennsylvania alone, they buy 20,000 lbs. of produce for their stores – that's a heck of a lot of food!
Brief history
Three years after their first store opened, Harry and Sigmund Weis launched their second store as they set their sights big on nailing the market there.
Fast forward to 1933 and they had a whopping 115 stores in 15 counties across central PA. They then decided it was time to follow the market trends of the times and start to consolidate their stores into larger, self-serve supermarkets. So, in the years leading up to 1955, they embarked on a serious cull and scaled back to just 35 stores, completely ditching their original corner store type model.
Kind of sad, as I do love a small local grocery – but it was clear that the Weis brothers had set their sights big. I suppose you're not in business for over 100 years by playing the small game hey!
From there, they began expanding into neighboring states and even purchased some smaller supermarket chains along the way. They did well in Maryland, but struggled in the likes of Washington DC, so decided to ditch that area.
They continued this expansion, and acquisition of fellow supermarket chains right the way up until recently, in 2016.
In March 2017, they opened their biggest store to date. A 65,000 square foot superstore featuring a pub, a massive take-out section for food, a drive-thru pharmacy, a beer café and even an ice cream parlor!! Weis' ice cream is actually super yummy and to date they have around 50 flavors to choose from. I recommend giving them a try.
This video shows just how much Weis cares about your feedback and how they aim to take results from the survey and implement them into new stores being opened:
What it's like working for them
When I checked out what employers thought of working for Weis on Glassdoor, I was completely blown away by the amount of people who actually like the CEO! These numbers are usually pathetically low but in the case of Weis 62% actually approve of the big boss.
Main concerns amongst the workers there though are limited hours, erratic shifts and not much room for growth in the company. They also have issues with super short breaks and an incredibly high workload. I guess this is kind of standard for retail these days…
Where they're heading
Weis are usually pretty tight lipped about their growth plans for the future, but one thing that did catch my eye is their sustainability initiatives. They've reduced carbon emissions by 20% in the last 10 years, seriously upped their recycling and they're aiming to reduce their food waste by 50% by 2030.
They also continue to expand their range of groceries based on your feedback:
Talk To WeisFeedback Team
Want to talk to Weis and give them some feedback outside of the survey? Send them a message on social media:
Otherwise, you can call them on 1-866-999-9347.
Their head office is located at:
1000 South Second Street
PO Box 471
Sunbury, Pennsylvania 17801
See More WeisFeedback com Responses
2 reviews
{{ reviewsOverall }}