TellGamestop your feedback at – www.tellgamestop.com – and you could win a $100 Gift Card! Simply take the survey, answer their questions, and you'll enter the sweepstakes! This is just one of the Gamestop surveys you can take to win heaps of prizes 😀
TellGameStop Survey Details
GameStop are hungry to hear what their customers (that's you) think about their business! Have you had a good experience with them? Maybe one not so good encounter? They want to know all about it on their official survey called TellGamestop which is hosted at www.tellgamestop.com.
So go and take the Gamestop survey, tell them what you think and you'll go in the running to win a $100 Gift Card in the survey sweepstakes. Not bad for answer a few questions in a few minutes 🙂
Here are the survey details:
| | |
| --- | --- |
| Start Date | April 1, 2018 |
| End Date | March 31, 2019 |
| Entry Method | Online, Mail |
| Entry Limits | One (1) in total |
| Prize | One (1) $100 GameStop Gift Card |
| Prize Approx. Retail Value | $100 |
| Total Prizes | Three hundred (300) $100 GameStop Gift Cards |
| Total Prize Approx. Retail Value | $30,000 |
TellGamestop Rules
You know with all surveys and sweepstakes there'll always be some rules you've got to follow, just like the TellAMC survey where you can win a $100 AMC Gift card as well. And this one hosted by GameStop is no different.
In order to be eligible for the $100 Gift Card, follow these rules:
You must be a resident of the 50 United States, the District of Colombia, or Puerto Rico
You must be above the age of majority in your area
You must not be a GameStop employee or affiliated with their business in any way
You must not enter more than one time
If you'd like to see all the official rules, click here to download the PDF.
Instructions for TellGamestop
Want to jump right in and take the survey? Fantastic! Here are a few little pieces of information you'll need before you get started:
The associate number (the employee code of the person who served you at checkout)
The feedback number (a 14 digit code at the bottom of your GameStop receipt)
This type of information from your receipt is quite similar is surveys with sweepstakes. For example, Tractor Supply's survey hosted at telltractorsupply.com also requires a survey code from your receipt to enter.
Even better news – if you don't have a receipt, don't worry! They're more than happy to still take your feedback even if you haven't purchased anything from them (or you simply lost your receipt).
In saying that, if you do want to take the survey with a valid purchase, here's where you'll find the information on the receipt: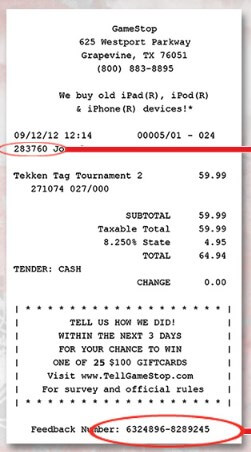 Got it all ready? Awesome. These are a few instructions about the actual survey itself:
Enter in the official website (below) into your browser on your phone, computer, or tablet.
Type in the information if you're using the receipt method. Otherwise, tap the button that says "Don't have a receipt? Click here!"
If you've entered incorrect information (or their system thinks it's wrong), you'll get the following error message: "Please enter the full feedback number as it appears on your receipt"
On the next page, they'll ask you which store you visited (you need to have actually had an experience with them to tell them your feedback)
Once you've completed the survey, you can enter into the sweepstakes as well if you like (this is optional – but why wouldn't you want to?) You'll need to enter the following information:

First name
Last name
Mailing Address
City, State
Zip code
Phone number (with Area code)
Email Address

All done! You've just finished GameStop's survey and entered into the competition to win a $100 Gift Card 🙂
Rite Aid are also currently gathering feedback from their customers at storesurvey.riteaid.com and I noticed some of the questions Rite Aid were asking are quite similar to the one's here on the Gamestop survey. Here are some examples:
How satisfied was I with my experience at their store?
Was there a good availability of games? What about gaming systems?
Was there a long wait time at the checkout? Was the store organized and easy to navigate?
Did one of their team members personally assist me during my visit?
Was the staff friendly? Did they listen carefully and provide good help?
What was the main purpose for me visiting a GameStop?
How likely would I be to recommend them to a friend or family member?
All up, there were about 20 questions (if you include the multiple choices on one page) and it took around 8 minutes to complete. A pretty simple survey with only a single typing question (which you can skip if you want).
I took a few screenshots of what it looked like to help you a bit more:
You can take the survey here – https:/www.tellgamestop.com
Why Does GameStop Care?
The gaming industry has grown astronomically over the past few years, especially with the huge rise in the eSports industry. More and more men, women, boys, and girls are jumping into the video game world, and their jumping in with their wallets as well. Which has led to many more gaming stores popping up around the country.
As such, GameStop knows it's extremely important to keep one aspect of their business always happy – their customers (that's you and me!). If they shunned away from what kind of experiences people are having at their store, and whether people are walking out with a smile on their face, their business would fall quickly to their competitors.
Thankfully, as shown by this survey, we can see that they do care what we think – which is fantastic! It's always good to see a business actively seeking out feedback from their customers. And what better way to get it than to give out $100 Gift Cards as well 😀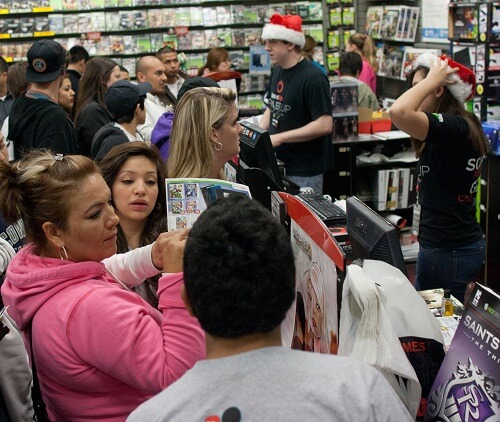 About Gamestop
GameStop is a global games brand which is literally taking the world by storm. What constitutes that statement? Well, having over 7,100 stores in Europe, Canada, Australia and the US is a pretty solid chunk of the gaming pie…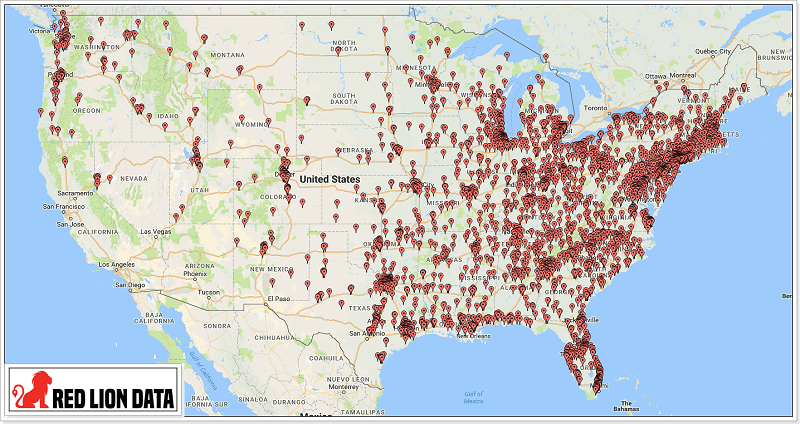 They're part of an even bigger network of companies that host some huge gaming names including EB Games, Spring Mobile and Think Geek. The company started back in 1984 by Texan entrepreneurs Gary Kusin and James McCurry, back then it was called Babbages and was primarily a software store.
So, what's their main focus?
They offer an all-round buy-trade-sell service which is great if you're an avid gamer and want to swap and change your games as you please. Let's face it, when the kids are done with GTA, approximately 18 hours after its release, they tend to just sit and collect dust on the shelf. It's worth trading them in and getting a few dollars back, especially when they cost over $40 bucks a pop.
I recently found out, however, that gaming companies actually frown upon this resale market, obviously, they don't make any money for goods that are sold second-hand, so GameStop is known to have been at loggerheads with such developers quite often. This has probably been a major source of negative feedback on this TellGamestop survey…
It's even been reported recently that Microsoft is getting so sick of the resale market, they're working on making lockout chips, so they can't be resold 🙄… absolute jobsworths if you ask me, they make enough money!!
What do staff and customers think?
Judging by the reviews on Glassdoor, it seems working for them is kinda like any job in retail. The general consensus is that management can tend to suck. But if you're working a shift with a buddy then chances are you'll love your job and have a great time there. After all, you're selling games all day. What's not to love!
When browsing the web to check out the public's overall opinion of them, I was not surprised to see that 90% of the reviews were dire. I genuinely believe you take these sites with a pinch of salt though. People love throwing around one-star reviews like they're going out of date, and the social media bashings are hilarious!! Just because they haven't responded to an irate customer email within 12 hours, it doesn't make them the devil incarnate.
I personally think they're doing a grand job! Every time I've visited a store the staff have been helpful, polite and knowledgeable, and what's more, they're known to stick it to the man…like that time they removed a competitor's coupons from a bunch of new video games…hey you have to beat them somehow! They did get a slapped wrist for it mind.
What do you think? Have you visited a GameStop recently? Write a review!
They've even managed to snag themselves cheeky pre-sales earlier than the competition like they did earlier this year with Red Dead Redemption 2. Genius way to excel amongst the competition IMO.
What lies ahead for them?
Moving forward, they're planning on targeting hipsters and middle-aged men by bringing back a whole bunch of retro games and consoles; letting customers trade them in, then refurbishing and reselling them.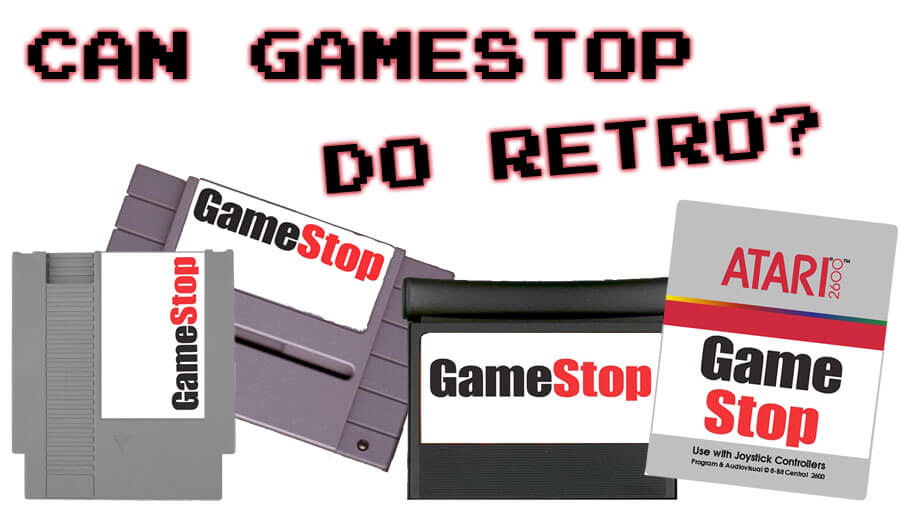 I guess some people can wave goodbye their kids for a month when that's fully rolled out by the end of the year… There's plenty who are utter Super Mario Bros nerds 😉
Talk To Gamestop Customer Service
Want to send GameStop a message? I'd say social media is your best bet:
Or, call them on their dedicated phone number here 1-800-883-8895. Click here to find the closest store to you if you'd like to visit again. Lastly, click here to visit their help center to see if your question's already been answered.
Their corporate office is located at:
625 Westport Pkwy.
Grapevine, TX, 76051
Share your experience and write your review!
1 review
{{ reviewsOverall }}