Subway is one of the UK's most popular sandwich shops. They're continuously looking to improve which is why they're hosting the SubwayListens survey at www.SubwayListens.com. Take the Subway survey today and claim your Free Cookie on your next visit to one of their restaurants.

SubwayListens Details
| | |
| --- | --- |
| Ends | December 31, 2019 |
| Entry Method | Online Survey |
| Survey Prize | Free Subway Cookie |
When claiming your free cookie you also can only use one offer code use per qualifying item(s). And it cannot be combined with promotional offers. Other than that, there aren't really any other rules for the Subway survey.
www.SubwayListens.com Instructions
Subway UK is only looking for feedback from genuine customers so you will need a receipt from a purchase at a participating Subway store within the last 5 days. On that receipt, you'll need to find the following information:
The store number of the Subway restaurants
The date printed on your receipt
The exact time the transaction went through the register
The Term ID-Transaction number
There are usually two types of receipt styles handed out by Subway in the UK. Here's an example of both so you know where to find all the information: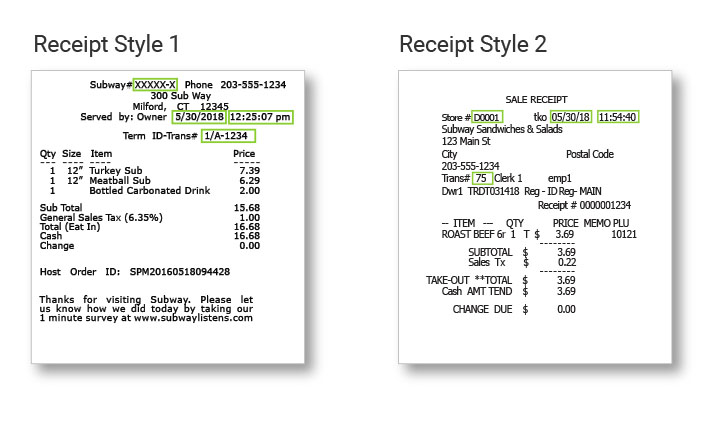 After you've found all the information on the receipt, follow these instructions:
Search for SubwayListens in Google or another search engine, type in www.SubwayListens.com into your browser and hit enter, or click the link a bit further down
Once you're on the official website for the UK's Subway survey, enter in the information from your receipt
After the survey system has verified your receipt as genuine, you'll be invited to take the survey and answer all the questions the Subway survey team has for you
Unlike the McDFoodForThoughts survey run by McDonald's UK, the SubwayListens survey is relatively short and will only take you 2 minutes to complete
Once you've answered the questions, a validation code will appear on your screen, write this code on your receipt like the example below
All done! You've just completed the Subway Listens survey and are now able to claim your Free Subway Cookie on your next visit to one of their restaurants. Enjoy 🙂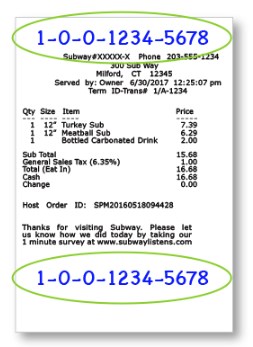 Some of the questions you'll find on the Subway survey will be like these:
Based on this experience, how likely is it that you'll recommend Subway to family or friends?
How satisfied were you with the tasty and overall quality of your meal?
Were you happy with the speed of the service?
How were the Subway staff?
Was the restaurant clean and in a presentable manner?
Here's a screenshot from www.SubwayListens.com:
About Subway UK
Subway was established in Connecticut, US, on August 28, 1965. Its name was derived from its core product, the submarine-like sandwich, or also known as a sub. Besides subs, Subway also offers wraps, salad, paninis, and baked goods. Today, it is the largest single-brand restaurant chain and the largest restaurant operator in the world with more than 42,400 restaurants in over 112 countries.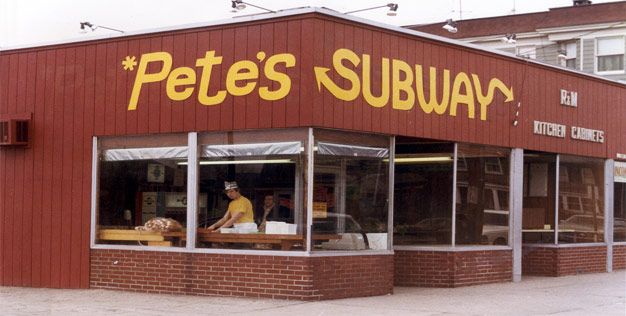 Many experts in the industry believe much of Subway's growth, both in the UK and beyond, has been due to their ability to consistently adapt to the ever-changing needs of consumers. One method they've used to make this easier for them is to reward customers for their feedback on Subway surveys such as SubwayListens.
In the UK, Subway has taken one step further towards healthy living by reducing salt content across its entire range by 33%. This range of "Low Fat" subs is endorsed by the Heart Research UK.
Subway In The Community
Subway has pledged several corporate social responsibility initiatives involving 5 guiding principles – no marketing to children, getting families active, offering nutritious menus, making a positive contribution towards the community, and reducing their environmental footprint.
Based on these pillars, Subway UK has brilliantly charted its direction by partnering with several charity bodies, such as Heart Research UK. The partnership includes funding ground-breaking medical research that benefits patients, as well as providing grants for innovative community-based lifestyle projects that help people live healthier, happier and longer lives.
If you appreciate Subway give back to the community, take the survey you see here today on www.SubwayListens.com and let them know how you feel about their community efforts.
Whats with Subway Ireland sponsoring the NFL? I didn't even know anyone in Ireland even watches American football pic.twitter.com/KI4d40hgJB

— Void 🌈🦌 (@iiVoid) August 15, 2018
Apart from charity-based bodies, Subway UK also partnered with sports bodies, like National Football League (NFL). Through the partnership, NFL, which is the biggest sport in the US, will stage 4 games in London for the first time. Subway's sponsorship also includes NFL Flag Football programme in schools and NFL Live fan events across the UK.
Subway's Customer Feedback
Based on Consumer Affairs Website, Subway has a rating of 3.5 out of 5 and 287 reviews submission. Some of the positive feedback mentions Subway as the perfect diet food, is hygienic, provides superior food handling service, offers fast service, and is presented nicely.
In addition to that, Subway recognises the value of consumer feedback by giving away a Free Cookie to all customers who head online and complete the short SubwayListens survey. Previously called TellSubway, the SubwayListens survey aims to gather a short but meaningful description of a customer's recent experience at one of their restaurants.
What The Future Holds For Subway UK
According to Subway UK boss, Peter Dowding, expansion plans are on the card – to open another 500 stores by 2020, as it seeks to cement its place as the UK's largest High Street fast food chain. With this, 5,000 jobs are expected to be created in the future.

Besides, Subway UK is also looking at overhauling its breakfast and evening menus by incorporating healthier options, such as further reducing the salt content and offering more wholemeal sandwiches.
As a Subway customer, you can help shape their menu and the future of their restaurant chain. Take the Subway survey on www.SubwayListens.com and share your opinion about their food and service.
Talk To Subway Survey Team
Want to speak to someone at Subway but don't feel like taking the SubwayListens survey? Reach out to them on social media instead:
If that's not for you, you can find a Subway near you by using their online store locator.
Read More www.SubwayListens.com Answers
21 reviews
{{ reviewsOverall }}