Smashburger's currently running a survey for everyone who's had one of their burgers! Give your feedback and grab a $1 off coupon at – www.smashburgerfeedback.com – a great way to be rewarded for voicing your opinion!  
SmashburgerFeedback Details
Sure, Smashburger's burgers are great, but they want to make them even better! How are they aiming to do that? By asking you for your feedback! They want to know all about your recent experience with them, how good (or bad) their burgers tasted, how well the staff treated you, and a few other things.
On a similar note, Five Guys is also wanting to know how good their burger are by hosting the official Five Guys Survey. It'll be interesting to see which burger chain comes out on top!
In exchange for your feedback, they're going to give you $1 off your next order 🙂 Not bad at all.
Here are the specific details:
| | |
| --- | --- |
| Start Date | January 1, 2017 |
| End Date | Indefinite |
| Entry Method | Online |
| Entry Limits | Unlimited |
| Prize | One (1) $1 Off Coupon |
| Prize Approx. Retail Value | $1 |
Survey Rules
Smashburger wants to keep it nice and simple for you! There aren't any rules 😀 Wooo! Well, technically there is one rule – you need to have a verified purchase to begin the survey. Why's that? They just want feedback from people who've actually eaten their restaurants – can't argue with that.
Instructions For Smashburger Survey
So, you've followed the long list of rules 😛 and now you're ready to get started on giving your feedback to them and beginning the survey. Awesome! Here are a few bits of information you'll need before you begin:
The four (4) digit store number of the restaurant you visited
The date of your visit
The exact time of your transaction
The check number of your transaction
Thankfully, you don't have to go too far to find it all, it's all on the receipt you have. Here's where you may be able to find it: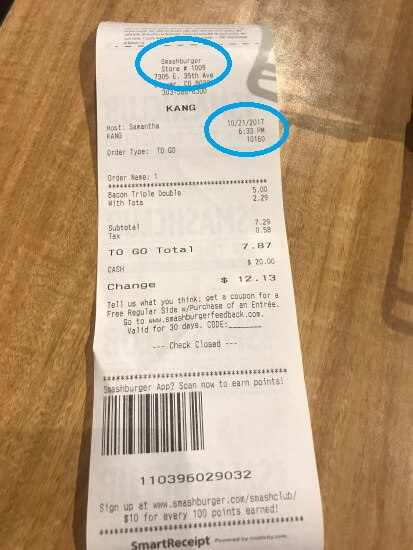 All sorted? Great! Here are the instructions to take the actual survey:
Visit the website that's hosting the survey (below) on your computer. You can use a phone or tablet as well if you like
Enter in the four (4) pieces of information above from your receipt
If you've entered in numbers that the system accepts – great news! You can now take the survey. Otherwise, you might get the following error: 'Invalid entry. Please try again.'
Made it past the first step? Good stuff! Now you can answer all the questions Smashburger has for you
Just like the TellDunkin survey hosted by Dunkin Donuts, at the end of Smashburger's survey, you'll be thanked for taking the survey and given a validation code
Write this validation code on your receipt next to where they invited you to take the survey
Finally, to redeem the $1 coupon, bring your receipt in with you next time and show the cashier
They may ask you the following questions in the survey (these are quite similar to the Arbys survey as well):
How did you find your overall experience with them?
Was there any part of the service that could've been improved?
How was the quality of your burger and/or meal? Were the temperature and freshness acceptable?
Were the staff presentable? Did they communicate in a friendly manner?
Would you return to Smashburger in the next 30 days based on your experience?
How likely are you to recommend their burgers to a friend?
Here's a screenshot of the survey:
You can take the survey here – https://www.smashburgerfeedback.com
About Smashburger
For a company that's only been around 11 years, it surely is taking the world by storm. Smashburger currently has 370 locations across 37 states and 9 countries.
However, what would you expect from a company that is co-owned by someone who worked the high ranks at Pizza Hut, McDonalds and Quiznos. That's a resume worthy enough to make anyone drool. In 2010, just three years after setting up shop, Forbes named them "America's Most Promising Company"
All About Tom Ryan
Don't get me wrong, Rick Schaden, you're amazing but Tom's got some DEADLY experience under his belt when it comes to fast food. He even bagged himself a PhD in Flavor and Fragrance, no wonder he's the inventor of all my favorite foods; McFlurries, Stuffed Crust Pizza, Prime Rib Subs – it's genuinely the best resume I've ever seen…
Here's a short video showing you how he, and his company, make their famous smashburger:
About the Burgers
The company first started in Denver, CO in 2007 and now has branches as far as the UK and Bahrain.
The famous founders took an old-time 1920's tradition of smashing balls of beef into patties in order to create their signature burgers. The great thing with this is it's impossible for them to use frozen meat meaning you only get the highest quality burgers, and believe me when I say, they're delicious. I'm going to step on some toes with this one, but they're almost as delicious as Raising Cane's chicken fingers. Don't agree? Let them me know on the Raising Canes survey 🙂
Just look at this. Look at it!
All the burgers are customizable with a variety of the usual toppings like cheese, mushrooms, bacon, salad and what-not. They also do some killer sweet potato fries, you have to try them!
How the Company Grew So Fast So Quick
Thanks to their experience working in the higher ranks of massive food corporations, Schaden and Ryan have picked up some sweet marketing tactics that make you unable to resist giving their burgers a try. They even did a $1 burger pass last winter over the holidays which gave them A LOT of attention.
They also have a unique way of bringing in the local community into each individual restaurant by always featuring a local burger…
How do they do that? Well, let's use Michigan, for example, it's home to the "olive burger" – an old time classic loved by the stat, so you can be sure that Smashburger will throw a whole lotta olives on your burgers out there (only if you want them of course 😉).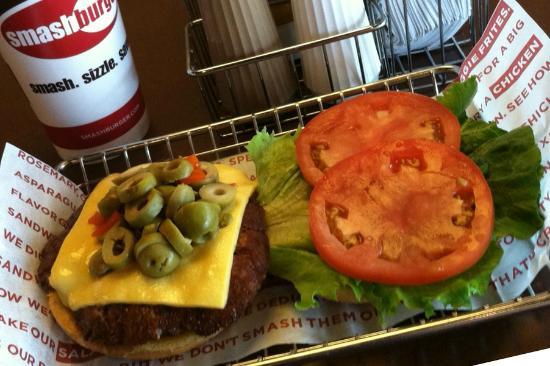 In Vegas, they have the "Sin City" burger which is topped with bacon, a fried egg and a bunch of other yummy goodness (cheese, pickles, sauce) because, in Vegas, breakfast time is any time…
They even source their bread buns locally, so the sourdough you get in San Fran won't be featured in Chicago, but you can definitely bag yourself a brioche bun in NYC or an onion roll in Minnesota or Jersey. I've never seen a burger joint put so much effort into these small details and it's totally worked for them!
Oh, and their BBQ is also sourced locally; think Sweet Baby Rays in Chi Town and Jack Daniels BBQ sauce at their Tennessee restaurants.
So, despite all the above being pretty awesome, there's still one more thing they do which is what I think is the greatest thing about this fast food restaurant…  they sell beer! I mean what better combo is there in life than a beer and a burger; it's like the peanut butter to your jelly, or the Batman to your Robin.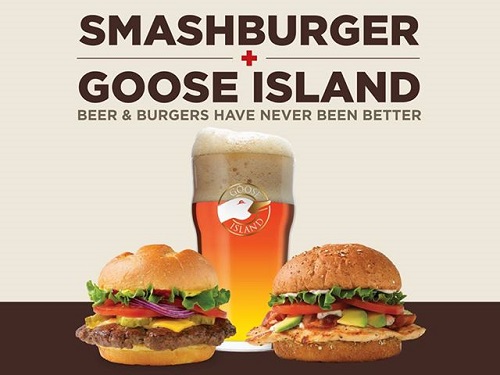 Many locations have teamed up with local craft brewers to provide you with your favorite tipple, once again bringing in that "community" feel into each and every branch.
What Do Other People Think?
#nokatielunch isn't too bad today. #smashburger pic.twitter.com/UBSTYAiFZO

— Greg Tish (@Greg_Tish) November 20, 2018
That is indeed the one thing stopping me. Especially since Alissa and I only just discovered how good Smashburger is.

— Robbie Russell (@vApathyv) November 19, 2018
Smashburger bomb as shit

— tmb (@1tmb_) November 18, 2018
@Smashburger I'm absolutely disgusted that as I'm sitting to pickup my rapid order, one of your workers decided to make fun of my name with the other staff. While I'm sitting there. Employ better behaved people. I probably won't be coming back for a while after being loyal.

— MyLibraryCardWoreOut (@mlcwo) November 18, 2018
Talk To Smashburger Survey Team
Would you like to send Smashburger a message outside of the survey? Social media would be your best bet:
You're more than welcome to check out their FAQs to see if your question's already been answered. Or you can send them a message through their website.
Their head office is located at:
3900 East Mexico AvenueSuite 1200
Denver, Colorado 80210
See More SmashburgerFeedback Responses
8 reviews
{{ reviewsOverall }}