Pizza Pizza, one of Canada's most popular and well known pizza joints, wants to gather feedback at – www.pizzapizzasurvey.ca – share your experience, voice your opinion, and get rewarded!
Pizza Pizza Survey Details
Pizza Pizza is looking to improve the quality of their service, and more importantly, see if there's anything they can do to make better pizzas! But they need your help. They're asking all previous customers to give their feedback about their recent experience with them, and they're going to reward you for it. Awesome!
Here are the specific details of the survey:
| | |
| --- | --- |
| Start Date | January 1, 2018 |
| End Date | Indefinite |
| Entry Method | Online |
| Entry Limits | Unlimited |
| Prize | Choice of free food on next order (details below) |
| Prize Approx. Retail Value | $5 |
Pizza Pizza Survey Rules
Strangely enough, there aren't many rules Pizza Pizza has in place for this survey. Normally if a company is giving away or rewarding people for leaving feedback, there are lots of terms and conditions in place – not this time!
Here's what you need to follow:
You must have verified purchase to leave your feedback
You must spend a minimum of $9.99 (not inc. tax) during your next visit to redeem the free food
You must be able to show the original receipt with the redeemable code on your next visit
Pretty simple stuff 🙂 Let's get into it!
Instructions For PizzaPizza Survey
Rules sorted! On to completing the actual survey. Here's what you'll need before you jump in:
The seventeen (17) digit reference code
The exact time you visited the store
Both of those can be found on your receipt so you should have no problems from there.
As for the survey itself, follow these instructions:
Head to the website that's hosting the survey (below)
Enter in the first two (2) bits of info above – reference code and the time of the transaction
If the systems verify them as correct, you'll go to the next screen, otherwise, you'll get the following error: 'Sorry, we are unable to verify this information. Please try again.'
Once you've made it past the system checks, you can go ahead and answer any of the questions Pizza Pizza has for you (be as detailed as you can!)
On the second last page, you'll be asked to choose what type of free food you'd like to receive. These are your options:

1 can of pop or 1 small bottle of water
2 small bags of chips
Side of Garden Salad
Side of Caesar Salad
Side of Greek Salad

Tough choice! To finish the survey, they'll give you a validation code. Write the code on your receipt, and show it to the Pizza Pizza staff the next time you head in to redeem the food you chose.
Enjoy some free food!
I actually took the survey recently as well. A few of the questions they asked me:
What was my overall satisfaction with this Pizza Pizza experience?
Was the delivery driver friendly? Was the speed fast?
Were the staff presentable in appearance?
What about the quality of the food? How did it taste?
Was the order accurate? And the temperature?
Would I recommend this store to others in the next 30 days?
You may get some different ones yourself, I'm not too sure. But here are some screenshots I took of the survey:
You can take the survey here – https://www.pizzapizzasurvey.ca
About Pizza Pizza
It was New Year's Eve in 1967 when Michael Overs decided it was time to open the first Pizza Pizza restaurant. That must've been a night to remember! He owned the chain himself all the way up until he passed in 2010. Now, it's a publicly traded company with a market cap of $230 million (Nov-18).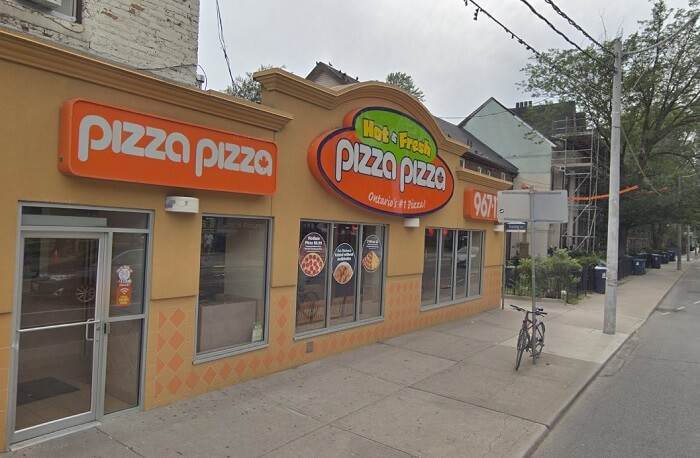 Today, it serves up a delicious range of menu items including pizza, chicken wings, pasta, panzerotti, fries, drinks, and more. Over the past decade, their operations have expanded quite a bit as well. Locals located in Ontario, Quebec, Manitoba, British Colombia, Alberta, and Saskatchewan, are just a few of the places where you'll find the iconic Pizza Pizza logo ready to serve up delicious, hot food, to anyone who walks through their doors.
In 2007, they made the move to buy out one of their competitors, Pizza 73, who now operate as a subsidiary under them.
One of Pizza Pizza's main marketing strategies has been the use of their telephone number. I know, it sounds strange, but just watch this video and tell me it's not memorable in the slightest:
What Do Other People Think?
My first pizzapizzacanada gluten free order. Still as good as it gets. Canada wins. #eatit… https://t.co/fCcRvhbAsp

— Italia Ricci (@italiaricci) March 8, 2016
@pizzapizzacanada #robbery you messed up my order on June 19th and the delivery store refused to reimburse the order and provided me with a credit now you say it was used by me?! Why would I be calling today to use a credit that I already used?!

— Wolfsoulja (@PaulRampersaud) June 29, 2018
Medium, thin crust pizza, four cheese base, spinach, goat cheese, olive oil dressing, chili flakes (well-done) your welcome. 🍕👅 #pizzaplug #pizzapizza

— mrbognarrr (@mrbognarrrr) November 18, 2018
Share your experience and write your review!
5 reviews
{{ reviewsOverall }}