Krispy Kreme is one of the favourite donut shops for the local Filipinos in the Philippines. Today, they're hosting the MyKrispyKremeExperience.com.ph survey where you can get rewarded with a fantastic coupon to use on your next visit.

Krispy Kreme Survey Details
| | |
| --- | --- |
| Ends | December 31, 2019 |
| Entry Method | Online Survey |
| Survey Prize | Krispy Kreme Coupon |
Survey Rules
There aren't any particular rules you need to follow to take the Krispy Kreme Philippines survey.
Instructions for MyKrispyKremeExperience.com.ph
In order to validate the coupon printed on your receipt from your recent Krispy Kreme purchase, you'll need to use one piece of information from your receipt:
The survey code printed on the receipt
If you're not sure where it is, here's an example from a Krispy Kreme receipt from the Philippines: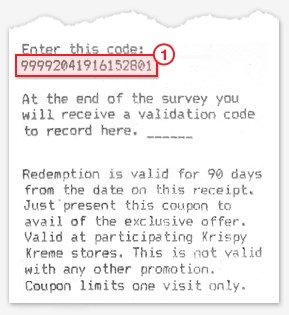 Once you have the survey code ready to go, follow these instructions:
Visit the official website hosting the survey, search mykrispy kreme experience.com.ph or click the link further down
On the first page, enter in the survey code from your receipt. If you get an error, re-enter the code and try again
Once the Krispy Kreme survey has validated your code, you'll be invited to take Krispy Kreme's Philippines survey
The staff at Krispy Kreme just want to improve your experience the next time you visit so try to answer their questions honestly
At the end of the survey a validation code will be presented on the screen. Write this code on your receipt on the dotted line
Next time you visit a Krispy Kreme in the Philippines remember to bring your validated receipt so you can claim your coupon
Some of the questions they might ask you on the MyKrispyKremEexperience.com.ph survey include:
What was your overall satisfaction rating with this particular Philippines Krispy Kreme?
What kind of food or drinks did you purchase?
What did you think about the taste of your food? How friendly were the employees?
Was your order accurate? What did you think about the overall value for the price you paid?
Would you recommend this Krispy Kreme to others in the next 30 days?
Did the Filipino Krispy Kreme staff greet you with a smile? Were you thanked for visiting their store?
Here are some screenshots from mykrispy kreme experience.com.ph:
About Krispy Kreme Philippines
Krispy Kreme was founded by 18-year old Vernon Rudolph way back on July 13, 1937, in North Carolina, US. It serves mainly donuts of different varieties that differ with time. From the original plain light and fluffy donuts, the business started selling heart-shaped donuts in 2006, which then evolved to selling whole wheat glazed donuts. A year later, trans fat content of all Krispy Kreme donuts was reduced to 0.5 of a gram or less, to market as having "zero trans fat".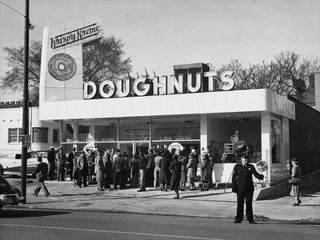 All of these changes in their menu was likely due to listening to feedback from customers on surveys such as the one you see here today – the mykrispykremeexperience.com.ph survey.
It was in 2010 that Krispy Kreme reached its peak with the introduction of donuts infused with the soft drink Cheerwine, which triggered the buying of Krispy Kreme by JAB Holding Company, a private Luxembourg-based firm for $1.35 billion.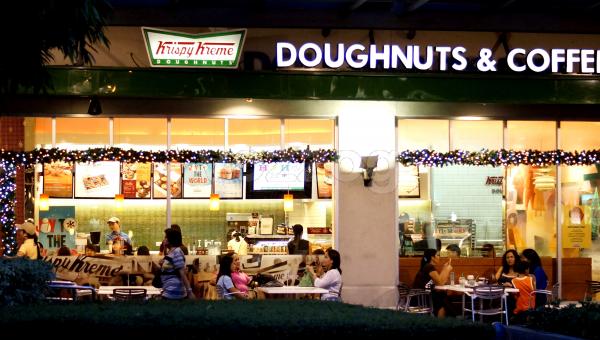 In the Philippines, Krispy Kreme started operating on November 30, 2006, at Bonifacio Global City, Taguig City. It is owned by Real American Donut Company, a company owned and operated by the principals of Max's Restaurant.
Krispy Kreme In The Community
Krispy Kreme as a brand is perceived by Filipinos as generous, having participated in various charities including fund-raising activities at country or global level. For example, Krispy Kreme Philippines has donated to 12 charities, serving different purposes and target groups.
If you appreciate Krispy Kreme giving back to the Philippines community, make sure to add it into your survey response at mykrispy kreme experience.com.ph.
The groups include life-saving bodies (ICanServe Foundation, Caritas Manila, Philippine Red Cross), kids (Autism Society of the Philippines, Development and Accessibility Fund for the Deaf, Friends of Hope, Kythe, and Operation Smile Philippines), the environment (ABS-CBN Foundation-Bantay Kalikasan, Philippine Native Plants Conservation Society), animals (Philippine Animal Welfare Society), and creativity (Cultural Center of the Philippines Visual Arts and Museum Division).
Aside from these national-level efforts, Krispy Kreme Philippines also organized corporate social responsibility events at a smaller scale, such as "Share the Gift of Joy" campaign to mark the opening of the new branch in the SM Lanang Premier. Children from various orphanages were invited, like the Providence Home of St. Joseph and the Orphanage of St. Jerome.
Krispy Kreme Customer Surveys
As part of its check and balance mechanism, Krispy Kreme Philippines has brilliantly introduced the online Guest Satisfaction Survey you see here today.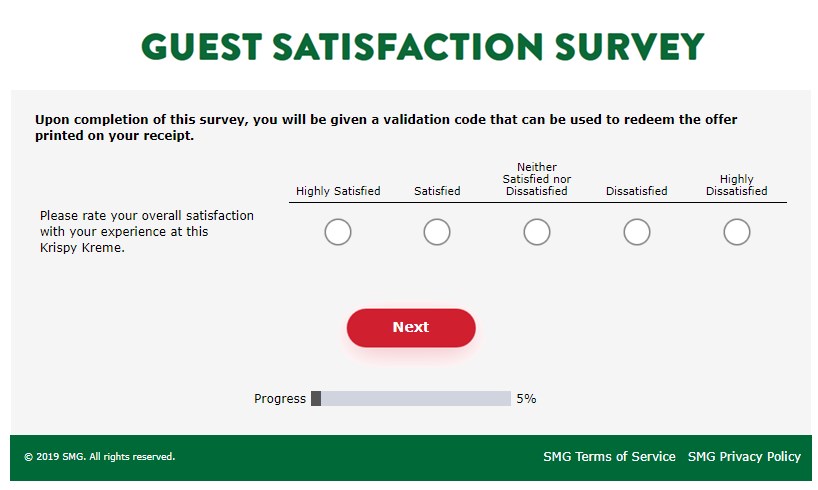 This survey entitles customers to free offers upon survey completion. However, this survey can only be done by customers who have purchased Krispy Kreme product, as they need to enter the 16-digits survey code located at the receipt.
If you want to take the mykrispykremeexperience.com.ph survey, scroll back up and read the instructions on how to do so.
The Future of Krispy Kreme In The Philippines And Beyond
According to the Krispy Kreme Annual Report, the company has laid out several initiatives in the future, such as to roll out the next phase of loyalty and rewards program, further leverage existing digital and social media platforms, and continue to build the menu with new products – especially the ones that can command premium pricing.
Apart from that, Krispy Kreme is also investing in significant long-term growth opportunities in the consumer packaged goods, or CPG, like selling Krispy Kreme branded products in grocery stores and other outlets, however, this is yet to happen in the Philippines.
Currently, there is a licensing agreement with Keurig Green Mountain to produce and sell Krispy Kreme coffee K-cup packs which are being distributed in over 13,000 locations in the US. In the future, Krispy Kreme plans to expand this segment internationally.
Who Else Likes The Philippines Krispy Kreme?
Talk To Team Behind MyKrispy Kreme Experience.com.ph
Want to message their staff without taking the Krispy Kreme Philippines survey? Send a message to their social media:
If you don't want to do that, you can visit their website to find one of their donut shops near you.
Read More MyKrispy Kreme Experience.com.ph Answers
1444 reviews
{{ reviewsOverall }}