Dairy Queen is one of America's favorite ice cream stores and fan-food restaurants, but they want to make their menu and service even better! So they're asking previous customer to take the official DQFanFeedback survey (hosted on dqfanfeedback.com) to answer some questions about their recent experience. In return for completing Dairy Queen's feedback you'll be rewarded with a Free Dilly Bar! 😀

DQFanFeedback Survey Details
| | |
| --- | --- |
| Start Date | January 1, 2019 |
| End Date | December 31, 2019 |
| Entry Method | Online |
| Entry Limits | Unlimited |
| Giveaway | Guaranteed Prize |
| Prize | Offer printed on your Dairy Queen Receipt (normally a Free Dilly Bar) |
| Prize Approx. Retail Value | $5 |
DQFanFeedback Rules
Awesome news for all your Dilly Bar lovers out there – Dairy Queen doesn't have any official rules to follow in the DQFanFeedback survey! 😀 😀 All you'll need is a few bits of information from your receipt to verify that you've previously been a customer of Dairy Queen.
Instructions For DQFanFeedback
Now that you know you've automatically qualified for Dairy Queen's survey as there aren't any rules 🙂 You'll need a few pieces of information from your receipt in order to be verified by the survey system:
The ten (10) digit phone number/survey code
The date you visited Dairy Queen
The exact time of your transaction (time on the receipt)
Normally, it's all printed near the bottom of the receipt so you can find all the survey information easily. Here's a photo of a Dairy Queen receipt so you know where to look: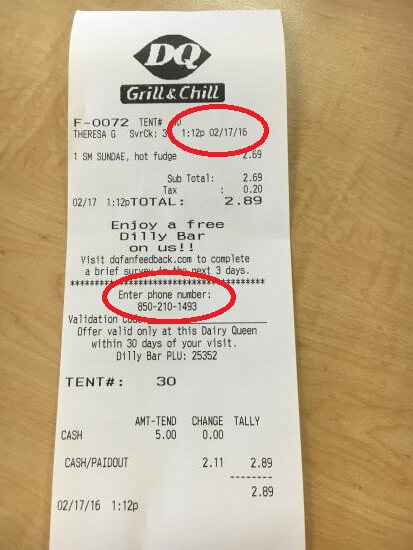 Once you've located the three bits of information you need, follow these instructions:
Enter in the official website hosting the survey (link below)
Type in the Dairy Queen phone number in the text box, and select the date and time in the dropdown boxes as they are on your receipt
If you've entered in the correct information, you'll be invited to take the DQFanFeedback survey. Otherwise, you might get an error message – re-enter the info and try again
Once you've been accepted to take the survey, answer all the questions Dairy Queen's customer satisfaction team has for you. You'll find some of these questions are quite similar to the ones Dunkin Donut's team is asking on their TellDunkin survey.
At the end of the survey, you'll be given a validation code – write this on the receipt on the blank line.
All done! 😀 You've just completed Dairy Queen's survey 🙂 Next time you head into a Dairy Queen store you can walk out with a Free Dilly Bar!
I took the survey myself recently and noticed that some questions were almost exactly the same as the ones asked in the ChipotleFeedback.com survey….very interesting! Anyway..here are some questions you might face in DQ's survey:
Based on your recent experience at Dairy Queen, how likely is it that you'll return to this location in the next 30 days?
How likely is it that you'll recommend this Dairy Queen to family or friends in the near future?
Was your order accurately served to you? Was the temperature of the food to your likely
Is there anything the Dairy Queen staff could've done to improve your experience?
Was the restaurant clean? What about the atmosphere of the dining experience?
Is there anything you'd like to see added to the Dairy Queen menu in the future?
Here are some screenshot of the survey:
Why Does Dairy Queen Care?
For one – there are a lot of competitors in the ice cream and dessert industry in the USA. If Dairy Queen didn't show their customers they cared about their experience initiatives such as the DQFanFeedback survey, they'd just go to one of their competitors who does. Not only is Dunkin Donut's hosting their own survey called TellDunkin, but so to are other fast food chains such as Culver's survey on TellCulvers.com and the BojanglesListens.com survey – both aiming to improve the satisfaction of their customers the next time they dine at their restaurants.
About Dairy Queen
There are few things in life better than a soft-serve ice cream on a hot summer's day, or on a winter's day for that matter…I'm not too picky :P. Dairy Queen has been gracing us with their sweet treats for almost 80 years and have a bunch of locations not only in the US, but across the globe too.
History
Though their first store didn't open until 1940, the DQ founder JF "Grandpa" McCullough invented his soft serve in 1938. Himself and his son Alex cashed in a favor from a friend of theirs, Sherb Noble, who owned an ice cream store at the time and got him to sell their new creation in his store. On the first day they sold an incredible 1,600 servings of it in just two hours! (I knew that stuff was addictive). I reckon if Dairy Queen were hosting their DQFanFeedback survey back then all of their customers would've given them 5 stars!
Following this, Grandpa and Noble opened their first Dairy Queen in Joliet, IL. Their growth and expansion came from franchising, which they set up pretty much immediately, it saw them expand in over 25 countries across the globe, which means you can always get your soft serve fix, even if you're out of the US. Their growth was pretty rapid, going from just 100 stores in '47 to 2,600 in 1955.
Products
Obviously, soft serve is the foundation of the business, but they've been known to expand their menu. Nowadays, you can grab all the standard items you can expect in any fast food store, burgers, fries, fried chicken and, of course, fro-yo. This is likely the result of their management listening to feedback customers were leaving on DQFanFeedback and other surveys.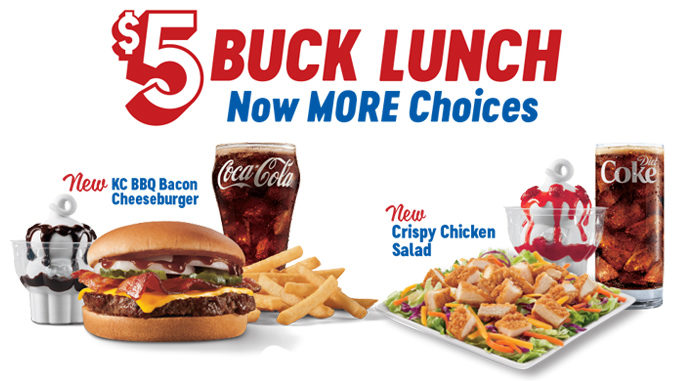 One of their most famous menu items is the Blizzard. In fact, the year that it was launched (1985), they sold 175 million! The Blizzard has also broken records! On June 21, 2005, the World's largest Blizzard was made in Springfield, MA. It was 22 feet tall and weighed well over 8,000lbs. You can grab the it in a whole of flavors including Oreo, choc chip cookie, Reese's and M&M's.
Fun Facts
So, you might think, that being founded in the US would mean that their biggest store would be there, right?! Wrong. Their biggest store is actually in Saudi Arabia, which kinda makes sense, as it's always sooo hot there.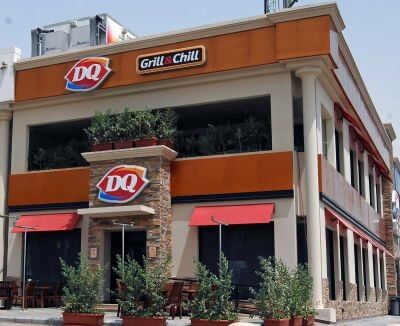 You know the group "No Doubt"? Well two of the band's members actually worked in a DQ together back in the day, Eric and Gwen Stefani and Greg Spence always spoke about starting a band and finally ditched their life of soft serve to become super successful musicians.
Did you know, everyone's favorite investor, Warren Buffet, actually owns them! His company, Berkshire Hathaway, purchased them for cash in 1997, because only Warren Buffet would have $585 million cash in the bank seriously burning a hole in his pocket! Apparently, he was attracted to their super simple, yet clearly effective franchise model. I would've loved to have seen Warren Buffet's feedback on Dairy Queen's survey! 😀 😀
Future
Over the next couple of years, the company is really looking at expanding their product range and making it more varied. Don't worry there'll still be plenty of soft serve but they plan on launching more seasonal products in 2019 and focusing on their Grill & Chill model more.
They also want to target new US markets, by promoting to potential new franchisees in states such as California, North Carolina, Florida, New York and Texas.
Just recently Dairy Queen has been doing some massive advertising for their new chicken strips:
It'll be interesting to see what people think of them on the survey!
Talk To Dairy Queen Customer Service
Want to talk to the customer service team at Dairy Queen without going through the DQFanFeedback survey? Send them a message on social media:
Otherwise, you can give one of their Fan Relation Specialists a call on 1-866-793-7582. If you'd like to get in touch with a Dairy Queen store near you, user their store locator to find their contact details. Lastly, you can head online and visit their FAQs to see if your question has already been answered.
Their head office is located at:
1001 Main St #801
Lubbock, TX 79401, USA
Share your experience and write your review!
7 reviews
{{ reviewsOverall }}