Cracker Barrel, one of America's favorite family restaurants, wants to know about the recent experience you've had with them! They're hosting an official Cracker Barrel Survey at crackerbarrel-survey.com! Tell them your feedback and you could win an official Cracker Barrel Rocker or a Gift Card 🙂

Cracker Barrel Survey Details
Whether you're looking to entertain the kids, or head out and enjoy a meal with some friends, Cracker Barrel has a wide menu of delicious food for you to enjoy. And, if you've recently dined at one of their locations, Cracker Barrel is officially inviting you to take their survey and go in the chance to win an awesome rocking chair! 🙂 Sounds amazing!!
Here are the specific details:
| | |
| --- | --- |
| Start Date | July 1, 2018 |
| End Date | December 31, 2018 |
| Entry Method | Online, Mail |
| Entry Limits | Once (1) per month |
| Giveaway | Sweepstakes |
| Prize | Cracker Barrel Rocker or Gift Card |
| Prize Approx. Retail Value | $150 or $100 |
Survey Rules
In to remain eligible to win a Cracker Barrel Rocker or a Gift Card to spend at one of their stores, their management has implemented a few rules for you to follow. Here they are:
You must be a resident of the 50 United States
You must be over the age of 18 years at the time of entry
You must not be affiliated with Cracker Barrel or its affiliates in any way
You can only enter Cracker Barrel's survey a maximum of once (1) per month
Want to read the official rules? Click here to download them.
Instructions For Survey
Follow all the rules for their survey? Awesome! You'll only need a single piece of information to get started:
The twelve (12) digit survey code printed at the bottom of your receipt
Here's where it may be on your receipt: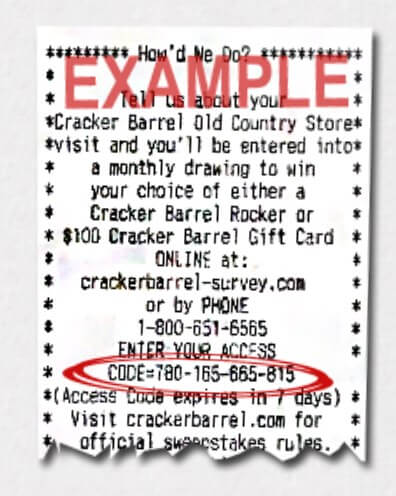 Next up, follow these instructions to complete Cracker Barrel's feedback form:
Type in the official website hosting the survey (link below)
On the first page, enter in the survey code printed at the bottom of your receipt (if you don't have one, keep reading)
If the code is correct, you'll be invited to take the survey. Otherwise, you may get an error message. Re-enter your survey code and try again.
After the survey verification page, answer all the questions Cracker Barrel has for you (be as detailed as possible)
Once you're near the end, you'll be asked for a bit of personal information in order to enter the sweepstakes giveaway to win a Rocker or a $100 Gift Card. Here's what you may need to provide:

Full name
Address
Email
Contact number

Congratulations! 😀 You've just shared your experience with Cracker Barrel and are now in the running for the sweepstakes! Good luck 🙂
During the survey, they might ask the following questions:
How likely is it that you'll re-visit this Cracker Barrel based on the experience you had?
How likely is it that you'll recommend this particular Cracker Barrel to family and friends on a scale of 1-10?
How was the friendliness of their staff? And the speed of the service?
Did you encounter any problems during your visit?
What about the atmosphere of the restaurant? Was it comfortable and clean?
Was your meal made to an acceptable quality? How satisfied were you with the overall value?
Here's a screenshot of the survey so you know you're in the right place:
You can take the survey here – https://www.crackerbarrel-survey.com
Would you like to enter Cracker Barrel's sweepstakes without completing the survey? Fantastic news because you can! Simply hand print your name, complete address, age and phone number on a postcard and mail it via first-class mail to:
Cracker Barrel Survey Sweepstakes
PO Box 16500, Rochester, NY 14616
About Cracker Barrel
Cracker Barrel is a unique place in that it's not only a restaurant, it's also is a gift store and it's all about the southern theme.
They currently have over 600 stores in the US and one of their super appealing traits was the effort they put into their restaurant design. They made it so that it resembled an old school, southern General store that even had rocking chairs out front, how fun! It's no wonder they're giving away one of these comfy rockers in the survey sweepstakes.
Even the little ones love them!
History
The company was founded almost 50 years ago, back in September of 1969 by Dan Evins who came up with the whole country store theme based on those general stores that he'd visited when he was a kid. He chose to have the restaurant located right by the highway, as a rest stop kinda place for weary travellers. The first restaurant was situated just off Interstate 40, by a town called Lebanon in Tennessee.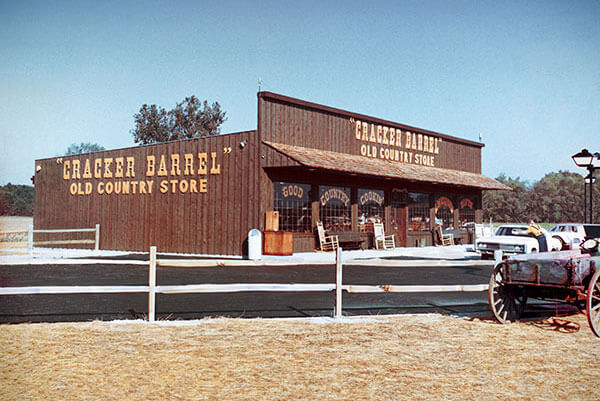 They were serving up typical southern dishes of biscuits, ham and turnip greens (yum). More restaurants began popping up in the early 70s and he even had gas pumps installed at some locations, making the whole place even more weird and wonderful!
In the 80s the company began to drop the whole idea of pumping gas and eventually it was totally phased out. By 1987 there were 50 restaurants across 8 states.
The 90s saw more growth for the company and in 1994 they trialled a store that did carry-out only service. They also decided to spice up their menu by offering state specific options such as salsa and eggs in their Texas branches.
By 1997 they had over 300 stores and aimed to open another 50 per year for the next 5 years. That sure was ambitious of them.
Controversy
In 1991, the company came under scrutiny when they were reported to have fired several members of staff due to not displaying "normal heterosexual values", they dropped this so-called 'policy' in 1992, after a huge backlash from the community. However, it wasn't until the early 00s that the company officially added sexual orientation into their non-discrimination policy…not too progressive if you ask me.
They've also been called out regarding race issues too. Throughout the '90s and '00s they had several lawsuits filed against them, and in '04 the US justice department even found evidence that they had been seating and serving customers in their restaurants according to race. However, it's worth noting that since '02, they've they started to change their ways and that year, 23% of their total workforce was actually from minority workers. Good on them! Hopefully, that'll improve a few of the response on Cracker Barrel's survey results 🙂
Fun facts
Now after a bit of doom and gloom, it's time to lighten the mood with some fun facts, so here goes…
You may already know that Cracker Barrel is known to collaborate with big artists and create albums which they sell in their restaurants. But were you aware how big these celebs actually were? I'm talking big names here – the most iconic singer had to be Dolly Parton, she teamed up with them to release a 2-disc album which sold ½ million copies and got a gold certification! Not bad for a restaurant CD!

Those rocking chairs that grace the storefronts of all cracker barrel locations are 100% American made. They're put together by the Hinkle Chair Company, that was founded out of Springfield, Tennessee. It's nice to see them supporting all American companies 😊.
Like many restaurant chains in the states, you can grab yourself a secret treat, all you need to do is ask…They actually can whip up a milkshake for you, despite it not being on the menu. They're pretty awesome and so you can thank me for that later!
Unfortunately, despite speculation, they're NOT associated with the yummy Cracker Barrell cheese, I thought you may want to know… because I sure did.
What Do Other People Think?
Wish I was at Cracker barrel stuffing my face 😂

— Jenn (@JEN_JEN_2014) December 18, 2018
First time ever at Cracker Barrel… I have fallen in love again…😍🍗🥓🥣🍖🧀🍮🍰🥧🍜☕🥤🍽 pic.twitter.com/ckN7BgON9D

— Ref Gaby Martínez (@footballZebra12) December 16, 2018
There's nothing more All-American than the Cracker Barrel Rocking Chair Bowl.

— Rod Truesdell (@rodtruesdell) December 18, 2018
I know this about you right now, but like cracker barrel sells these really good neapolitan coconut bars. And I really wish I had one right now.

— ⌛💀❌Kingdom Karrie 👑🐴🎈 (@KingdomKarrie) December 18, 2018
Speak To Cracker Barrel-Survey Team
Want to send Cracker Barrel your feedback outside of the official survey? Try one of their social accounts:
Otherwise, have a read of their FAQs to see if your question has already been answered. Or you are more than welcome to give them a call on 800-333-9566. Lastly, you can send them a message through their website here.
Their head office is located at:
305 Hartmann Drive
Lebanon, TN 37087
See More www.CrackerBarrel-Survey.com Responses
97 reviews
{{ reviewsOverall }}